MinaLima Edition of "Harry Potter and the Sorcerer's Stone" to Be Released Fall 2020
If you've been loving MinaLima's editions of classic fairy tales, you won't want to miss what they've got planned for next October: a new edition of Harry Potter and the Sorcerer's Stone.
The big announcement was made this morning on Good Morning America with an exciting teaser video you can watch below:
Harry Potter and the Sorcerer's Stone by J.K. Rowling: MinaLima Edition

As revealed on Good Morning America, a stunning new innovative edition of J.K. Rowling's Harry Potter and the Sorcerer's Stone will be published on October 20, 2020. Designed and illustrated by award-winning MinaLima best known for their work on the Harry Potter and Fantastic Beasts films, this dazzling edition is fully illustrated in brilliant color and features exclusive interactive paper craft elements, including a fold-out Hogwarts letter and more! #HarryPotter #HPMinaLima

Posted by Scholastic on Thursday, February 6, 2020
The book is slated to include eight interactive features, including a Hogwarts letter, Diagon Alley shopping list, fold-out Hogwarts Castle, and more. It will be released simultaneously by Scholastic and Bloomsbury (as Harry Potter and the Philosopher's Stone) on October 20. Check out the cover below!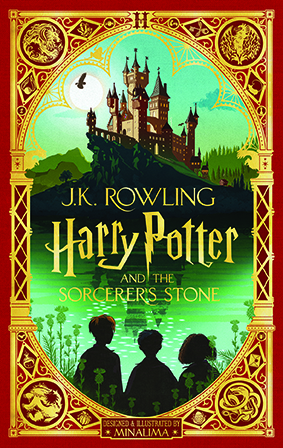 Eduardo Lima and Miraphora Mina lauded the new edition:
Twenty years of designing for the Wizarding World have come full circle in this extraordinary opportunity to depict Harry Potter and the Sorcerer's Stone in a whole new way. From creating Harry's Hogwarts acceptance letter for the first film to envisioning his world for this new illustrated edition, MinaLima's many invitations to visualize this fantastic universe never cease to beguile. We have sought to bring together our artistry with J.K. Rowling's singular storytelling to offer the reader a completely fresh experience of this now new classic work.
Will the pair be up for designing editions of the rest of the books in the series? Let's hope so! For now, you can preorder your copy from Amazon.