Romilda Vane's Spiked Cauldron Cakes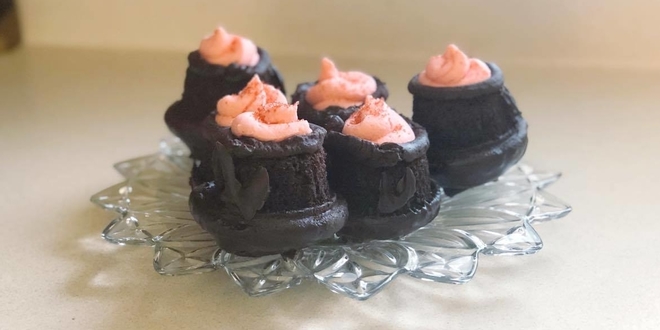 Romilda Vane's Spiked Cauldron Cakes
Fiona McTaggart
Have you ever wanted to take a leaf out of Romilda Vane's book and sneak a little Amortentia to someone in your life? While I can't guarantee these cauldron cakes will send anyone to Slughorn's office for an ill-fated cure, your crush may just love them so much they'll snog you anyway.
Ingredients
Cakes
3/4

cup

cocoa powder

1 1/2

cups

all-purpose flour

1 1/2

cups

sugar

1 1/2

tsp.

baking soda

3/4

tsp.

baking powder

3/4

tsp.

salt

2

egg

large

1 1/2

cups

milk

3

Tbsp.

canola oil

1

tsp.

vanilla extract
Ganache
1

cup

chocolate

dark

1/2

cup

heavy cream
Filling
8

oz.

cream cheese

1/2

cup

butter

unsalted

5

drops

food coloring

red

4

Tbsp.

cinnamon whisky

1

tsp.

vanilla extract

2

cups

powdered sugar
Decorations
1/3

cup

dark chocolate

sprinkles

red (optional)
Instructions
Cakes
Preheat the oven to 350°F. Line a 12-cup muffin tin with muffin liners and set aside.

In one bowl, mix together cocoa powder, flour, sugar, baking soda, baking powder, and salt.

Mix in eggs, milk, canola oil, and vanilla extract.

Divide batter evenly among muffin cups and bake for 20 minutes or until a toothpick comes out clean.

Remove muffins from tins and allow to cool completely on a wire rack.
Decorations
Line a baking sheet with parchment paper. Take ⅓ cup dark chocolate and place it in a microwavable bowl. Melt in 30-second increments until smooth.

Use a spoon or piping bag to create 24 U-shapes for cauldron handles on the parchment. Then, create 35 small dots of chocolate on the parchment for the feet of the cauldron.
Filling
Combine the cream cheese, butter, cinnamon whisky, vanilla, and powdered sugar in a mixer. Add powdered sugar if necessary. Add five drops of red food coloring and mix well.

Transfer the pink filling to a Ziploc bag or piping bag and set aside.
Ganache
Heat the heavy cream until it is almost at a boil. Pour cream over the remaining 1 cup of the dark chocolate and let sit for five minutes. Whisk ganache until smooth.

Begin assembly immediately.
Assembly
Remove the paper lining from the cooled cupcakes. Turn upside down and use a knife to cut out a hollow in the bottom of each cupcake.

Dip cupcake tops in the warm ganache. Press three chocolate dots (cauldron feet) to the bottom and set aside to cool.

Add two handles to each cauldron when the ganache is partially cooled but not set. Allow the whole thing to set until it's hard to the touch.

Pipe filling into each cupcake cavity. Top with red sprinkles.

Transfer remaining ganache into a piping bag. Snip off the tip of the bag and pipe a circle of thick ganache around the lip of each cauldron, creating a rim around the pink icing.
Notes
Inspired by the Cauldron Cake recipe by Pastry Affair.
If you're finding some of the ganache won't melt, place it in the microwave or on a double boiler until smooth.