A Circus Most Macabre in "Wizards Unite" and Fantastic Footage from "Magic Awakened"!
by Brienne Green · Published · Updated
With St. Patrick's Day and April Fools' Day on the horizon, thoughts are turning to shenanigans and pranks. Add a dubious circus full of magical beasts to the mix, and we may as well just embrace the chaos. So wizarding world gamers, get ready to visit the Circus Arcanus in Harry Potter: Wizards Unite, journey along with us as we completely regret trying to catch up with the story in Harry Potter: Hogwarts Mystery, check out some fantastic footage from the still-upcoming Harry Potter: Magic Awakened, and indulge in another rumor about that infamous Harry Potter RPG. Phones at the ready!
Wizards Unite Update
If we're being honest, we would have preferred to see the Circus Arcanus, to which we were introduced in Fantastic Beasts: The Crimes of Grindelwald, shut down by animal rights activists. But we're sure Newt Scamander took care of all that at some point. So it's our job this week in Wizards Unite to free a few fixtures of that macabre traveling show from Confoundables as Part 1 of the Circus Calamitous Brilliant Event begins!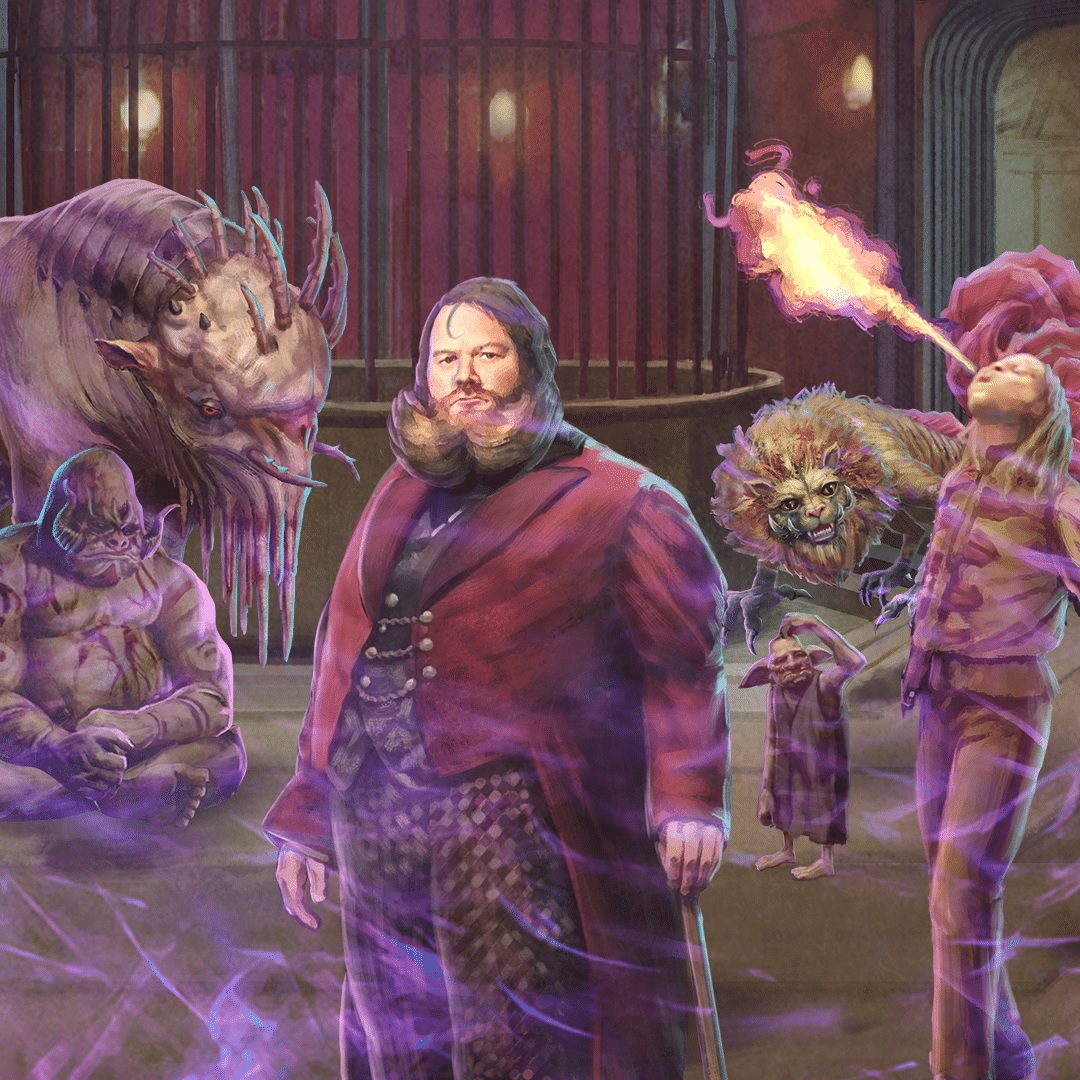 Wizards Unite has announced its mischievous March slate of events, and it all gets underway today. Part 1 of this month's Brilliant Event will run from 11 a.m. (Pacific) today until 11 a.m. (Pacific) on Tuesday, March 17.
This month, grab your Marauder's Map and prepare to manage some mischief, as you won't want to be caught off-guard [sic] during the wackiest time of the year! With all the tomfoolery afoot, the Calamity is not to be outdone and is unleashing its own whimsical assortment of waggery, hijinks and all-out shenanigans. With a caravan of chaotic circus creatures and playful pranksters running amok, your help is needed to reel in some of the magical mayhem, even if it means breaking a few rules of your own along the way, of course.
Out in the wild (which is even wilder than usual this month), you'll find the Brilliant Graphorn and Brilliant Zouwu. Completing event tasks will give you the Brilliant Fire-breather and Brilliant Oni, and you'll find Brilliant Skender the Ringmaster by using Brilliant Portkeys, which will take you to another all-new location: the infamous Circus Arcanus itself! Last but not least, complete Wizarding Challenges with event-specific Runestones to earn the Brilliant Circus Arcanus House Elf. As you complete the various tasks, you'll be able to add a Circus Arcanus Portrait Sticker, Zouwu Portrait Sticker, Circus Banner Portrait Frame, and "Liberator of Beasts" title to your Ministry ID enhancement options.
Don't forget your free Diagon Alley Shop bundle, and remember to leave yourself time to complete the bonus assignment, especially since it once again requires you to unlock five Portkey Portmanteaus. We frankly wish that particular task could be excluded from timed events until the game is capable of tracking your walking distances accurately in real time. It often takes hours and/or a lot of rebooting for the game to give you credit for all your kilometers, and if the event has ended in the meantime, you don't receive retroactive rewards. But that issue aside, there's another reason you'll want to leave yourself plenty of extra time.
A brand-new Foundable will pop up in the wild during the bonus assignment: Newt Scamander during his time working for the Ministry of Magic. He'll be taking the place of Kingsley Shacklebolt on the Ministry Atrium registry page, and players should note that this Foundable will be rare and difficult to free from its Confoundable. Consider using potions to increase your chances. It also doesn't look as if any special incentives - such as extensions of potion efficacy, etc. - will be included in the event this time around, so don't worry about those!
In between the culmination of Part 1 of the Circus Calamitous Brilliant Event and the start of Part 2, we'll be celebrating this month's Community Day with our favorite devious duo: Fred and George Weasley!
That event will run from 11 a.m. to 2 p.m. in your local time zone on Saturday, March 21, and you'll need to focus in order to find the Room of Requirement and offer your assistance to the twins and other members of Dumbledore's Army. Of significant note to players in Italy, Japan, and South Korea is the fact that Community Day will be postponed in those countries. Keep an eye on Wizard's Unite's social media channels for updates on that.
We'll be back later in the month to give you additional details on Part 2 of the Brilliant Event as well as a major mini-event that will take us through the end of the month and into early April: the Magical Mischief Event. And guys - we're going marauding with the young Marauders for that one! That high-pitched squealing sound you hear is us. Sorry.
Hogwarts Mystery Update
We discuss it often when providing updates for Hogwarts Mystery: If you let yourself get swept up in the various timed events and side quests that never really end, the story tends to fall by the wayside. And if you're super competitive (as some of us are) - to the point that you one day discover you'd likely be willing to bare-knuckle box a total stranger over a new hoodie for your character - you may decide a personal intervention is in order. So you swear off the distractions and make a commitment: Stick to the story for a while.
After all, it's difficult to go at your own pace when the Hogwarts Mystery crew is constantly tossing spoilers about on social media like confetti at a New Year's Eve party. So with all that said, follow us on a photographic journey of why we never, ever should've done this.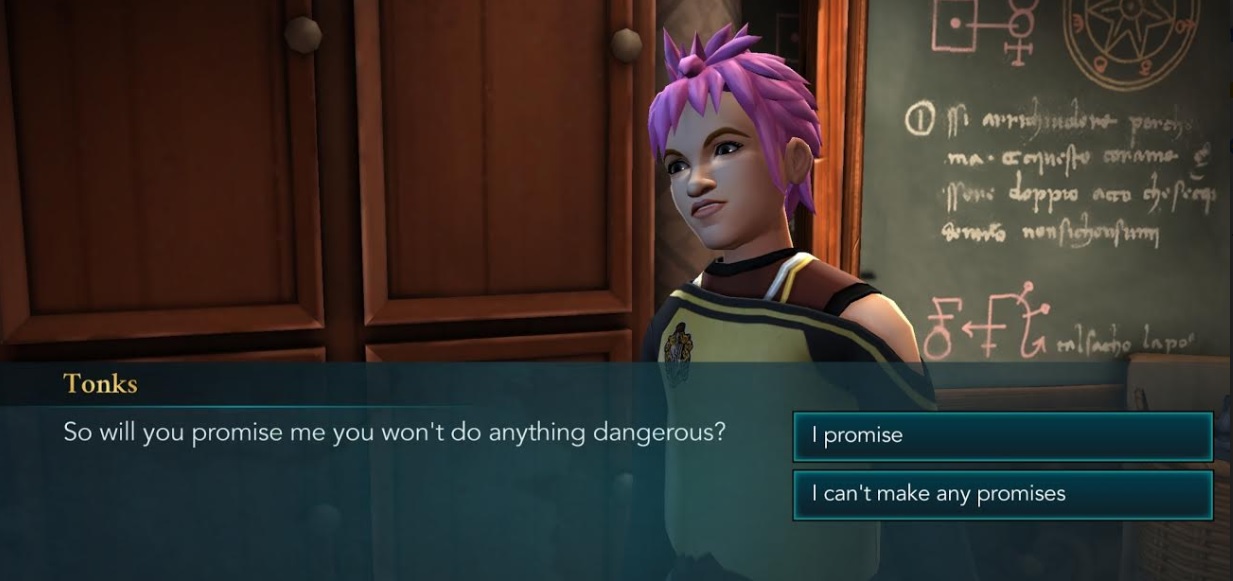 Well, obviously, we're going to do something dangerous, Tonks. This is Hogwarts we're talking about. Students probably get held back a year if they haven't been at least lightly maimed by a Venomous Tentacula prior to the end of term. We make no promises. We were already aware at this point that rogue Curse-Breaker Patricia Rakepick is a member of a sinister organization known as "R," that "R" has threatened us with the death of a friend, and that we still haven't seen hide nor hair of our brother since he warned us about an assassin from Mahoutokoro. None of this falls under the category of good news, but look! We get to go to the Black Lake now! It's so pretty!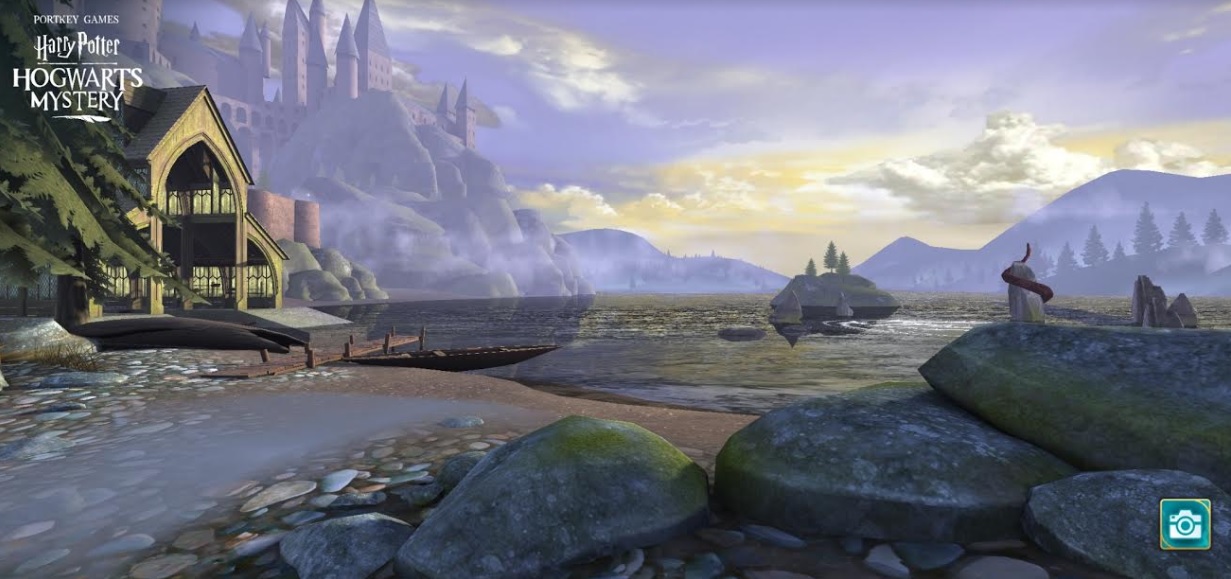 The joy of being able to add a new energy spot to our list, courtesy of the giant squid's tentacle, didn't last long. The above-mentioned assassin attacked us, which turned out to be even worse than hanging out with Beatrice Haywood. But after Mad-Eye Moody informed us that Jacob was the reason we were still alive, the Beatrice thing didn't seem so bad. Off we went to Jacob's secret room, Ben Copper in tow, since he insists on playing the role of Kevin Costner to our Whitney Houston. An "R"-related message is intercepted, and we learn that something is about to go down in the Forbidden Forest with Rakepick. Is the forest currently crawling with Dementors? Of course it is, but so what?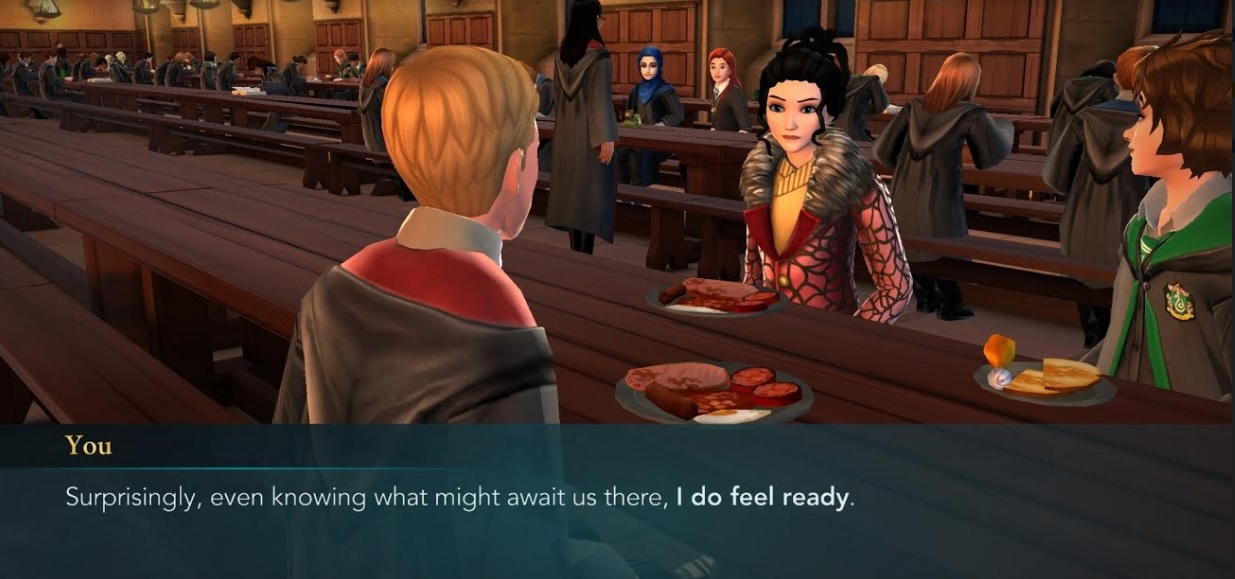 Let it be known that the reason Merula Snyde can't produce a corporeal Patronus is probably because she eats toast and a drumstick for breakfast instead of a full fry-up like us and Ben.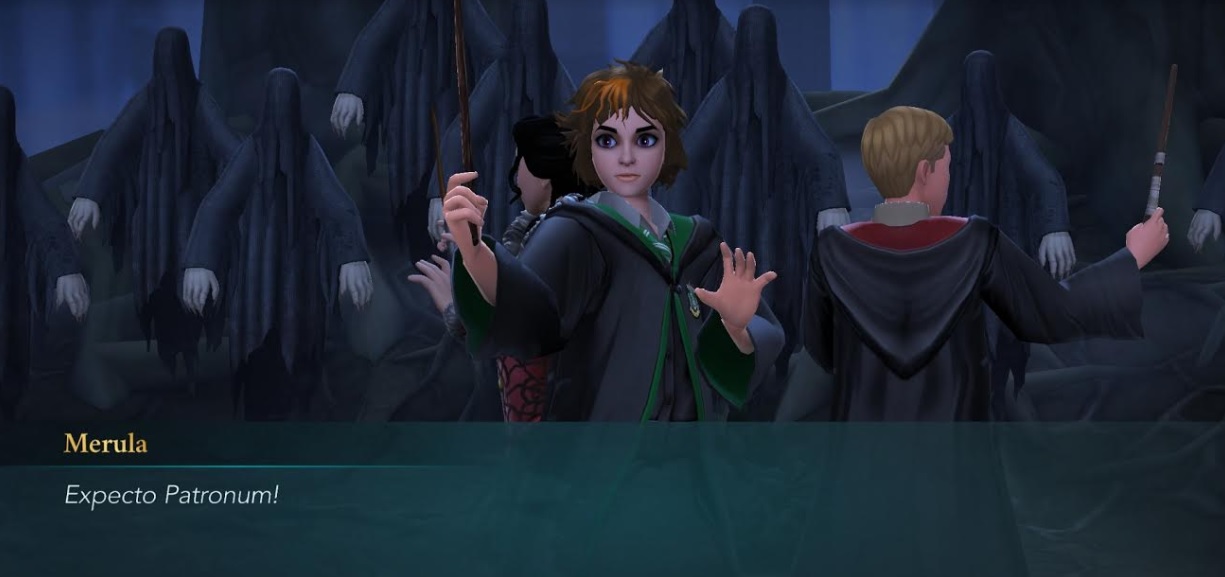 Not effective! Not effective at all! And now what fresh hell is... oh, bugger.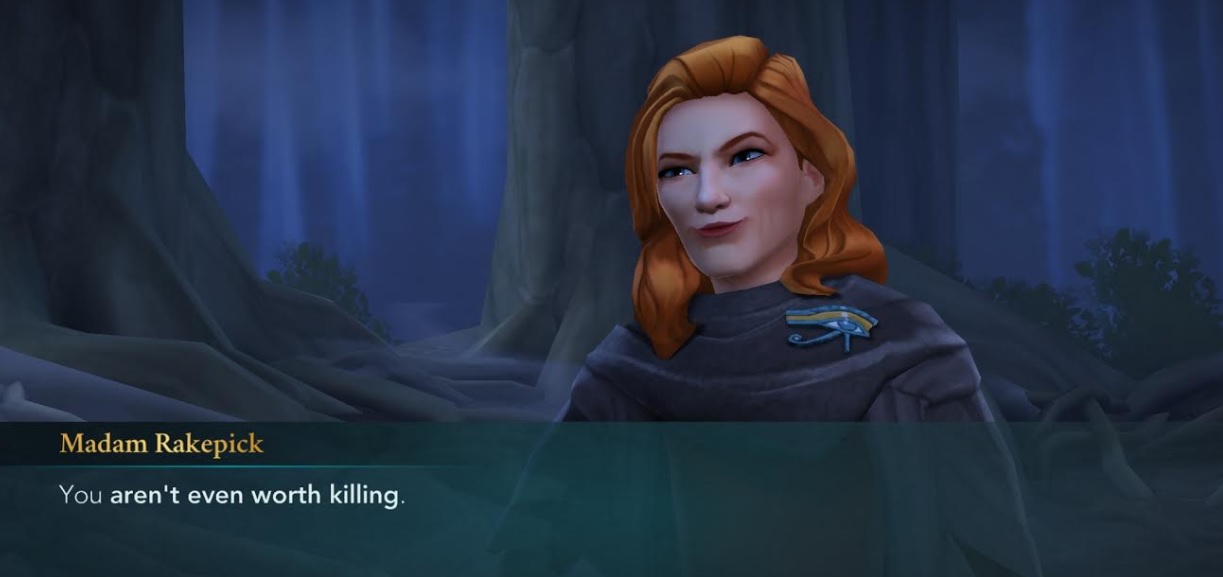 Right back at ya, babe, but we're going to give it a try anyway. Except that while we're knocked on our rear (when did we get so lousy at dueling? I thought we were supposed to be the best at Hogwarts...), Ben tries to be a hero. But another hero emerges instead, diving between Ben and a bolt of green light from Rakepick's wand.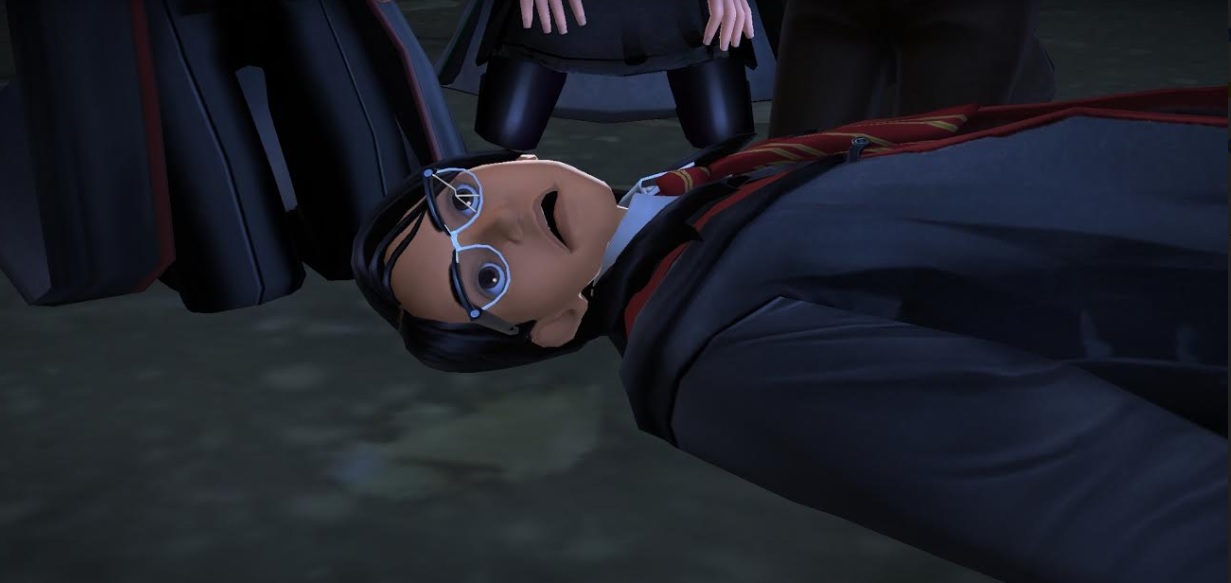 WAIT... WHAT???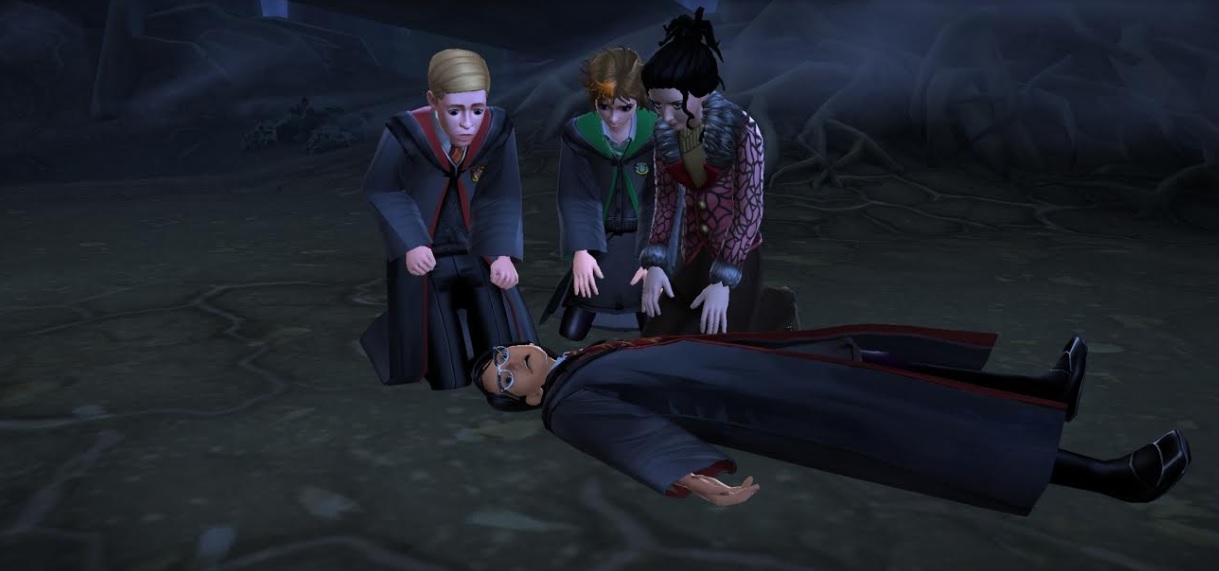 Okay, whose sadistic idea was this?! What in the actual hell is going on?!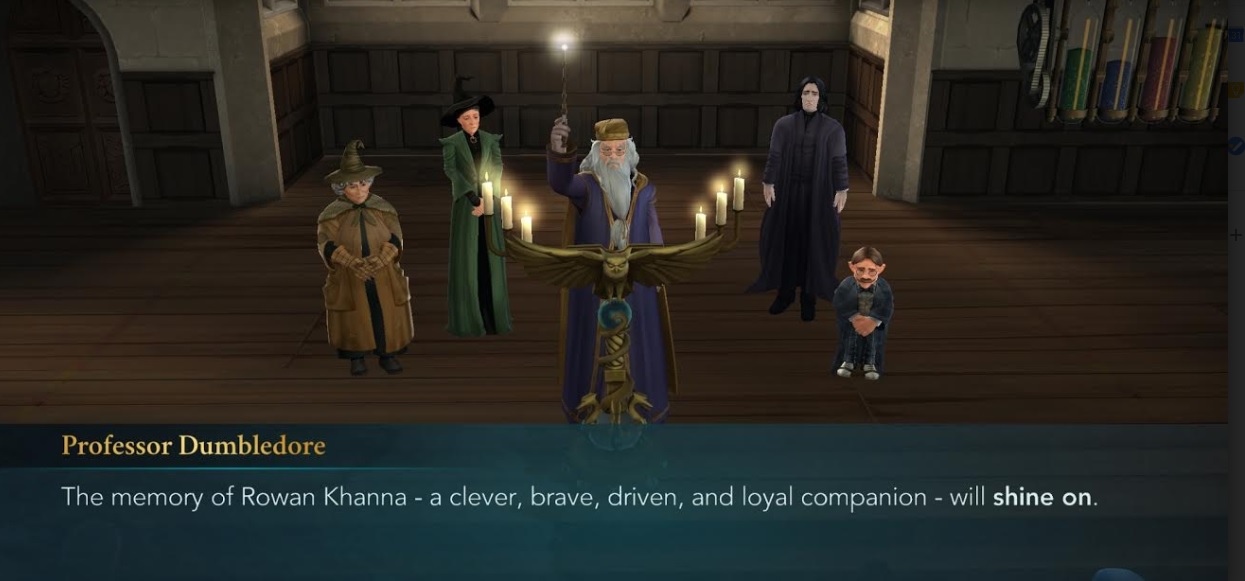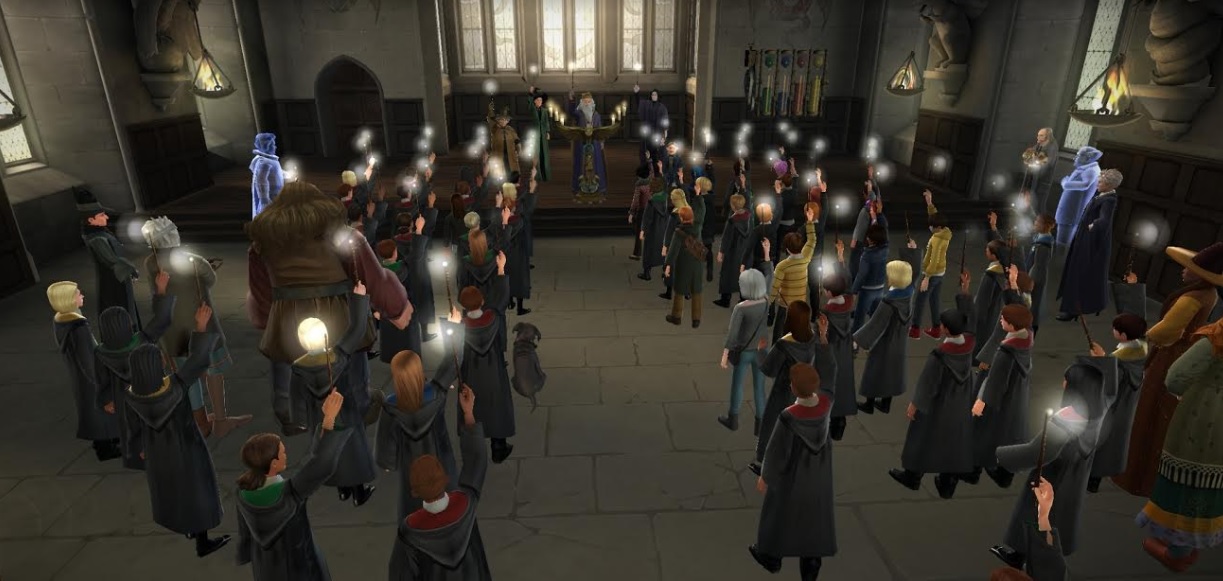 We immediately regret this. Can we go back to doing Full Marks Events and forget we ever saw this happen? Not little Rowan. She was so adorkable. We are not even remotely okay with this. But the poignancy is strong; a character who never seemed overwhelmingly brave turned out to be the bravest of them all.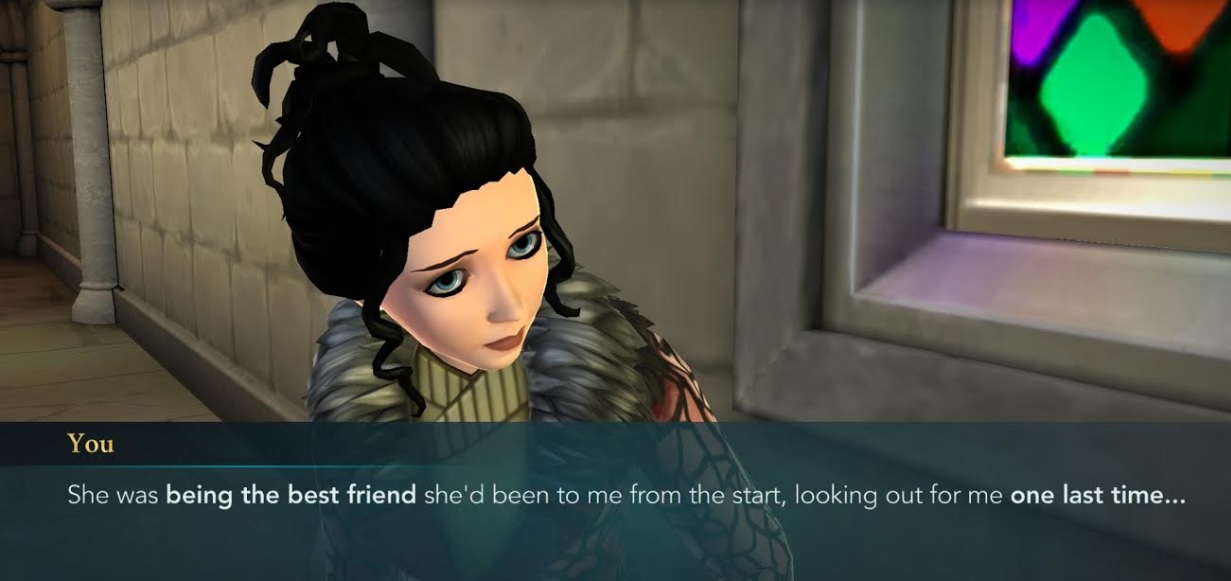 When did this game get so traumatizing? We play this thing to escape reality, dang it, not to be sent running for those fuzzy sweatpants we wear when we need to curl up on the couch for an hour and cry. How are we going to get over this?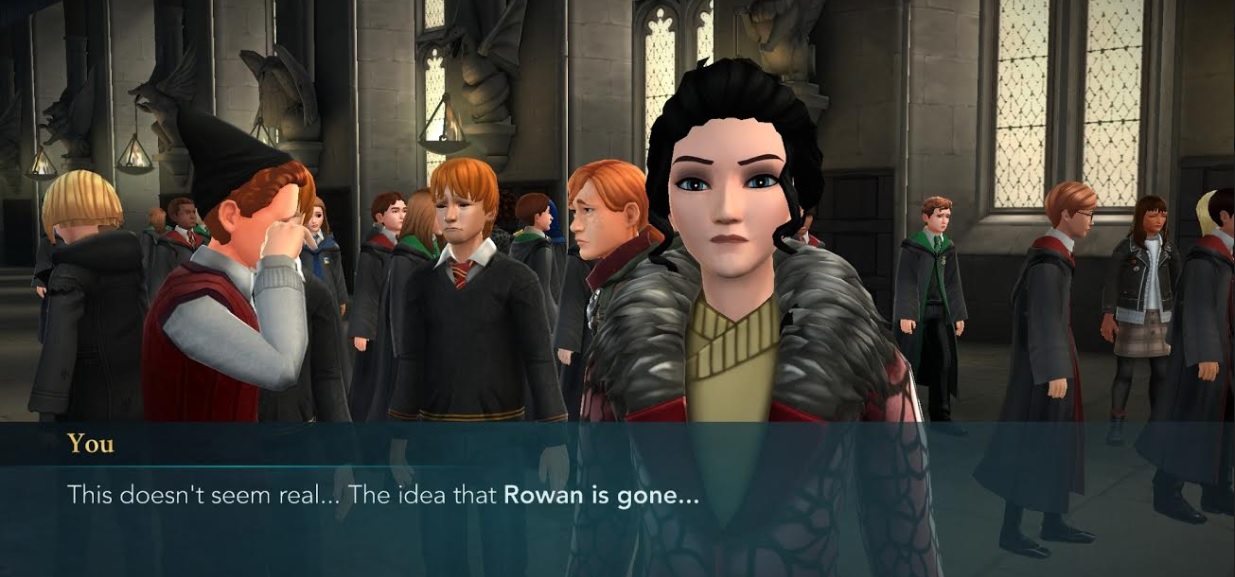 Okay, that's how. Nobody, but NOBODY, makes Weasleys cry and gets away with it. Not on our watch.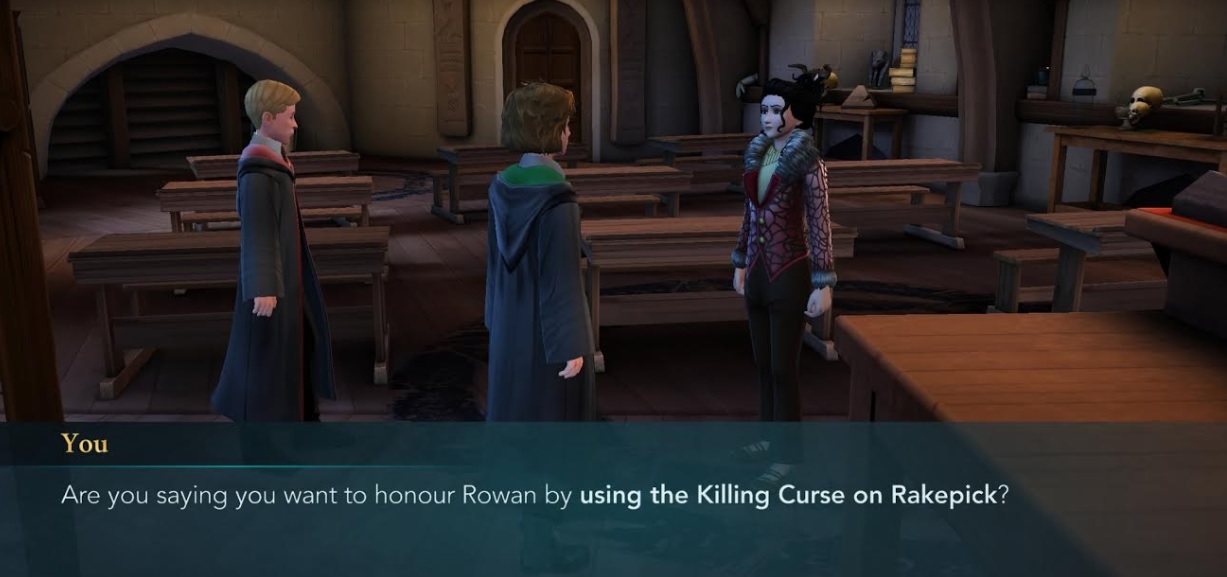 Yes, that's what she's saying, and we're 100% on board! We will Avada Rakepick right in the face! But no. We're Hogwarts students, and we must not be murderous. Going into the Forbidden Forest and catching up with the story were two major mistakes, but we'll avenge her death in a more organized manner: Dumbledore's Army, 1980s style.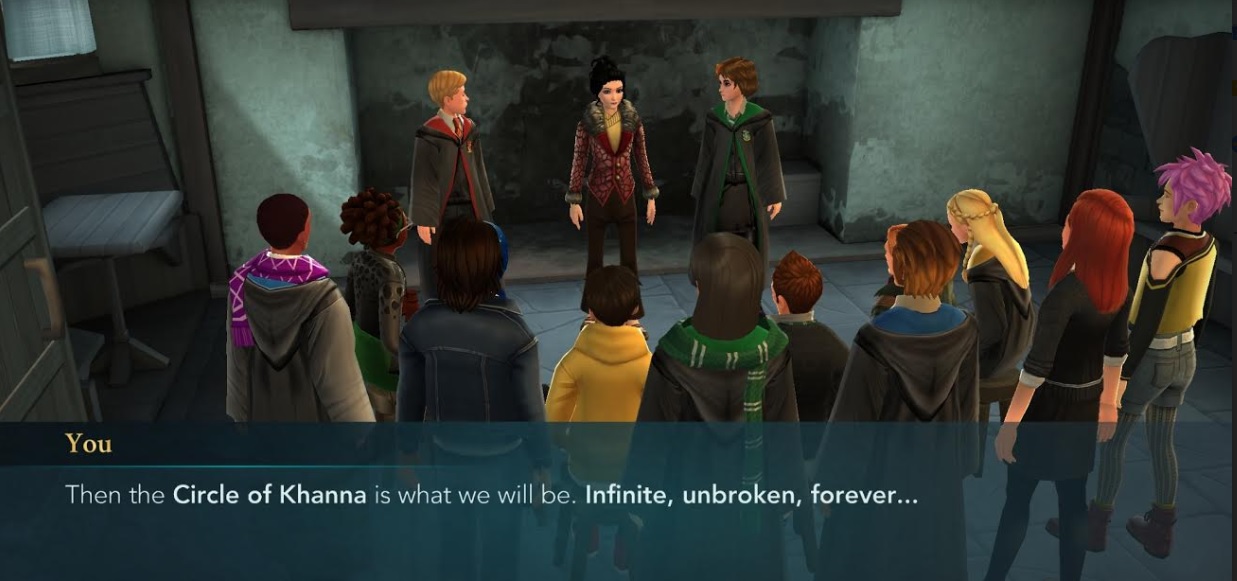 So here we are, gamers. We are dreadfully missing Rowan in classes, cracking her lame little jokes and trying to force us to actually learn. We've all suffered a great loss. We need time to grieve. But according to the Hogwarts Mystery download page in your app store of choice, we're apparently going to have a modified version of the Triwizard Tournament instead!
- The spirit of competition has come to Hogwarts as the All-Wizard Tournament fast approaches!
- See what tasks the teachers have to challenge you in this school[-]wide event!
- Win the tournament and add the All-Wizard Cup to your trophy collection!
Can we please keep Cedric Diggory far away from this thing? Until next week!
Other Gaming News
It's been quite a while since we gave you an update on Harry Potter: Magic Awakened, and that's because there hasn't really been much to say. The game still doesn't have an official release date, and it's still only marked for initial release in China.
But in the months since October 2019, the Magic Awakened YouTube channel has been busy posting videos that give gamers a taste of what's in store, from general samples of the story, which highlight the RPG elements of the game, to tastes of battles and games of wizard chess that show how the card-based aspect will function. We'll keep watching for a release date, but for now, you'll want to check out a few of the videos. You can watch two of the general trailers below, and once you do, you'll probably want to see all the videos the YouTube channel has to offer. This game's graphics are drop-dead gorgeous in the most whimsical way. Let us know what you think in the comments!
Meanwhile, it's also worth a mention that the gaming community has been freshly buzzing this week about the rumor that must not be named. Yes, that rumor: "Harry Potter and the Mysterious RPG Footage from 2018." It's not that we don't believe rumors can come true. Magic Awakened was rumored for quite a while as well before it became official. But while we never get our hopes too high whenever this comes up, the buzz is generating from a pretty promising source.
Warner Bros. Entertainment Group posted a job listing March 5 on a WarnerMedia career site that says the company is seeking an Associate Lighting Technical Artist for a major release that will soon be announced.
Avalanche Software, a WB Games studio, seeks a Lighting Technical Artist to work closely with a talented group of artists and engineers on an exciting, soon[-]to[-]be[-]announced AAA title. The Lighting Technical Artist will work closely with a team to create visually stunning lighting and ambiance for real[-]world settings and will contribute to the overall aethetic beauty of the game.
AAA is the gaming industry's equivalent of a blockbuster movie, and Avalanche Software is indeed the developer attached to the RPG rumor. So while there is obviously no way of knowing what the title is going to be, the simple fact that it's major and "exciting" is enough to make it worth speculation. The fact that the RPG rumor has persisted this long just goes to show that many people firmly believe it's coming. Fingers crossed.