Escape into the Wizarding World with "Wizards Unite", "Hogwarts Mystery"
by Brienne Green · Published · Updated
It's safe to say that we are all looking for a pleasant distraction from the current global situation. What better way to pass the time at home than to virtually escape into the wizarding world for a little magical gaming? For those of you who've been here all along, you'll be happy to see a few tweaks to your favorite games that will make it easier to play from a single location. And for those who may have stepped away from Harry Potter: Wizards Unite and/or Harry Potter: Hogwarts Mystery for whatever reason, there's no time like the present to come back!
This week, Wizards Unite will be returning us to the eerie Circus Arcanus, while Hogwarts Mystery is breaking up the monotony with special in-game events and extras. We also have a few unofficial title suggestions that may pique your interest. Above all, make sure that you're gaming responsibly! If your community, state, or country has restrictions in place requesting – or requiring – that you stay home, heed them. The Portkey Games gang is doing its part to make sure you can enjoy these games from the comfort of your own couch, so do your part and take advantage of that. Phones at the ready!
Wizards Unite Game Update
We all know that Wizards Unite is designed to get you up, out, moving, and possibly making new friends, but for the time being, forget literally all of that. It doesn't have to be upsetting. For now, let's all just pretend we're Sirius Black. We've just busted out of the hoosegow that is Azkaban, "Jailbreak" by Thin Lizzy probably playing in our heads the entire time because we're from the '70s, and now we need to go into hiding. Lay low. Hole up. Unfortunately, Dark wizards and Mrs. Norris keep busting into our cozy cave, so it's up to us to keep sending them back from whence they came.
See? A little imagination goes a long way. Without further ado, here are the changes to Wizards Unite's gameplay that will keep your cave in good supply until further notice.
Tonic for Trace Detection will reveal Traces more frequently and will have its brewing time decreased by 50% rather than 15% when using Master Notes.
Potion ingredients will appear more frequently on the map, particularly those needed to brew Tonic for Trace Detection.
Traces in general will appear more frequently on the map.
Spell Energy will now appear on the map along with ingredients, seeds, and water.
The number of gifts players are allowed to open each day has increased from 10 to 20.
Spell Energy Gifts will include increased amounts of Spell Energy.
A free bundle is available in the Diagon Alley Shop - containing four Tonic for Trace Detection potions - for those who have yet to pick it up.
All of the above will give you what you need to complete Part 2 of the Circus Calamitous Brilliant Event, which kicked off today and will culminate at 11 a.m. (Pacific) on Tuesday, March 31.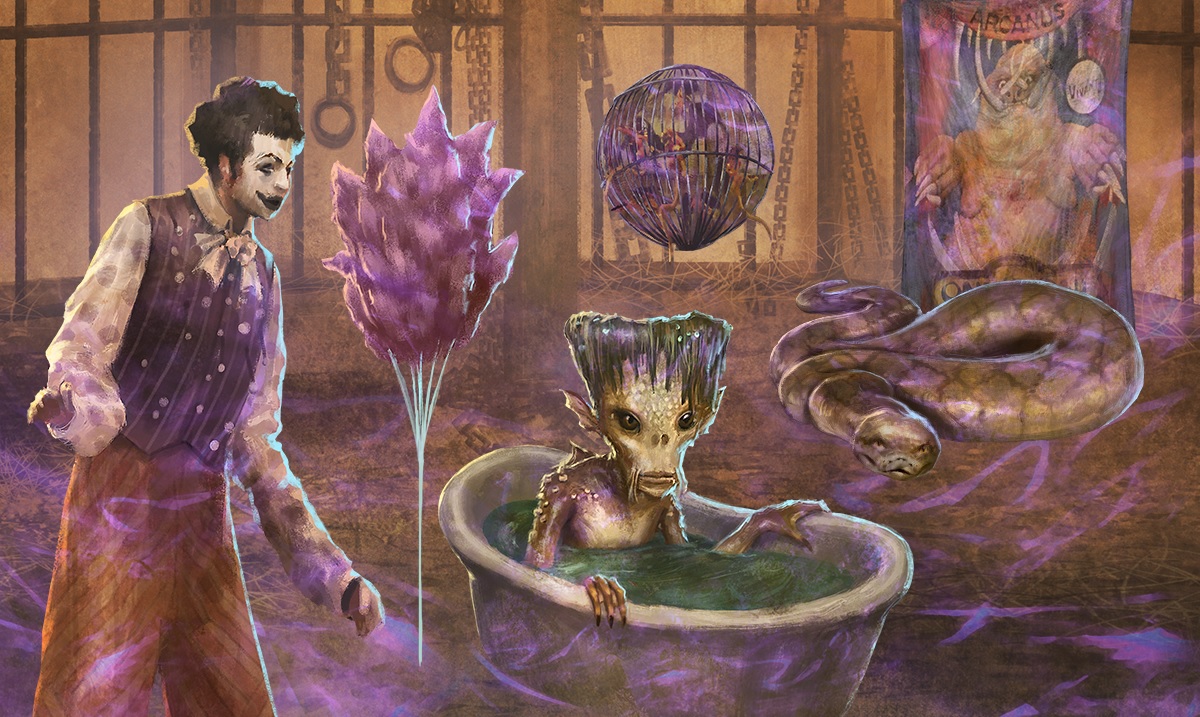 Don't forget to grab your free bundle in the Diagon Alley Shop, and definitely leave yourself time to complete the bonus assignment this time around; it'll give you the ability to fill in your event registry page and take another crack at that rare Newt Scamander Foundable we told you about last time.
Put those Tonics for Trace Detection to good use, and you'll see Brilliant Nagini and Brilliant Kappa pop up on your map. Completing primary event tasks, meanwhile, will earn you the Brilliant Firedrakes and Brilliant Clown, use those event-specific Portkeys to pick up the Brilliant Oni Poster, and complete the bonus assignment to nab the Brilliant Candy Floss Stand.
Unlocking Portkey Portmanteaus isn't a requirement in any of the event tasks, which is good news for a number of reasons, and while you'll still need to access event-specific Portkeys for the Brilliant Oni Poster, Portmanteaus will be trimmed from 3 km to 1.5 km. That means you can walk around your yard or even through your house if you live in an area where going further is restricted. The Portkeys will take us back to the Circus Arcanus, which is really well done in terms of graphics. Check it out.
You'll also notice that no event Foundables are tied to Wizarding Challenges, which allows those who can't venture out to a Fortress to complete the event.
Wizards Unite also recently completed its update to Version 2.11.0. It was a small update, but you can read about the changes below.
General: Tapping the drop-down menu after a successful encounter will now show you a more streamlined list of the rewards and bonuses you earned, as pictured below. Also, notifications will now pop up when a Portkey is ready to be unlocked or when a friend has sent a gift.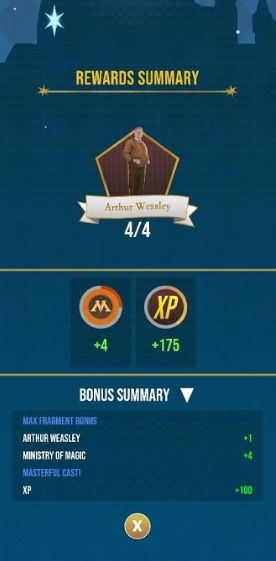 Photo Mode: Players are now able to use their Ministry ID portrait filters, frames, and stickers to decorate the screen when viewing Foundables in Encounter Photo Mode and Registry Photo Mode.
As you know, March's Community Day was called off, but we still have the Magical Mischief Event to look forward to, which is scheduled to run from midnight in your local time zone on Tuesday, March 31, to midnight on Thursday, April 2. That's the one that will turn us loose with the young Marauders (squee), and since information on the event is limited right now, expect to see us back in a few days with a full update!
Hogwarts Mystery Game Update
Can we all agree that Hogwarts Mystery could not have picked a worse time to take our old friend Rowan Khanna away? But it's not their fault. They couldn't have known what was coming, and our character's newfound purpose through the Circle of Khanna actually gives us a rather refreshing sense of empowerment. Everyone has divided into groups that will allow them to use their skill sets to help you prepare for the final Cursed Vault, and that's where the story has paused for now.
In the meantime, however, we had the All-Wizard Tournament to keep us busy, and that was more fun than a...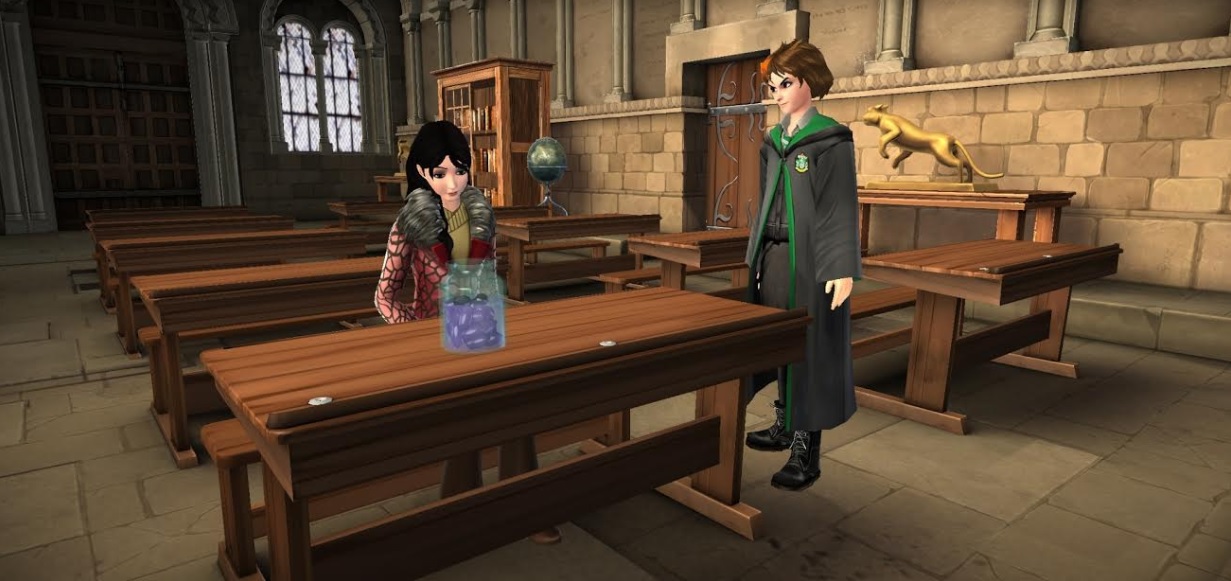 No, not more fun than a jar full of Doxy eggs.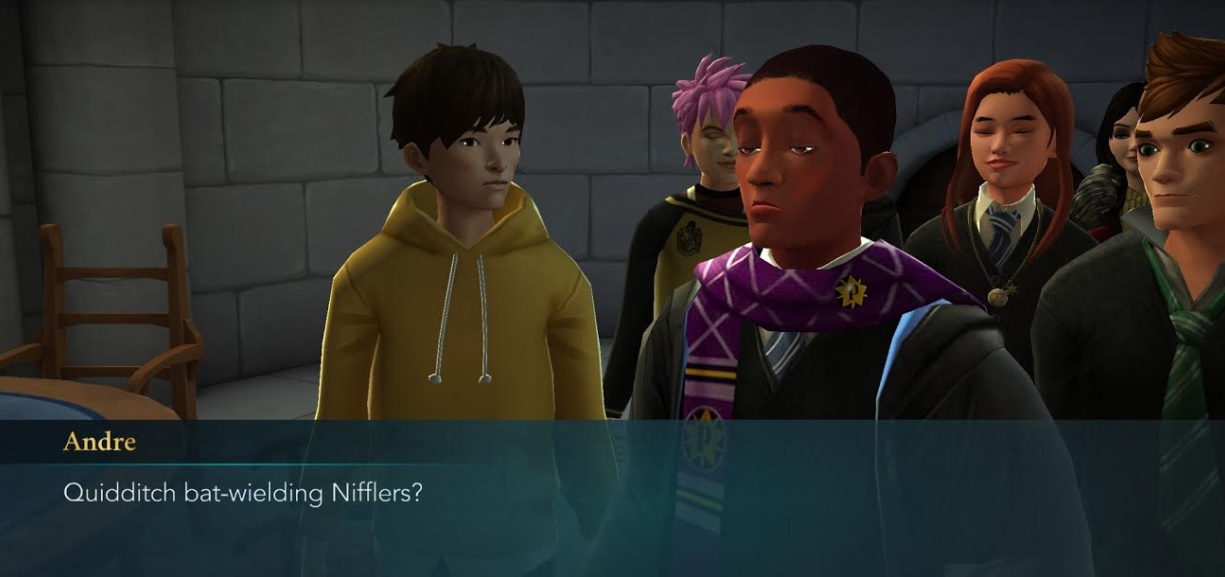 No, not more fun than Quidditch bat-wielding Nifflers either. What could be more fun than that? I guess we can say that it was definitely more fun than the Triwizard Tournament.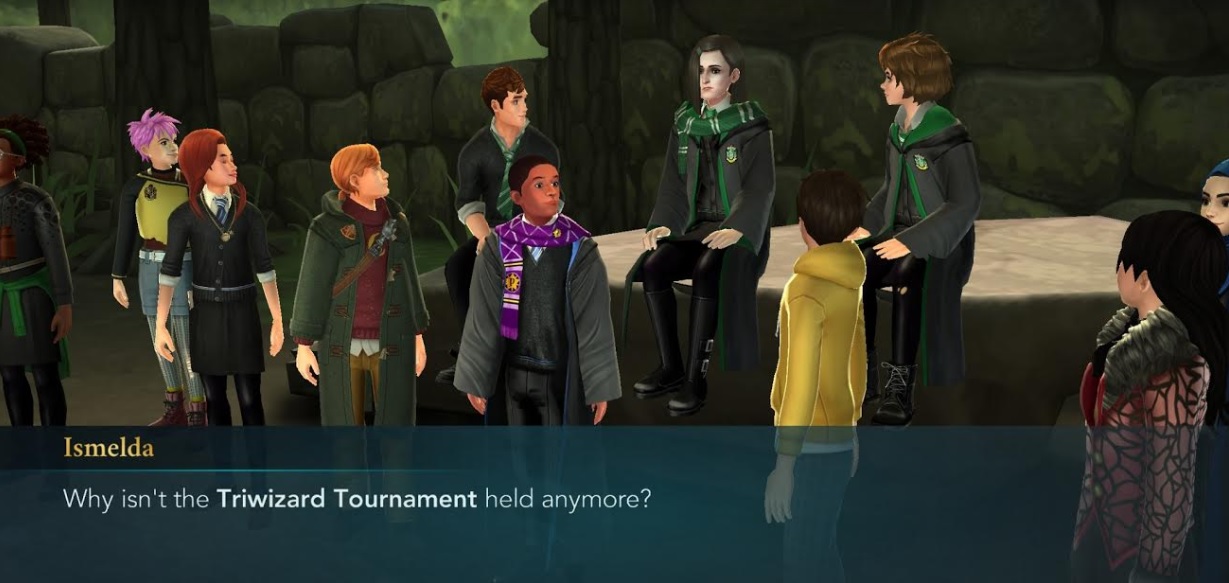 Yeah, about that. So after locking Cedric Diggory safely away in his dorm room, our hardy band of potential future Triwizard Champions prepared for the first of our tasks, which was incredibly silly.
Even sillier than that, though decidedly less dangerous.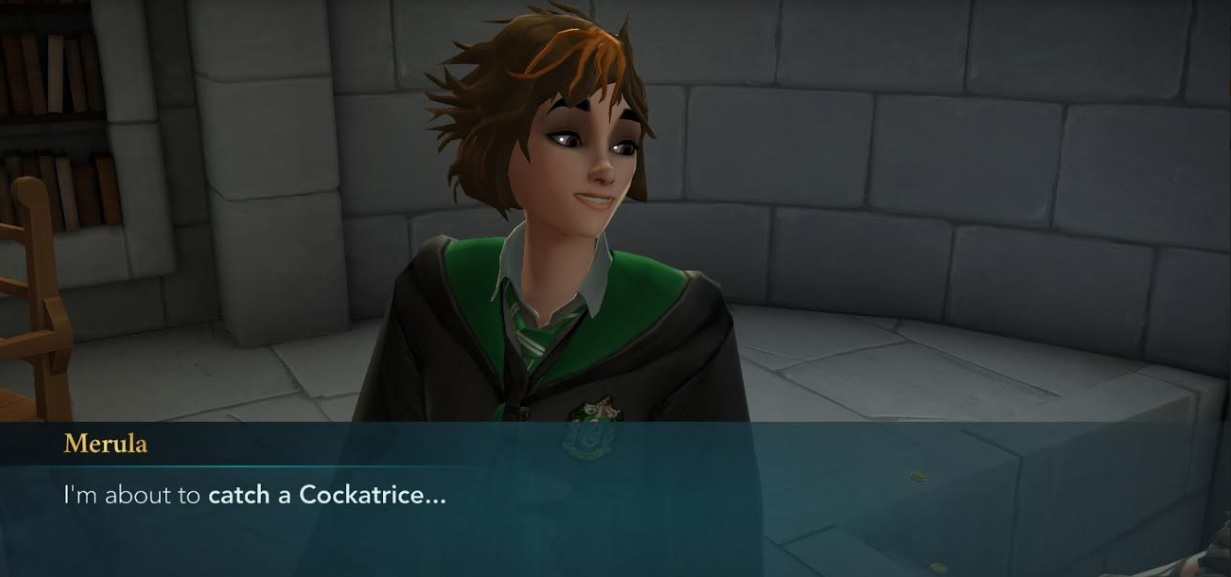 Good luck with that. Let us know if you find a snipe while you're at it. Anyway, we found ourselves in the lead after proving capable of keeping small, furry creatures away from our money, and we were all feeling pretty pleased with ourselves.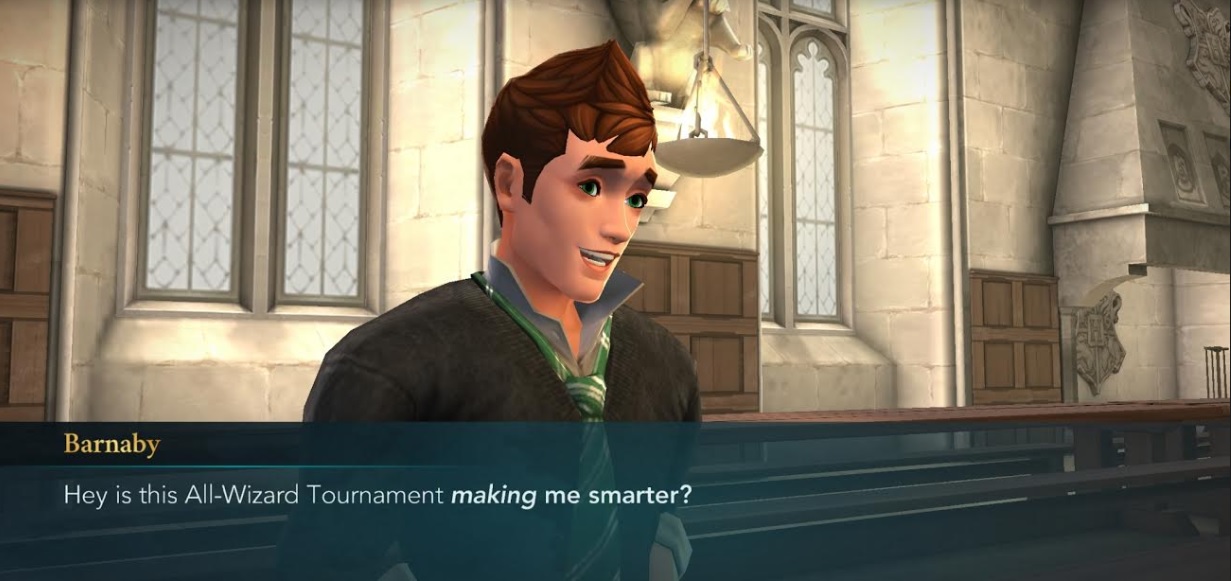 No, Barnaby, bless your heart... It's really not. Moving along, considering we weren't in control of any of these tournament tasks, we assumed we'd win the second one as well, but alas. Merula Snyde decided to be her usual Snyde-y self and knock us off course, allowing reserve Seeker Andre Egwu to nab the Cornish pixie.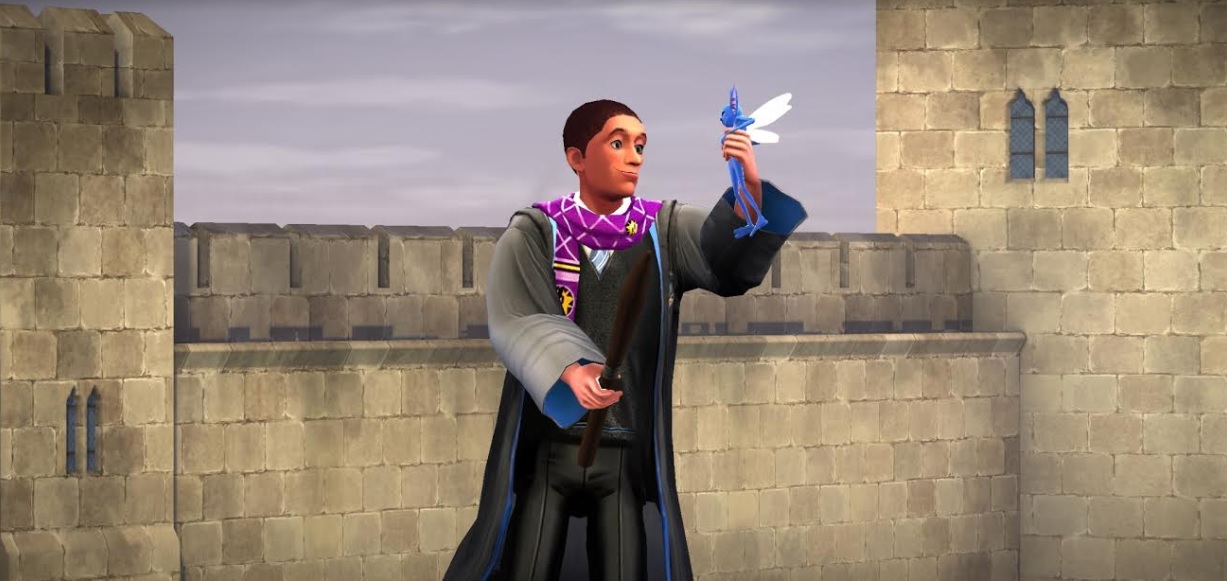 Meanwhile, nearly everyone else became chew toys for irate Doxies, so it could have been worse. Nothing narrows the field like a mass poisoning. On a sidenote, can we throw in how wrong it is to have Statue Madam Pomfrey just standing around in the hospital wing? Could someone put that poor woman on a bed?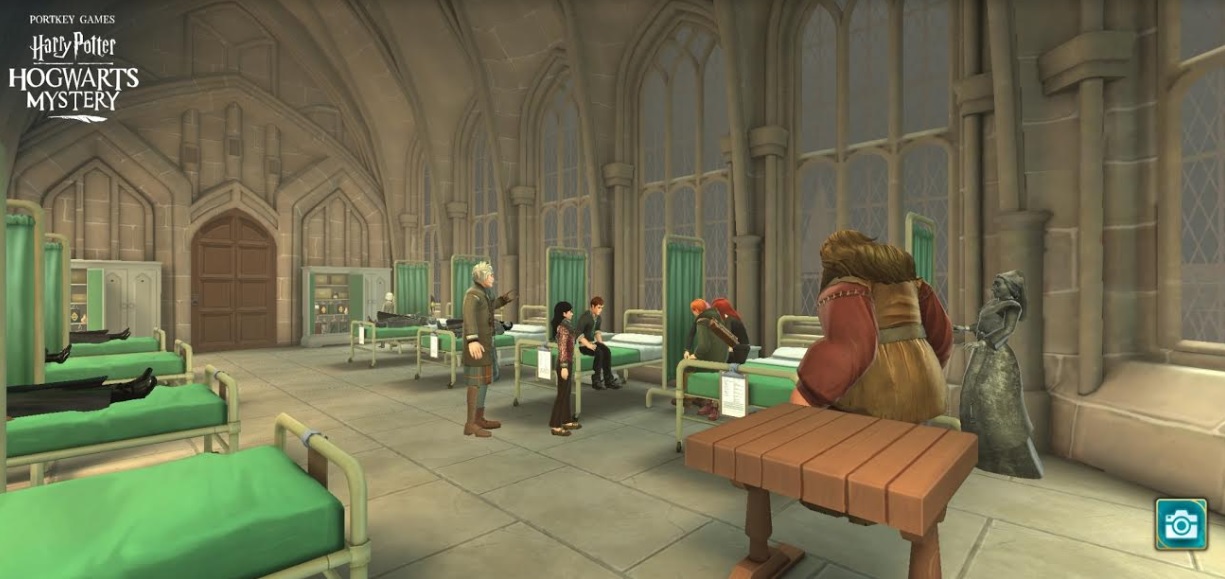 Since Rubeus Hagrid and Professor Kettleburn turned out to be really bad at organizing an intricate, multi-competitor event (who would've guessed?), Albus Dumbledore took over for the third and final task, and it would take us to the Forbidden Forest to confront...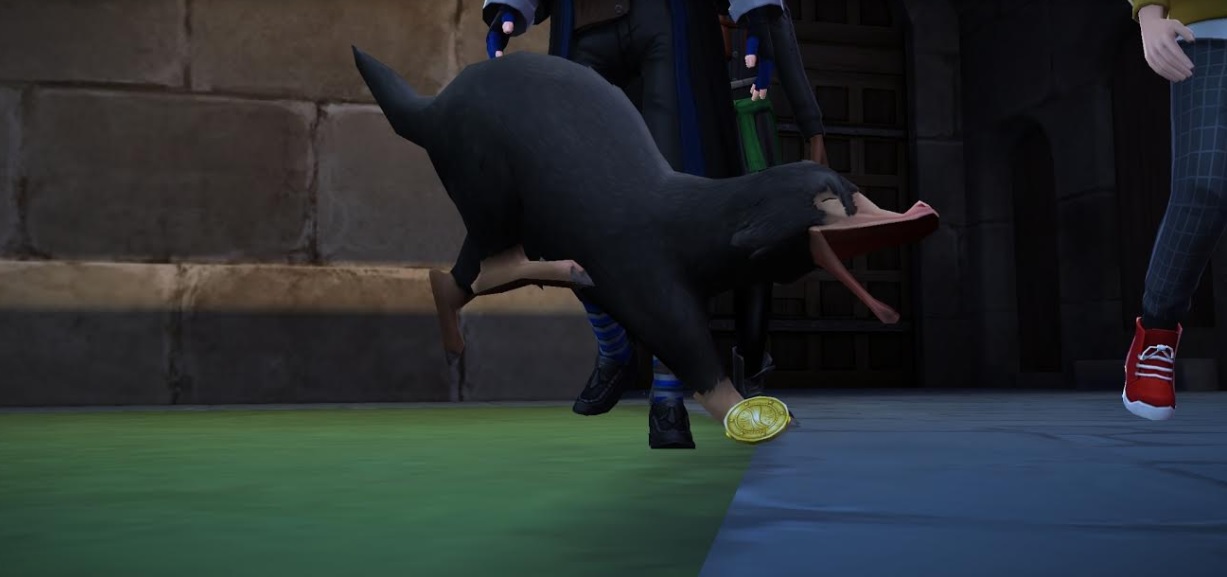 Nope, not a Niffler. We just wanted to show off the excellent screenshot we got of that little guy.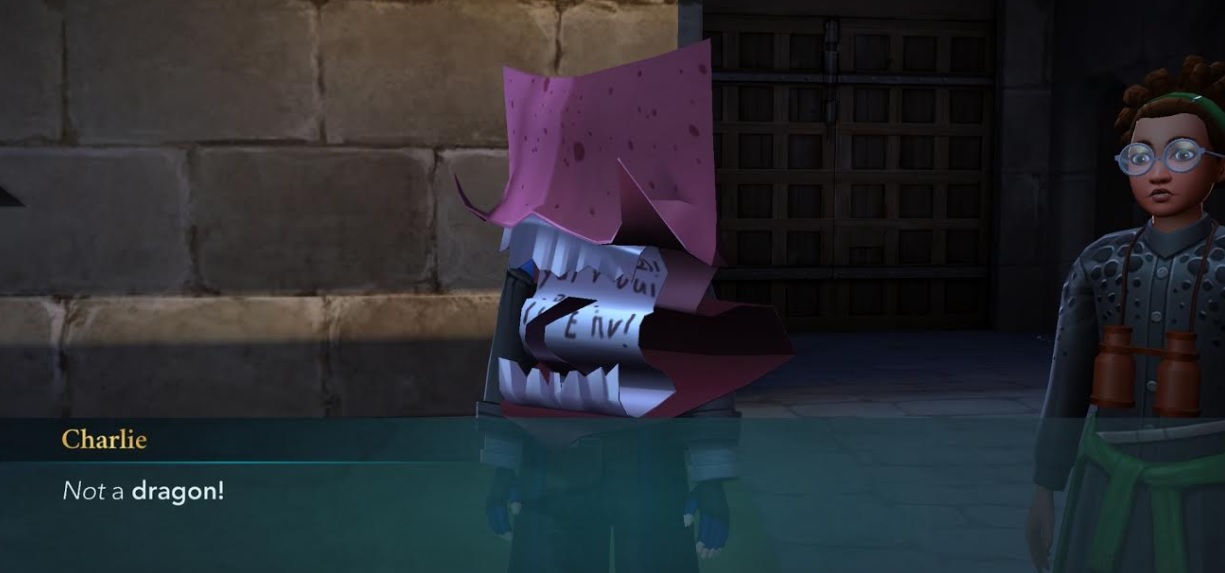 Yes, Charlie. It was also not a dragon. Can't you just hear the underlying disappointment in his terrified shrieking, though?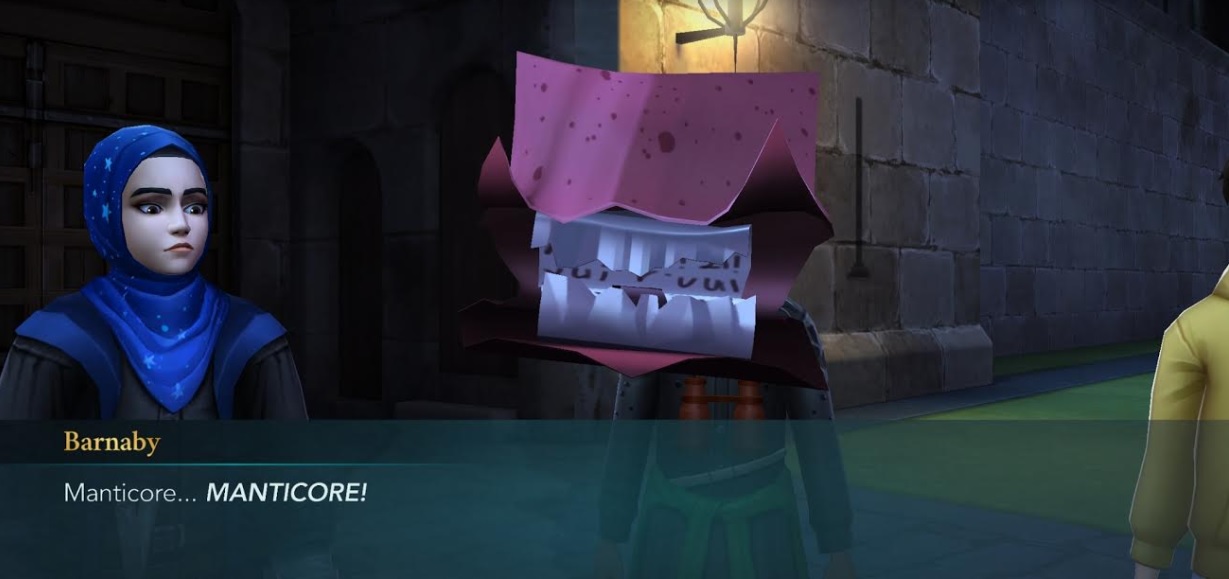 Correct! Maybe he is getting smarter. Dumbledore turned a hungry manticore loose on your previously Doxy-incapacitated friends in the middle of the night in the Forbidden Forest because he's Dumbledore. And good grief, if that thing wasn't disturbing.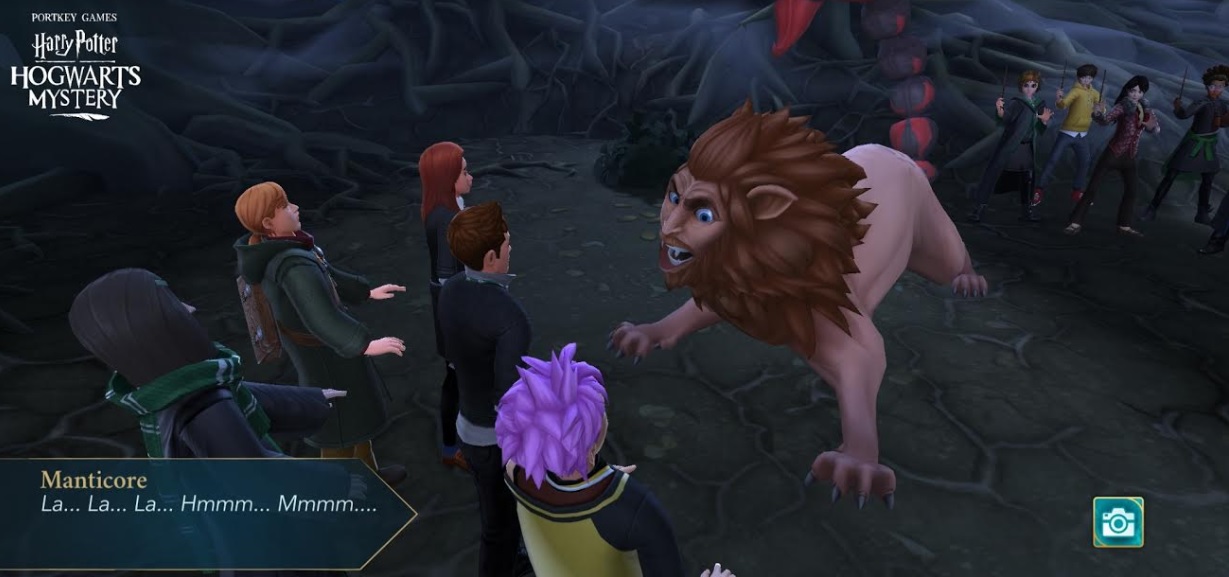 Ugh and double ugh.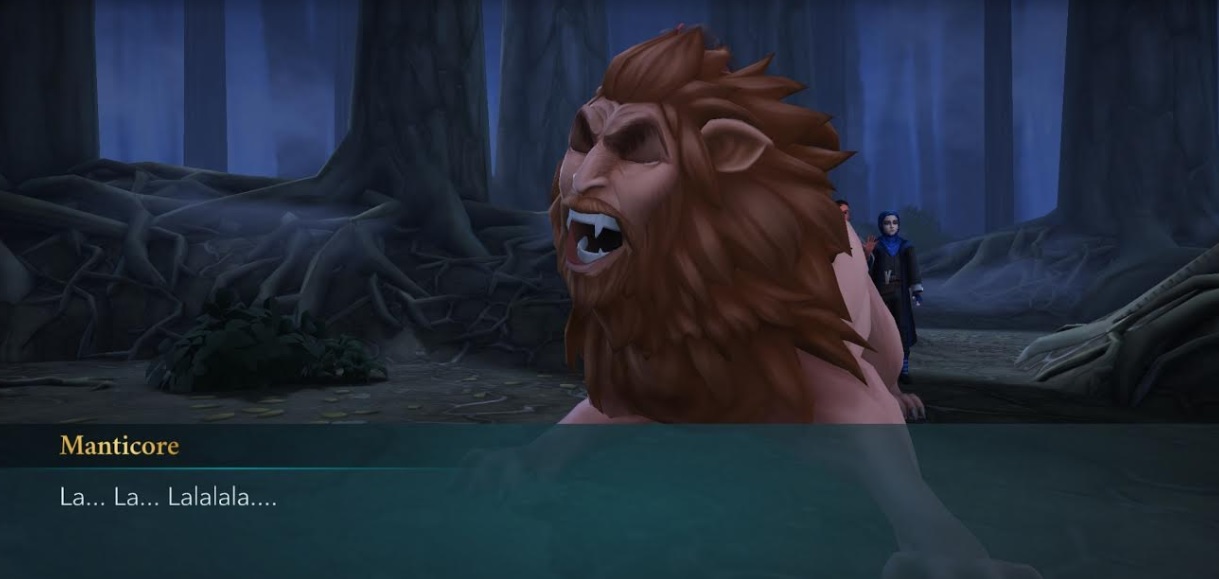 Just make it stop. You did, of course, and the All-Wizard Trophy was all yours! We're going to need a new shelf in our dorm room for our gem- and energy-dispensing baubles, and that's perfectly okay with us. Keep them coming.
Elsewhere, Hogwarts Mystery is adding a little more fun to the game with special pop-up extras. You likely already picked up your free Brown Notebooks and took advantage of Energy Happy Hour, and now we're off on a Coin Chase. This scavenger hunt of sorts requires you to check the game's Twitter, Facebook, or Instagram account for a clue. Visit that location in-game, and you'll find the Niffler's coin stash! We'll cheat and give you today's.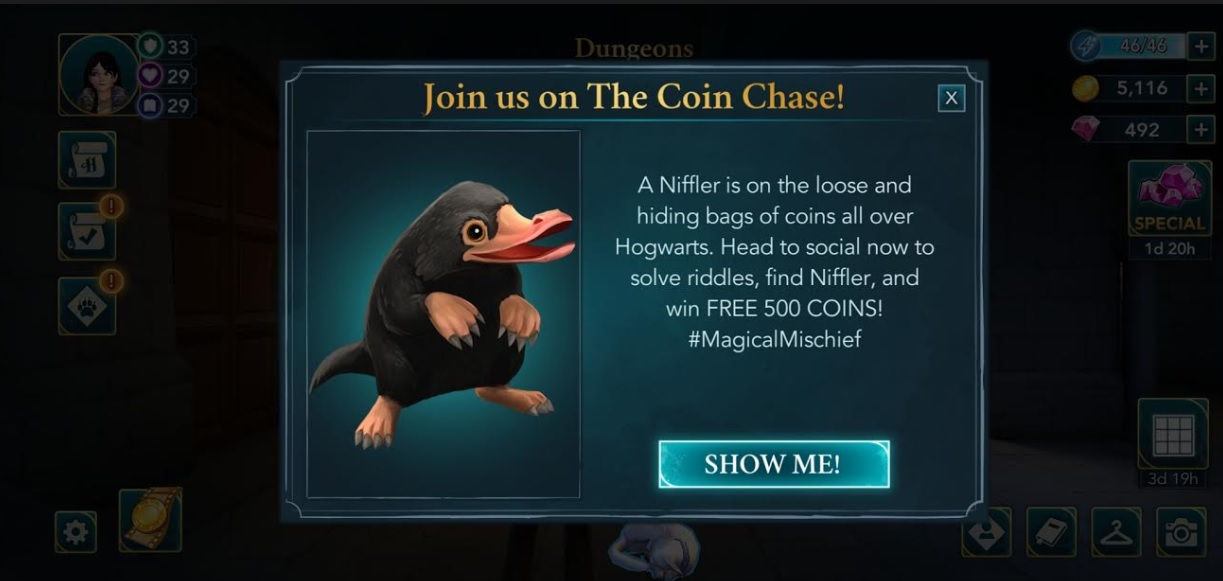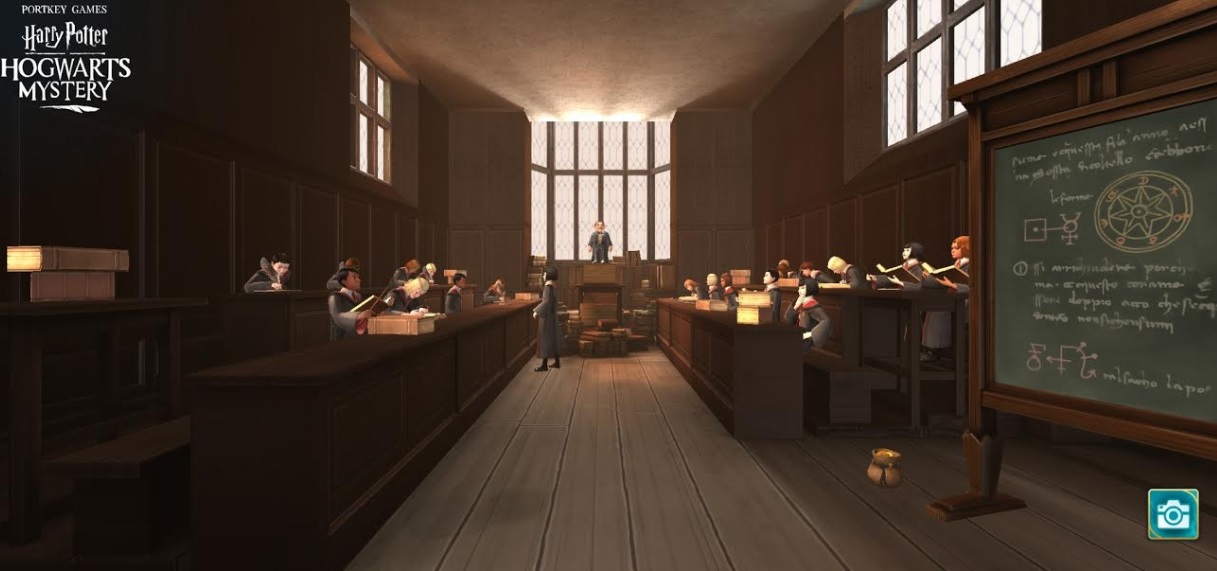 On a serious note, if you're feeling uneasy, we totally understand.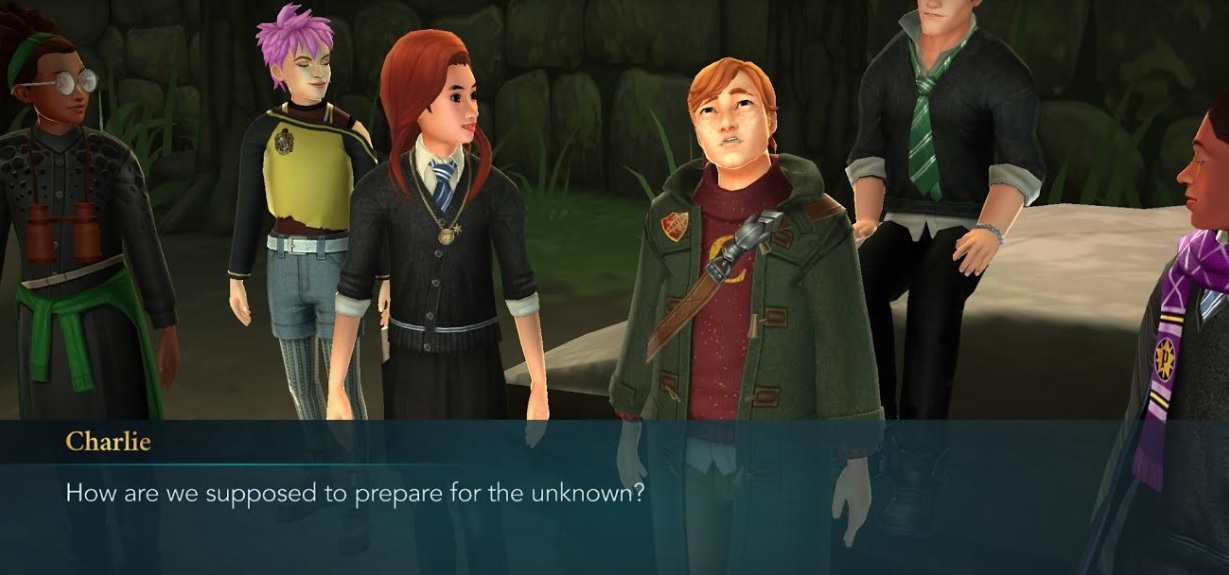 Exactly. We can't. But you can follow the social distancing guidelines and take control of your own situation for the sake of yourselves, your loved ones, and your friends.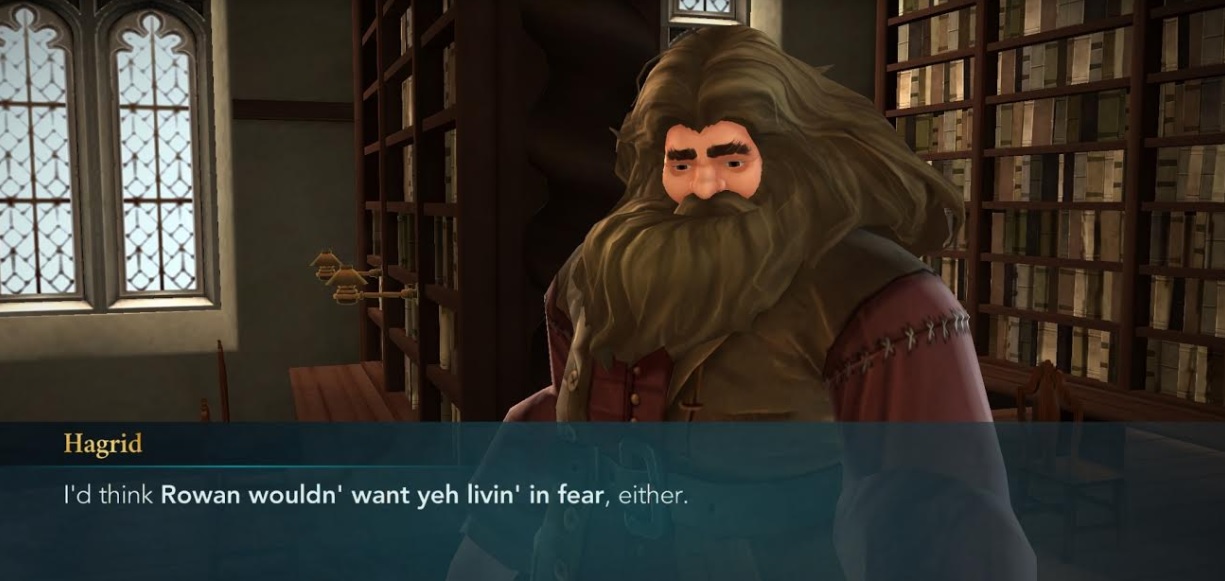 And if you need an extra dose of comfort, just think Puffskeins and Crup puppies.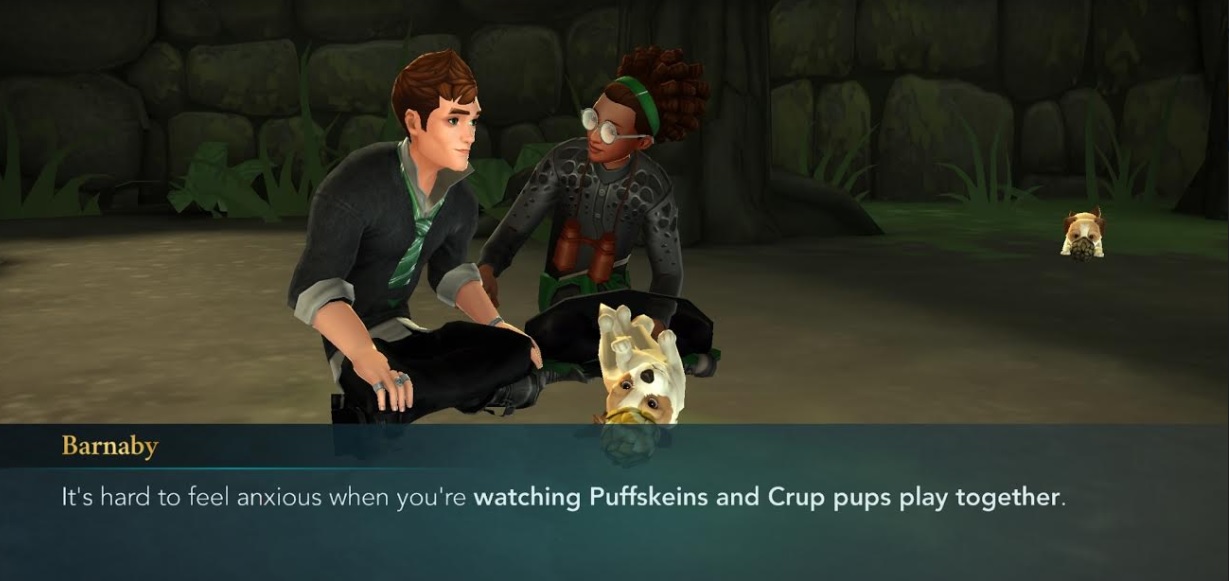 Other Gaming News
How about a little walk down memory lane? HeadStuff has introduced a new series exploring film-to-game adaptations from years past, and its writers recently took a fun look back at Harry Potter and the Sorcerer's Stone. The game was originally released in 2001 for PC, Game Boy Advance, Game Boy Color, and the original PlayStation, and was later adapted for Mac OS X, GameCube, PlayStation 2, and Xbox.
You can head to HeadStuff for an enjoyable read and watch the original commercial because it's awesome.
If you're not susceptible to motion sickness, you can also check out a clip of Harry skidding about collecting scrolls at Gringotts Wizarding Bank.
MuggleNet previously let you know about Witchbrook, and while there are no new developments there as yet, we're still keeping an eye out. There has, however, been progress on the Broomstick League front, and you can kind-of-Quidditch your heart out now on Steam! Check the game's official site for more.
If you're on the lookout for additional cuteness, Little Witch Academia: Chamber of Time is an action RPG for PlayStation 4 and Microsoft Windows that deposits you at the Luna Nova Magic Academy, where you can train to your heart's content. A 3D mode allows for exploration around the academy, and a 2.5D action mode is used for battles against monsters and other magical enemies.
On the horizon for PS4 and PC is Spellbreak, a third-person magical combat tour de force. Players can combine the spells they've learned for maximum damage and utilize their strategic building skills in what looks a lot like Harry Potter meets Fortnite. Closed beta packs for PS4 are available now on the game's website.
Finally, if virtual reality is your scene, you can take on the world of Wands on PlayStation VR, Steam, or Oculus. This game has been out for a while, but it's definitely worth a mention. Let your Dueling Club dreams come true as you learn spells, practice them in your own personal secret chamber, and then unleash them upon unsuspecting online opponents. Learn more at wandsgame.com.