Snargaluff Stump
Tentacula. Devil's Snare. And Snargaluff pods . . . yes, I'd like to see the Death Eaters fighting those." (DH 600)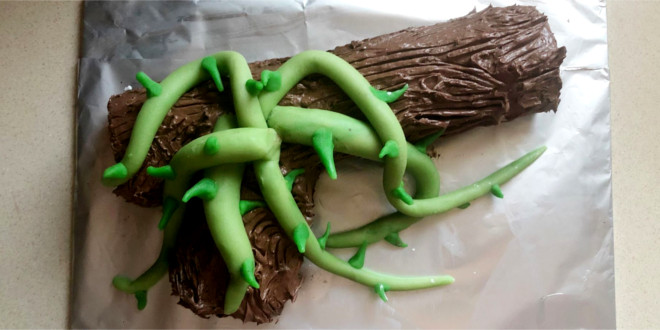 Snargaluff Stump
Fiona McTaggart and Alex Tremaine
Follow these easy, fail-safe instructions to make yourself a perfect Snargaluff Stump and show off your skills in the kitchen that even a house-elf would envy.
Ingredients
Cake
1/2

cup

all-purpose flour

1/4

cup

cocoa powder

unsweetened

1/4

tsp.

salt

6

egg

large, seperated

1/2

cup

powdered sugar
Filling
1

cup

heavy cream

1/2

cup

powdered sugar

1

tsp.

vanilla extract
Buttercream
2

egg whites

2/3

cup

sugar

1

tsp.

vanilla extract

1/4

cup

cocoa powder

unsweetened

2/3

cup

butter

cubed and softened
Decorations
250

g

marzipan

food coloring

green
Instructions
Cake
Preheat your oven to 350°F. Line a 13″ x 18″ (half sheet) baking tray with parchment paper.

In one bowl, whisk together flour, cocoa powder, and salt, making sure there are no lumps.

In a larger bowl, whip egg whites to stiff peaks with a hand mixer. Slowly add in powdered sugar and egg yolk until combined.

Gently fold dry mixture into whipped egg with a spatula.

Pour mixture onto baking tray and bake for 8–10 minutes or until a fork comes out clean. (Don't overdo it here. The key is a thin, flexible sponge so that it rolls well.)

Dust a new piece of parchment paper with powdered sugar. Flip the hot cake onto dusted parchment. Carefully roll cake on the long side, keeping the parchment paper inside the roll. Set aside to cool.
Filling
Whip together cream, powdered sugar, and vanilla to soft peaks.

Unroll your cooled cake and spread filling over the surface. Reroll cake without parchment paper and place in refrigerator to cool completely.
Buttercream
Combine egg whites and sugar in a medium metal bowl.

Bring a small pot with about 1″ of water to a boil. Place bowl of egg whites and sugar on pot and whisk until sugar is melted.

Remove bowl from heat and beat egg whites on high until stiff peaks form. Add vanilla and cocoa powder. Whip until combined.

On low speed, add softened butter chunks and mix until thick, creamy, and smooth.
Decorations
Knead marzipan until it's soft, warm, and pliable. In a bowl, knead in green food coloring two drops at a time until desired shade of green is achieved. Divide into seven even pieces.

Place one ball of marzipan in coloring bowl and add another 1–2 drops of food coloring so it is slightly darker than the rest of the marzipan.

Set marzipan aside.
Assembly
Remove your cake roll from refrigerator.

Set aside a couple of tablespoons of buttercream in a piping bag.

Spread the rest of the buttercream over the cake. Create bark lines with a fork or decorating comb along the length of the log.

Take each lighter ball of marzipan and roll into long vines, thinner at one end. Place your vines on the log originating from the same spot. Separate your darker ball, roll into spikes, and squish them onto the vines.
Notes
When whipping cream to soft peaks, one should look for a point that folds over itself when the whisk is removed from the cream.
Stiff peaks will not fold over. In fact, the whipped cream should stay in the bowl if inverted completely.
Fats hinder egg whites from properly whipping. Rubbing the inside of your mixing bowl with white vinegar on a paper towel before use will remove any residual fat in the bowl.
If your buttercream turns to soup when the butter is added, then the egg whites were too warm when the butter was introduced. Let it whip until cool. (Ice touching the outside of the bowl will help.)
If your buttercream looks grainy or lumpy as the butter is added, then it's not warm enough. Continue whipping while lightly warming the bowl with a hairdryer or culinary torch.
Refrigerating this type of buttercream will require re-whipping before use.
Instead of using a bowl, you could color your marzipan in your gloved hand. The heat of your hand will help to soften the marzipan.