A MinaLima Cure for Lockdown Blues
I don't know about you, but staying indoors and shielding from the big C-O-V-I-you-know-the-rest has left my world a little darker. Hearing Albus Dumbledore's famous words, "Happiness can be found, even in the darkest of times, if one only remembers to turn on the light," I knew exactly what I needed to do: binge read every edition of MinaLima's illustrated books.
Here is a rundown of my favorite MinaLima illustrated editions to beat those lockdown blues away.
The Secret Garden by Frances Hodgson Burnett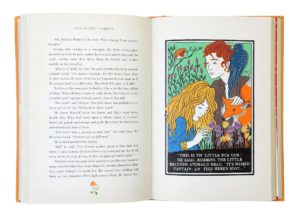 Finding beauty and magic in the ordinary is something MinaLima is well versed in, and this classic coming-of-age story about orphaned Mary Lennox is full of twists and turns. When lockdown is making you feel as though there is no hope inside, turn to this book to release yourself from the darkness and sit in awe as the pages come alive. MinaLima has given us the opportunity to have some of the best sections of the book illustrated, and they have brought to life the characters just how I imagined them in my mind: Mary with her inquisitive face, Colin's pale and sad face, and of course, Ben surrounded by nature. The attention to detail is stunning and the color scheme and style take you back in time to enjoy the story as though you were really there.
Buy on Amazon   🇺🇸 Buy on Amazon   🇬🇧 Buy on Bookshop.org
Pinocchio by Carlo Collodi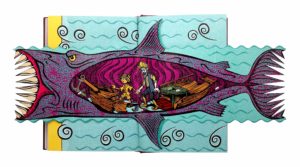 I'm sure you watched the film adaptation as a child, but have you taken the time to revisit this tale since then? MinaLima has produced a beautifully illustrated edition to get stuck in. Not only does this book have the trademark MinaLima illustrations, but they have also brought the book alive, including seven interactive sections within the book. Get closer to Pinocchio than you ever have before and let your imagination take over. As a kid, I was always terrified of the whale, but MinaLima brings an element of beauty to this nerve-racking part of the plot.
Buy on Amazon   🇺🇸 Buy on Amazon   🇬🇧
Peter Pan by J.M. Barrie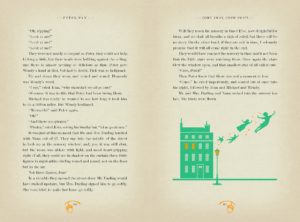 I have to admit, I am completely biased when it comes to the story of Peter Pan since it is my all-time favorite fairy tale. I've watched the Disney film to death, I've torn through multiple copies of the book, and now the MinaLima edition has taken pride of place in my book collection. My favorite part is definitely the addition of a pull out map designed by the fantastic duo. Take your time to sit down and study the map and find your own favorite Neverland hideaway. I'm sure that as soon as you open this book, you'll be ready to fly away with Peter Pan all over again.
Buy on Amazon   🇺🇸 Buy on Amazon   🇬🇧 Buy on Bookshop.org
Alice's Adventures in Wonderland & Through the Looking-Glass by Lewis Caroll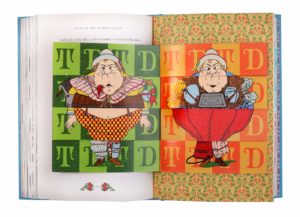 Step into the world of Alice and don't be afraid to unlock the secrets MinaLima has hidden inside their illustrated edition. If you were like me as a kid, I adored books that let me open doors and pull tabs, unlocking even more secrets to the story. Well, you get to relive that memory with this edition of Alice in Wonderland! MinaLima really knows how to make the world come alive and let you relive the joy you experienced as a kid when discovering a new world. Why don't you settle down with a non-shrinking potion and escape into the crazy wonderland?
Buy on Amazon   🇺🇸 Buy on Amazon   🇬🇧 Buy on Bookshop.org
The Beauty and the Beast by Gabrielle-Suzanne Barbot de Villeneuve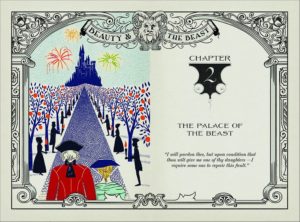 Once again, MinaLima has rejuvenated a childhood classic, and even this 30-something-year old was transported straight back to their childhood. If you were still umming over whether you really needed yet another illustrated edition of an old story, the answer is: Yes. Duh. This edition has nine interactive features to help bring the magic to life! You can sit and mull over the stunning illustrations, or you can get stuck in opening all the tabs and exploring the map of Belle's village. Whichever option you choose, I promise you're in for a treat.