Calamity Claims the Cup in "Wizards Unite"; Feeling the Feels in "Hogwarts Mystery"
by Brienne Green · Published · Updated
While most sports are a no-go at the moment in the Muggle world, at Hogwarts School of Witchcraft and Wizardry, Quidditch has apparently still been going strong. And with the season coming to a close, the worst has happened – at least, the worst according to people like Minerva McGonagall and Oliver Wood. The Quidditch Cup has been claimed by the Calamity in Harry Potter: Wizards Unite, and it's up to you wizarding world gamers to help return it! Meanwhile, we're continuing to work through our feelings in Harry Potter: Hogwarts Mystery, we're a bit closer to enjoying Harry Potter: Puzzles & Spells, and a new non-Potter game has been announced that will feature the vocal talents of David Bradley. All that and more awaits below. Phones at the ready!
Wizards Unite Update
If good news were jelly, Wizards Unite would hands down be a jelly of the month club. From special events galore to the Knight Bus, the game has been the gift that keeps on giving us wonderful distractions during all this downtime. And this latest bit of good news goes well beyond regular old jelly flavors like grape or strawberry; it's easily leveled up into apricot confiture territory. Yes, we're writing while hungry, but you get the point - without further ado, we present the Repeat Image Collection!
Gamers inclined to find fault with Wizards Unite have often cited Foundable fragments as a major source of in-game doldrums. Obviously, it's more difficult to collect fragments from rare Foundables. Once images of more common Foundables were placed on their respective Registry Pages, players - especially those living in areas where rare Traces don't often surface - were stuck waiting for the rarities to show themselves in order to complete any Prestige pages. With little impetus for continuing to free common Foundables, most gamers would simply avoid them - which could make progressing through the game a little boring.
With the game's update to Version 2.13.0, however, we can now continue to collect fragments of all Foundables, even after we've placed their images. Once you've earned full fragments a second - or third, or fourth - time, the image on the Registry Page will shimmer, and you can tap it to receive bonus Family XP while you wait for those pesky hard-to-find Foundables to creep out of their hidey-holes.
Other updates in Version 2.13.0 include the following:
Registry: Foundable fragment counts will now be standardized and are based on the threat level. This is great news in particular for Foundables only available via Wizarding Challenges, which have had their fragment counts vastly reduced.
Photo Mode: Players can now customize photos of Foundables in Encounter Mode and Registry Mode with their Ministry ID Portrait Filters, Frames, and Stickers. For example, who the heck wouldn't want to update Sirius Black's wanted poster with a nice Harry Potter Christmas tree, some Marauder's Map stickers, and his motorbike? Maybe that's just us, but still - he looks a lot happier in this one.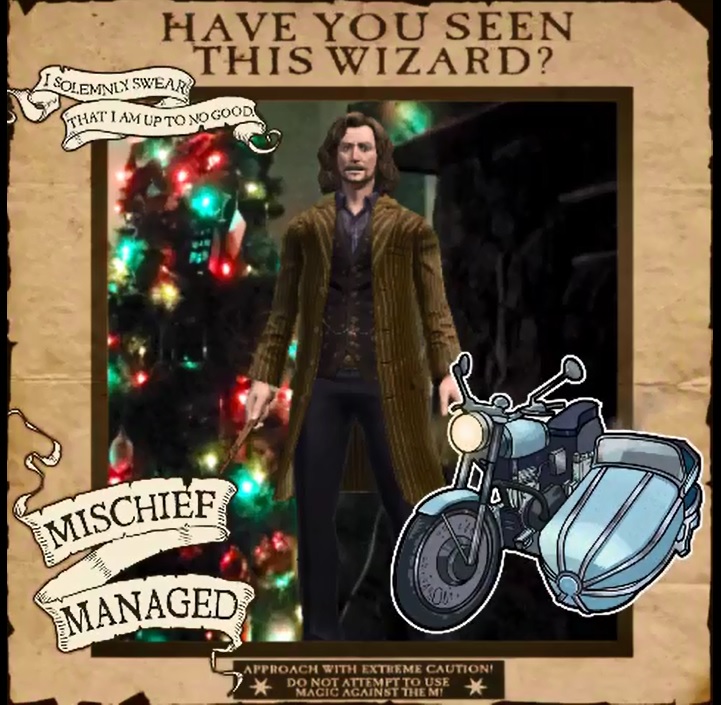 Bug Fixes: Three issues were fixed with this update: potion recipes not being marked when players level up and unlock new recipes; players being forced out of Wizarding Challenges when a teammate is knocked out; and AR+ mode not being available on certain Android devices.
In the process as we speak is Version 2.13.1, which is essentially a patch for a few glitches. It comes with a prize, however: a free Diagon Alley Shop bundle that Wizards Unite Hub says is an apology of sorts for recent issues with fragment counts.
Meanwhile, Part 2 of the Quidditch Cup Brilliant Event got underway Tuesday, and we're off and running (or to be more accurate, flying) in our quest to help Professor Minerva McGonagall retrieve the coveted Quidditch Cup! You have until this coming Tuesday to do so.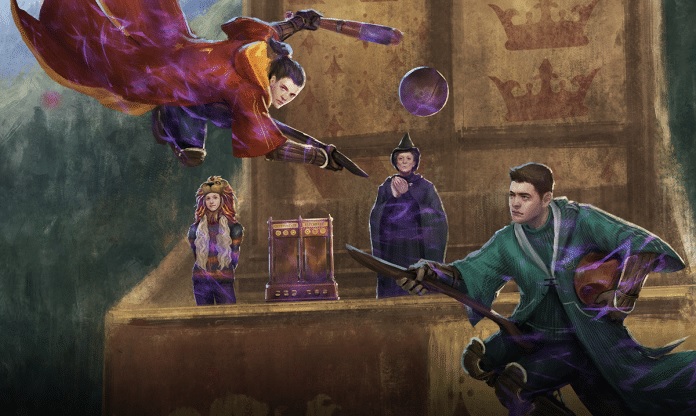 Tasks will continue to include Wizarding Challenges now that we stranded witches and wizards have access to the Knight Bus, and Portkeys will continue to be reduced to 1.5 km. Don't forget those free Diagon Alley Shop bundles, and event-specific Portkeys will once again transport us to the Quidditch Locker Room, which looks just like we've always dreamed it would.
As for the Foundables, get ready to see Brilliant Quidditch Fan Luna Lovegood and the Brilliant Bludger popping up on your maps. You'll earn the Brilliant Gryffindor Beater and Brilliant Slytherin Chaser by completing event tasks, Portkeys will provide you with the Brilliant Quidditch Score-Keeper, and nab Brilliant Quidditch Fan McGonagall by using event-specific Runestones in Wizarding Challenges.
On a final note, as we continue to enjoy trips to the Hogwarts Fortress, gamers should remember that group battles proceed more smoothly if everyone plays to their strengths. Many players are experiencing the joys of getting together with other gamers to lay the smack down on Death Eaters for the first time rather than going it alone, but as Wizards Unite points out, teamwork makes the dream work! Aurors should try to go after the bad wizards first, Magizoologists should set their sights on beasts such as Erklings and Acromantulas, and Professors should try to take on Curiosities like Cornish pixies and werewolves. An upward-pointing green arrow on a foe's icon means that's your primary target; a downward-pointing red arrow means try to leave that sucker for someone else.
Hogwarts Mystery Update
Hogwarts Mystery has continued of late to run parallel to the real world in terms of highs and lows. We were still recovering from an in-game gut punch when the pandemic began, and since there was obviously going to be no way of instantly cheering up our characters, the melancholy has continued, albeit with bits of happiness between - art, as usual, imitating life.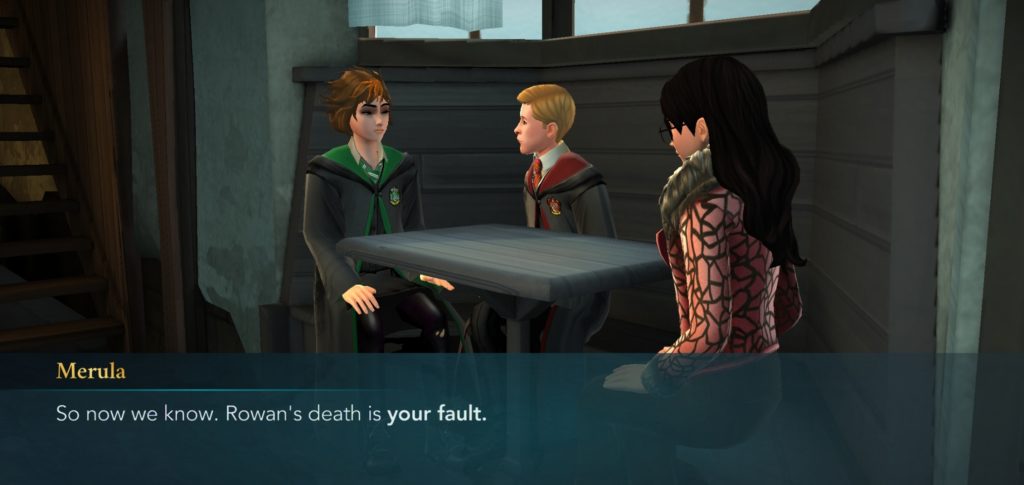 Okay, that was a bit harsh, even for Merula Snyde.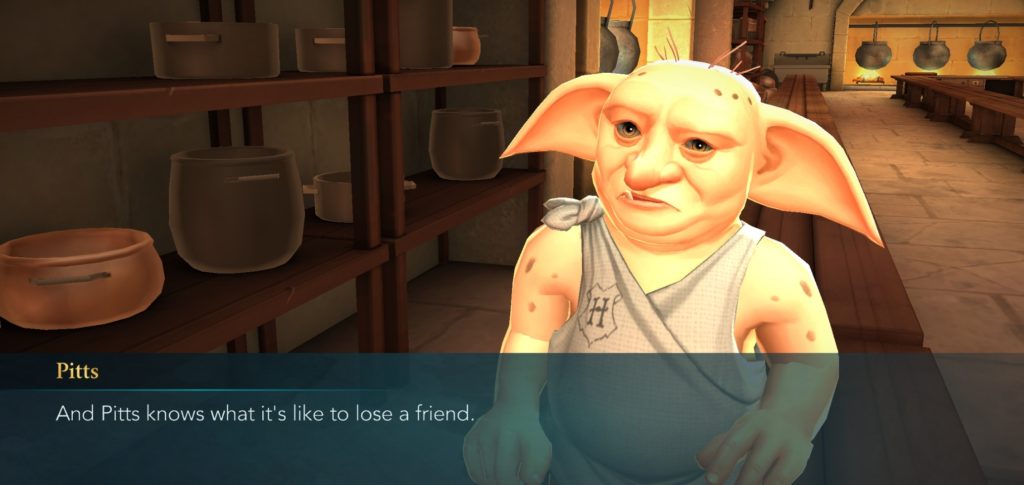 Oh, come on! Even Pitts has a tragic backstory?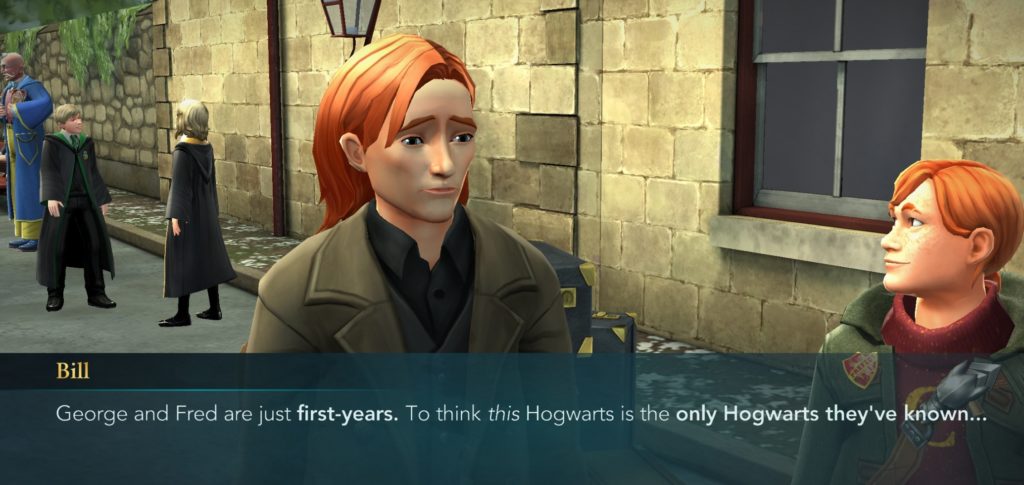 All right, this is almost too much... In addition to everything we know Fred and George Weasley endured during their final years at Hogwarts (all leading up to the Event-That-Must-Not-Be-Named), now we have to know that they started out their formal education traumatized as well?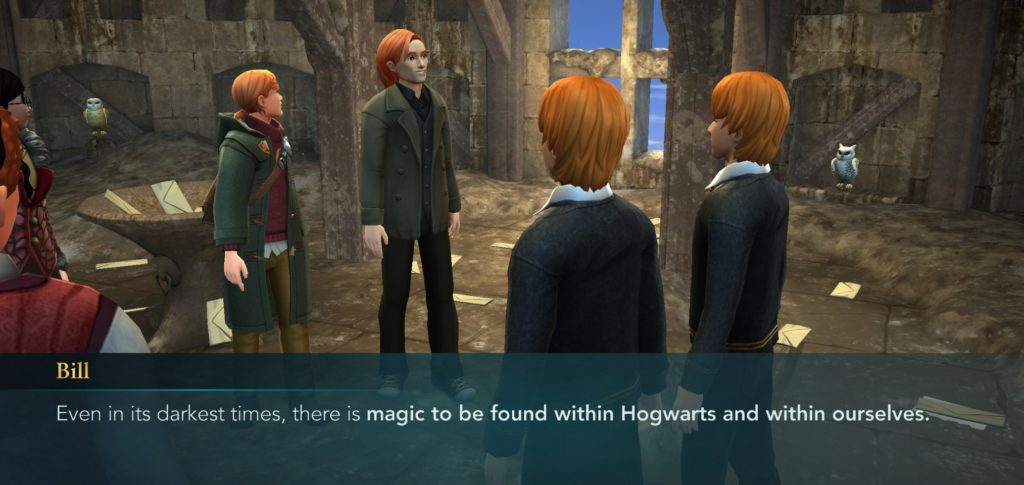 Yes. Thank you, Bill. Harry Potter is, after all, a story chock full of lights in dark places, and it's those lights at the end of our various tunnels that we have to keep our eyes on.
That's the spirit, little Fred! We think we see it too...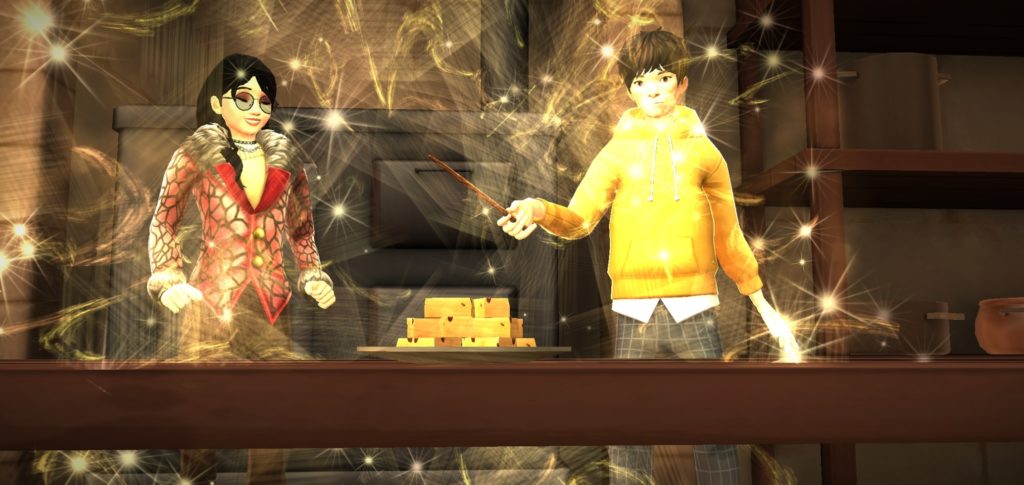 Yep! It's candy! And not just any candy - magic candy. Who can be glum after finding out that no matter how bad our cooking may be, Jae Kim can just wave his wand and turn it into Molly Weasley-quality eats? Consider us officially cheered. Now, nobody tell Bill what our top-secret organization is meant to do.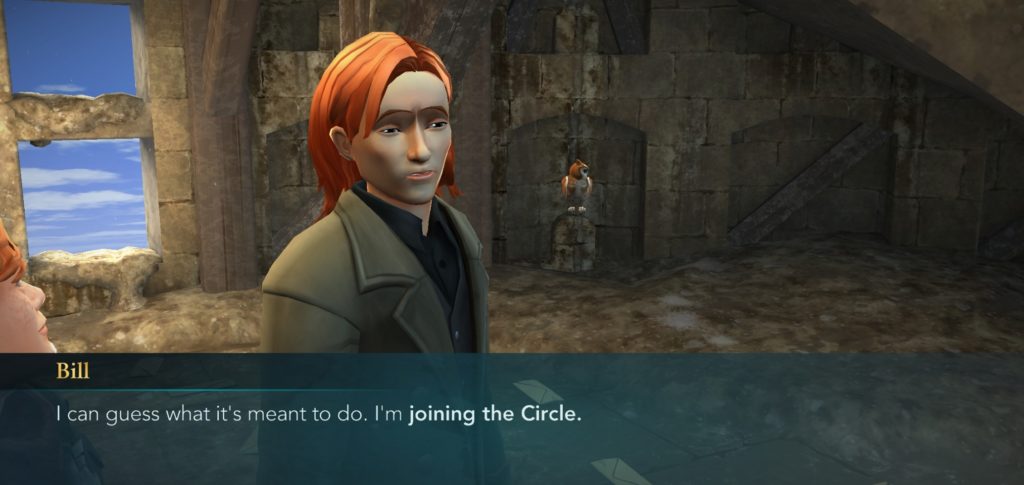 Drat. But this is technically good news. Who doesn't want Bill Weasley around in a pinch? From here, the story is all set to continue - we're off to the Forbidden Forest to face down our demons, and we'll delve into that next time. It also seems we have some sort of inspection in our future.
A Hogwarts inspection will be taking place soon. Who do you think these shiny boots belong to? pic.twitter.com/8FzWVkkh4V

— Harry Potter: Hogwarts Mystery (@HogwartsMystery) May 18, 2020
Get ready for that, and in the meantime, let's see how our manticores are faring...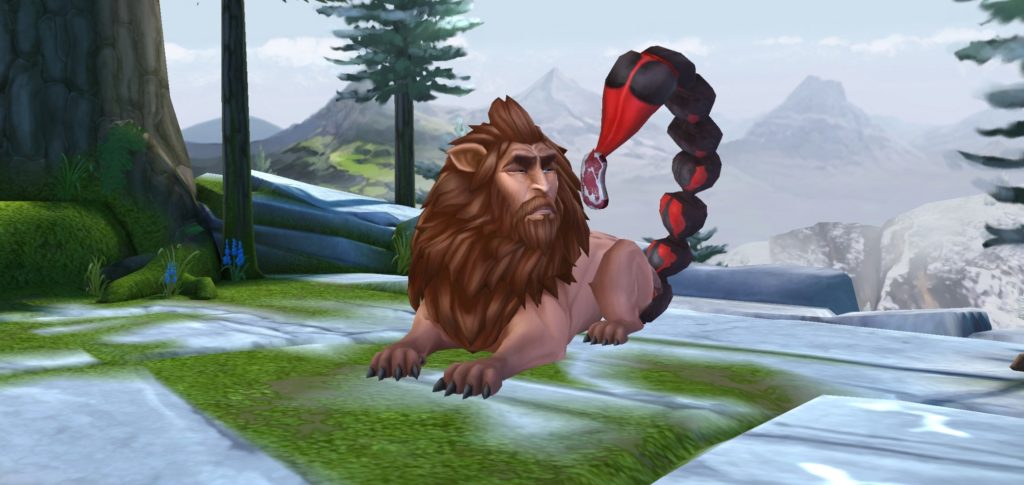 Still heinous as ever? Check. Please let that thing run away from home.
Other Game Updates
As MuggleNet readers are already aware, Harry Potter: Puzzles & Spells is getting closer to its worldwide launch, and a new trailer was recently released that nicely packages some of the teasers we've been showing you as we wait our turn to play. A release date was unfortunately not included with the trailer, but we'll keep our eyes peeled!
We let you know in August 2019 that David Bradley (Argus Filch) will likely be returning to his role as Merlin in Wizards, a continuation of the Tales of Arcadia animated Netflix franchise. Bradley voiced Merlin in the preceding series, Trollhunters, and Variety has now announced that a new console and PC game based on the show is on tap.
Bradley will take his vocal talents to that project as well, along with costars Emile Hirsch (Jim Lake Jr.), Charlie Saxton (Toby Domzalski), and Lexi Medrano (Claire Nuñez). The game is set for a September 25 release on Nintendo Switch, PlayStation 4, Xbox One, and PC digital and will feature an original story line that finds Jim Lake Jr. preparing to halt the ominous Time-pocalypse. You can check out the trailer below!
We're also continuing to enjoy the Potterizations (can that be a word?) that players of Animal Crossing: New Horizons are managing to work into their gaming experience. Never let it be said that we Potter fans can't give literally anything a wizarding makeover. Just try to tell us that stick isn't a wand! As Animal Crossing gamers know, custom designs for avatars and homes can be found in the relevant app on your NookPhone; via the Custom Design Portal in the Able Sisters store; and by way of your workbench, using customization kits found at Nook's Cranny. From there, let your imagination run wild all over your furniture, mugs, floors, wallpaper, clothing, etc. You can also check out this Bustle article to view some of the designs available.
To close out our gaming update, we'll let you know that we're also keeping a close eye on Summer Game Fest, which recently got underway and will continue into August. While it seems as though rumors about the infamous Harry Potter RPG are always swirling somewhere, they've swirled with particular swirliness around SGF, due to the fact that Warner Bros. Interactive Entertainment is slated to participate. Many in the gaming community expected Warner Bros. to finally announce the RPG's existence at E3 2020, but with its cancellation, that hope has transferred. If it happens, MuggleNet will let you know!