To Reveal, or Not to Reveal the Magic, That Is the Question: Join the Live Debate
Die-hard Harry Potter fans can get ready to sink their teeth into a brand-new, very controversial debate. Are you one of those people who get excited at the prospect of debating whether something is Potter canon or not? Or do you perhaps have a history of heated discussions when it comes to Minerva McGonagall's appearance in Fantastic Beasts: The Crimes of Grindelwald? If you answered yes to any of the above, you're going to love the upcoming live Harry Potter debate.
The debate will be hosted by Debate Mate, an innovative global business that teaches young people how to debate while equipping them with leadership and communication skills. The company also has its own charitable initiative, Debate Mate Schools, which runs its programs. The live Harry Potter debate will take place on May 21, and the topic is one that's sure to evoke a heated discussion: Should wizards reveal themselves to Muggles? While your immediate answer might be a definite no, we're pretty sure a few good arguments about why it might not be such a bad idea will pop up in the discussion.
If you feel like it is your duty as a witch or wizard to either support this statement or make absolutely sure that Muggles never find out about the wizarding world, this debate is a definite must and also an excellent opportunity to put your expansive knowledge of the wizarding world to good use. The best part is that this debate is completely free – you can sign up to be a part of this magical meeting here and find your official invitation below.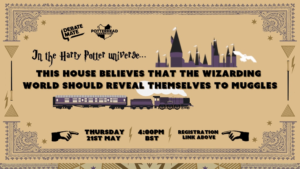 Are you going to attend this exciting event? Are you for or against the statement? Let us know in the comments.