"Wizards Unite" Gets Grim, "Hogwarts Mystery" Has Players Keyed Up
by Brienne Green · Published · Updated
Do the names Grim Fawley and Penelope Padgett sound vaguely familiar? If they do, then you have reason to get excited about Harry Potter: Wizards Unite this month! The game is getting back to its roots as the one-year anniversary of its release approaches, and it's looking like that will include more information on the all-but-forgotten story line. Meanwhile, we'll do our best to explain that new key thing in Harry Potter: Hogwarts Mystery before serving up a big rumor about the mythical Harry Potter RPG and a look at a non-Potter title that wizarding world gamers might enjoy in the meantime. Phones at the ready!
Wizards Unite Update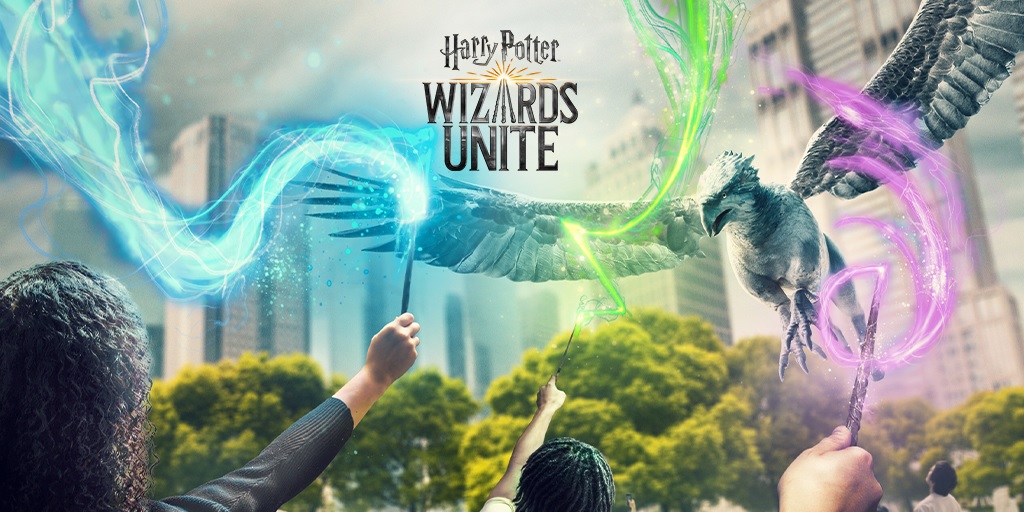 One year ago June 21, we were all busy sharing friend codes and getting our local police departments accustomed to the sight of people occasionally clad in robes and cloaks aiming their phones at invisible Dark wizards and fantastic beasts. And as Wizards Unite's first birthday approaches, the game is throwing back to... well, its original story line. Fairly early on in our gameplay experience, we collected the various items in the Mysteries section of our Registries that told the tale of Grim Fawley and Penelope Padgett, an Unspeakable and an Auror, respectively, in the employ of the Ministry of Magic. Theirs was an unlikely love story that was nevertheless intense but ended in tragedy when Penelope, three of her coworkers, and a reporter for the Daily Prophet went missing.
We were led to the conclusion that Grim's all-consuming grief and anger over the Ministry closing the case led him to a desperate act, one he hoped would facilitate Penelope's return. The Calamity was apparently part of the plan, but what it was intended to accomplish remained as much a mystery as the whereabouts of Penelope, the other members of the London Five, and Grim himself.
After that, however, all of the above sort of faded into the background as our attentions turned to monthly events, Community Days, and hunting for dragons that just never seem to appear. But the game kicked off the month of June with a new Brilliant Event that offers hope for a little more information on Grim and Penelope.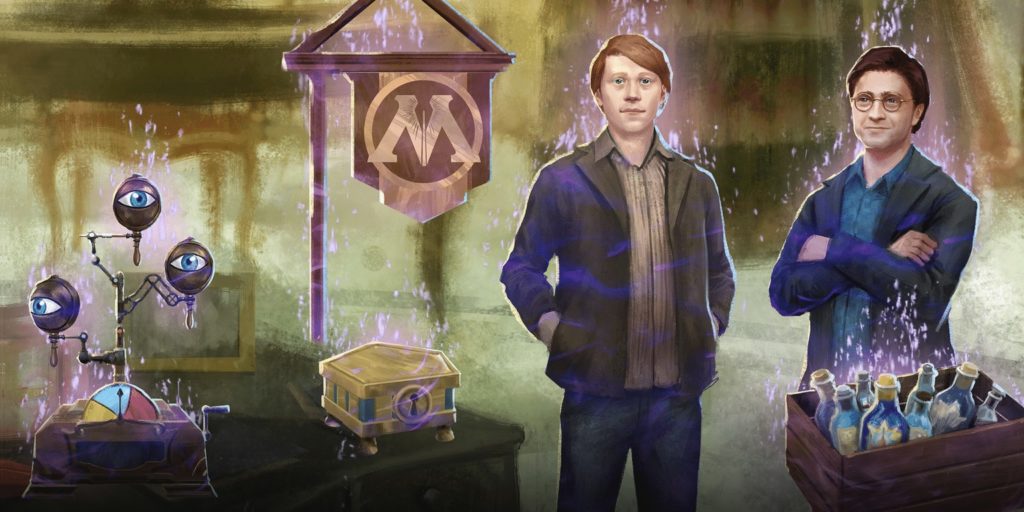 Part 1 of the One Year Later Brilliant Event will wrap up at 11:00 a.m. (Pacific) Tuesday, and as the Wizards Unite website reports, this one's all about the origins.
This month we mark the first anniversary of the foundation of the Statute of Secrecy Task Force! What clues have been uncovered about the origins of the Calamity since Grim Fawley's infamous spell was cast one year ago? As more and more details are brought to light, the Calamity appears to have set its sights on those investigating it. It's now up to you to help by returning Foundables from the S.O.S. Task Force itself!
As the below conversations between Hermione Granger, Constance Pickering, Harry Potter, and Ron Weasley convey, those individuals being snatched by the Calamity this time around - during Part 1 of the Brilliant Event, that's Harry and Ron - come back with strange memories of chats with Grim that never occurred.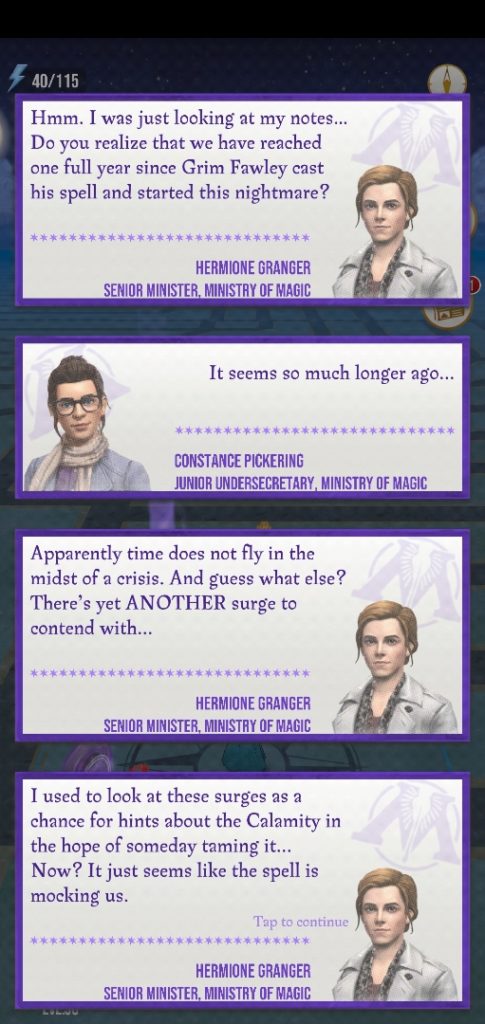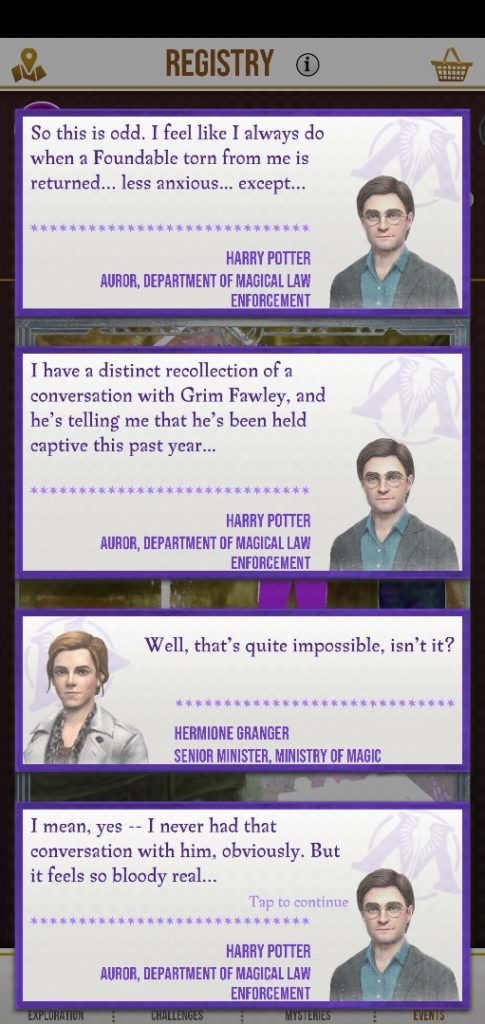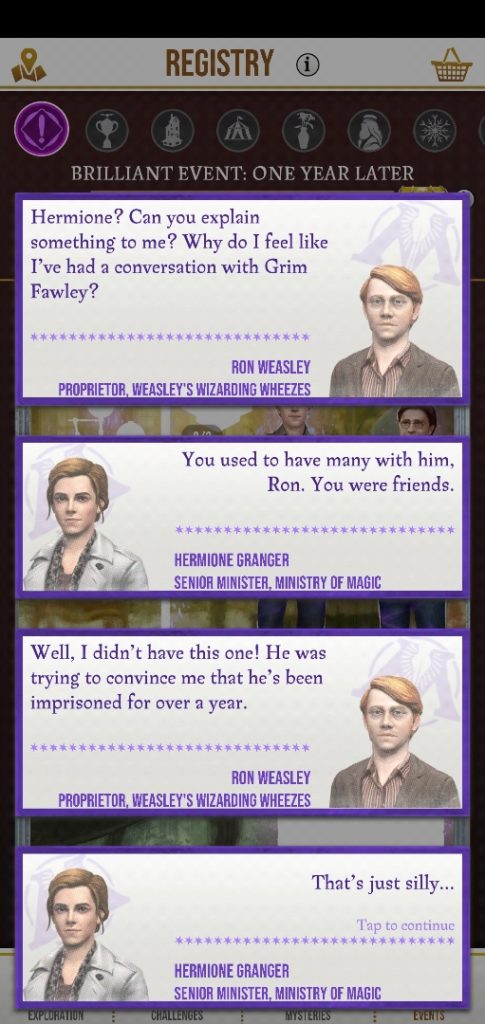 As for your event tasks, you've been seeing Brilliant Proprietor Ron Weasley and Brilliant Auror Harry Potter in the wilds of your living room. Hurry and complete your event tasks to receive the Brilliant Activated Dark Detector and Brilliant Crate of Potions, unlock those event-specific Portkey Portmanteaus for the Brilliant Opened Portkey Portmanteau, and take names in Wizarding Challenges using event-specific Runestones for the Brilliant Ministry of Magic Landmark Flag.
The Calamity is giving Harry and Ron a particularly hard time, with Harry fending off an Inferius and Ron going all The Matrix to dodge a wizard chess king.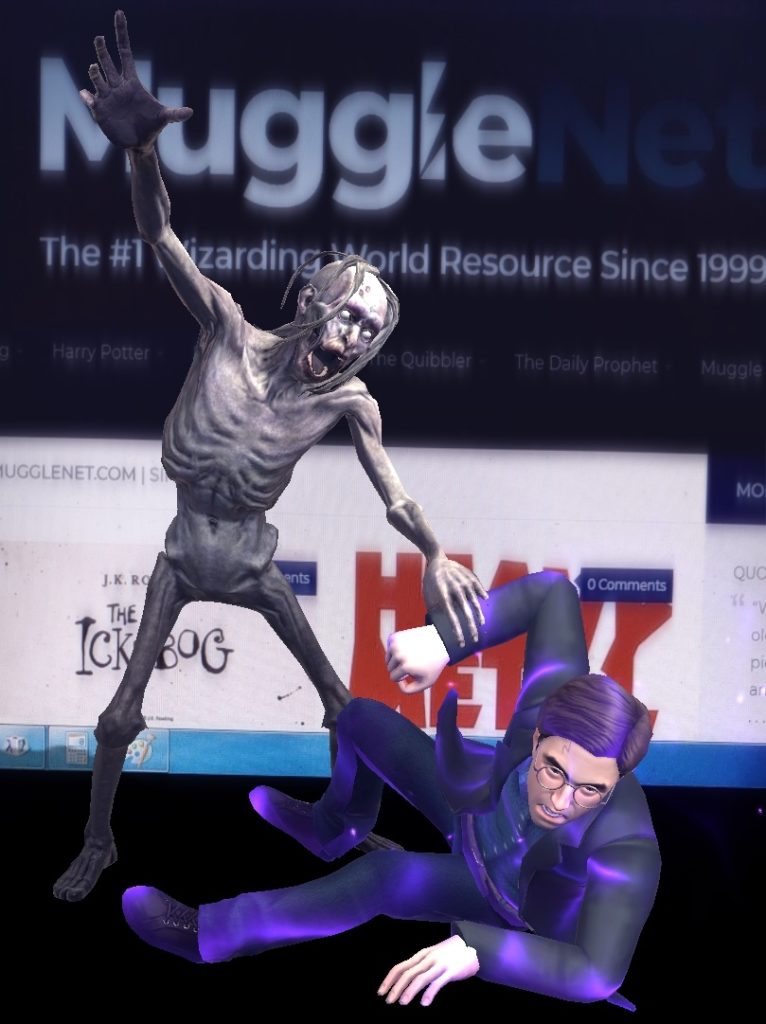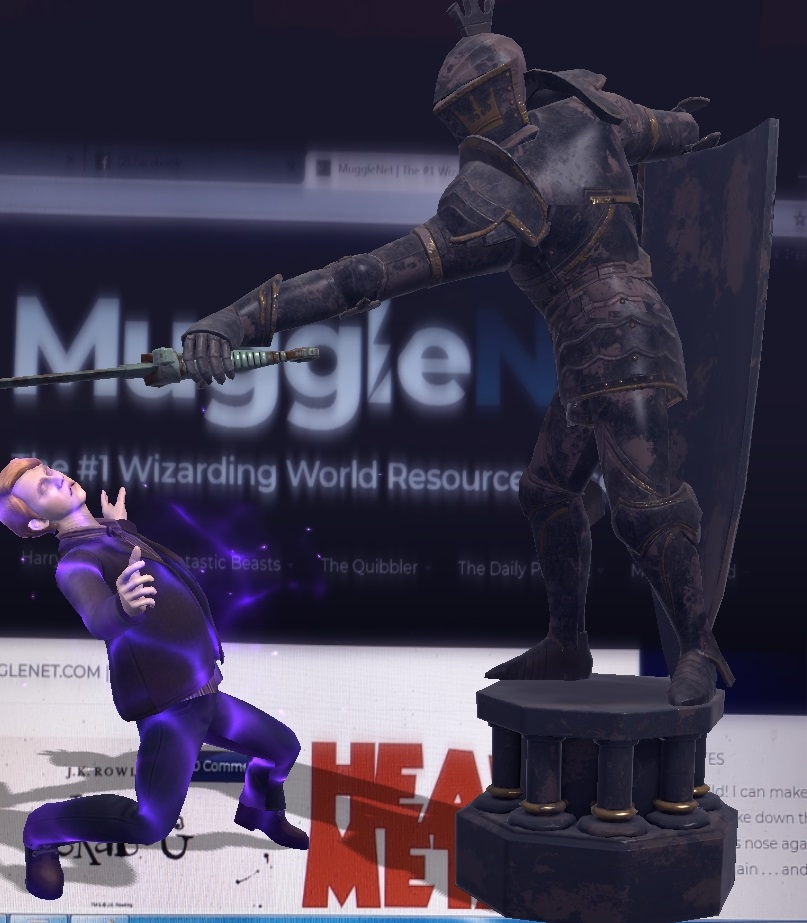 Be sure to finish off the first installment of this event if you haven't already, and get ready for Part 2 to make its way around beginning at 11:00 a.m. (Pacific) Tuesday, June 23, and ending at 11:00 a.m. (Pacific) Tuesday, June 30. It'll be Brilliant Senior Minister Hermione Granger and Brilliant Minister for Magic Kingsley Shacklebolt's turn to become Foundables for the second installment, and we'll be interested to see what they recall upon their return.
Prior to that - from 12:01 a.m. until 11:59 p.m. Saturday, June 13, in your local time zone - we'll be able to enjoy another Community Day: Play at Home Edition, featuring all things Dumbledore's Office! We'll be back later in the month to give you more details on Part 2 of the Brilliant Event as well as the upcoming mini-event: Hogwarts School Wizarding Weekend.
Hogwarts Mystery Update
Social media has been abuzz over the past week with Hogwarts Mystery players either confused, apprehensive, or downright irritated over the game's newest addition: Magical Milestones.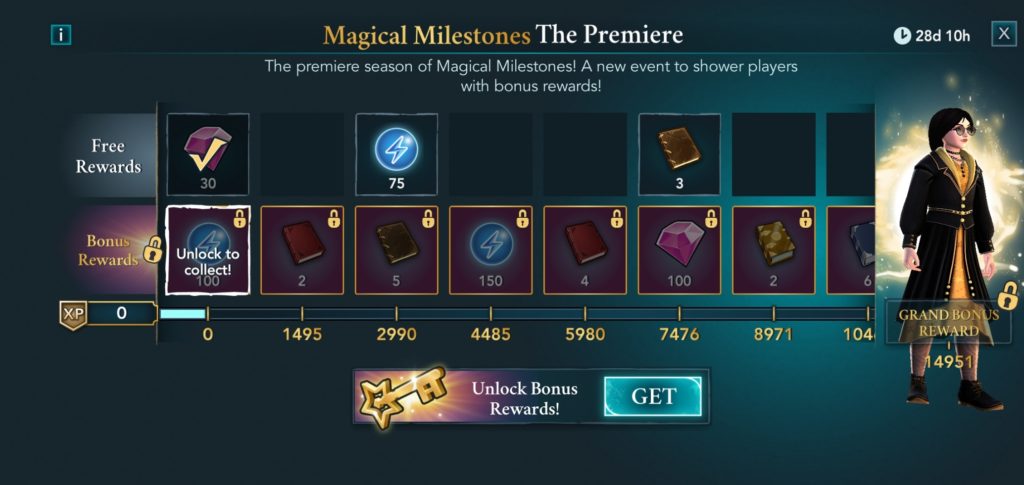 Gamers familiar with a wide variety of pay-to-play titles knew right away what was happening - the game is adding a season pass - but it can definitely be confusing for players who haven't encountered a pass before. So we'll do our best to explain: Season passes are essentially money-making mechanisms that offer a few free rewards for actions like daily check-ins and grinding (performing repetitive tasks for in-game items or advantages) and more rewards for real cash.
In this instance, those experience points players earn from performing essentially any in-game task will combine to move you up the month-long rewards ladder.
Players will have no doubt noticed by now that bonus Magical Milestones rewards are only accessible to those who have purchased a key, and the unique outfit prize is only available to those who purchased the big, shiny, bejeweled key for $9.99. Lesser passes and the ability to skip ahead a few tiers on the ladder can be purchased with in-game currency (gems), but as we know, significant amounts of gems are also hard to come by without spending real cash.
To sum up: There's now something more annoying than Full Marks Events.
Many players are frustrated that another element has been added to the game that would encourage spending money, particularly with the pandemic still ongoing. But the moral of the story is essentially the same as with Full Marks Events: If you want the outfit badly enough, you're probably going to pay for it. In the case of Magical Milestones, the rewards of books, gems, and energy you pick up along the way might actually save you a bit of money if you're someone who's occasionally inclined to purchase packs of those items over the course of a month.
But enough of that! The game's story is moving forward once again, but we're going to put that on hold until next time in favor of Hogwarts Mystery's most recent side quest: Meet the Malfoys. It was just as unpleasant an experience as we'd always suspected it would be!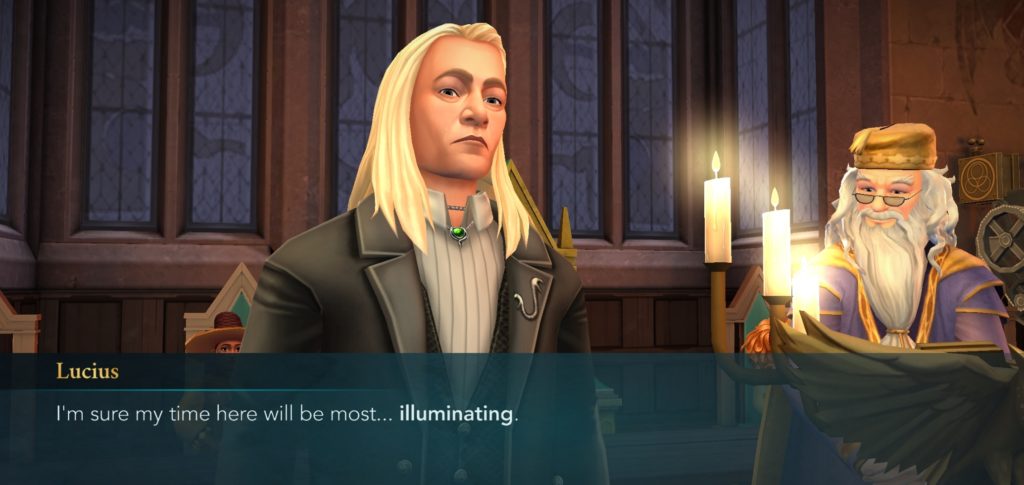 Oh, it was. It just shone an extra spotlight on two things we already knew: Lucius Malfoy has always been a tool, and Draco Malfoy came by his daddy issues honestly.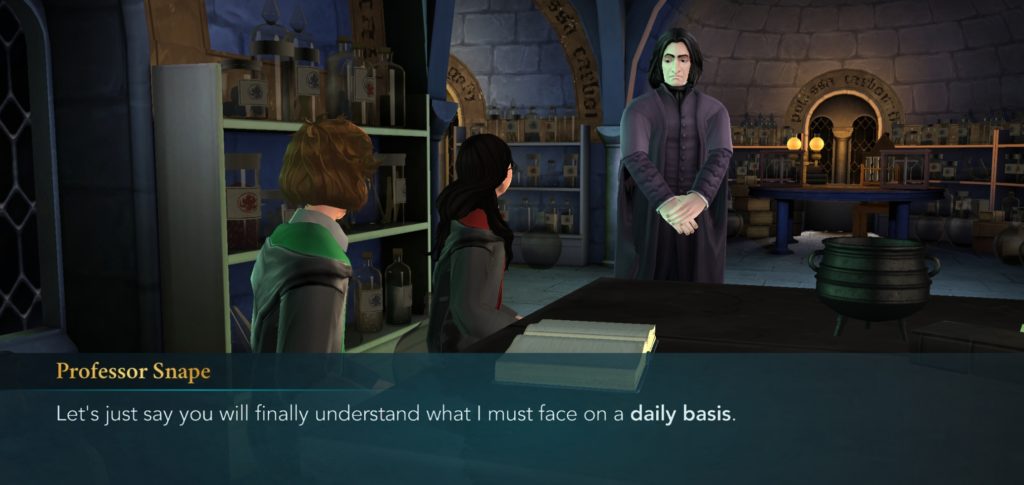 An oily scalp and a sense of all-encompassing bitterness and regret? Actually, he was just making a snide remark about being around children because as it turns out, Lucius wants us to babysit young Draco while he micromanages the faculty and staff. As Merula Snyde so brilliantly points out...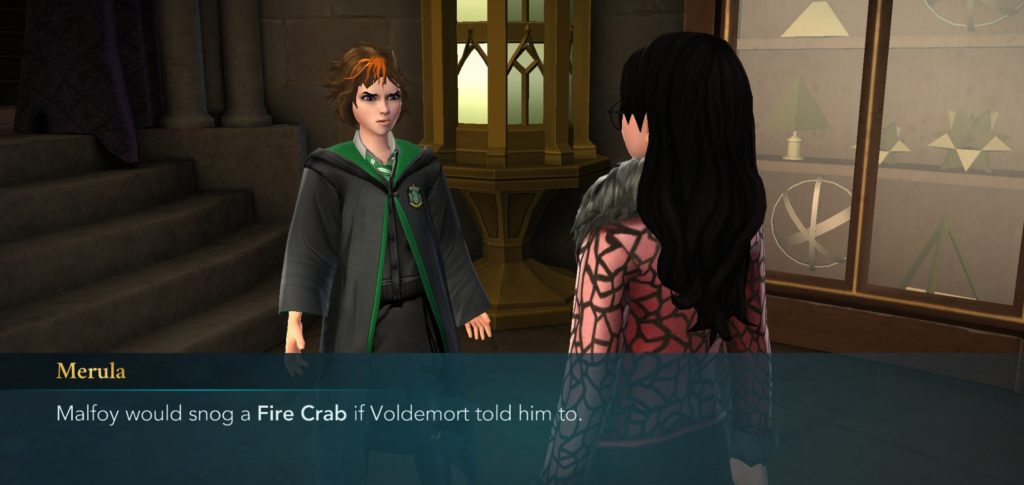 Burn! Which is what you would inevitably receive if you did attempt to snog a Fire Crab.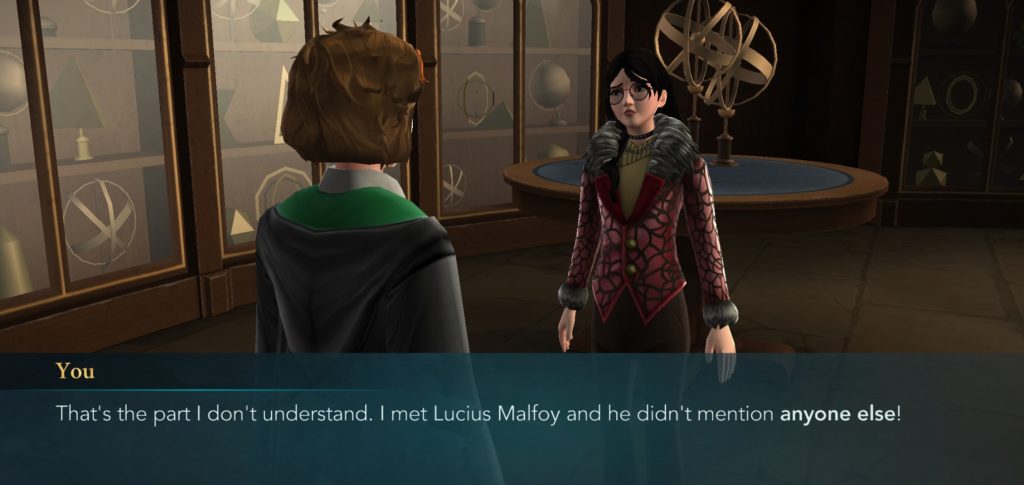 Welcome to meeting Lucius Malfoy. Anyway, back to Draco...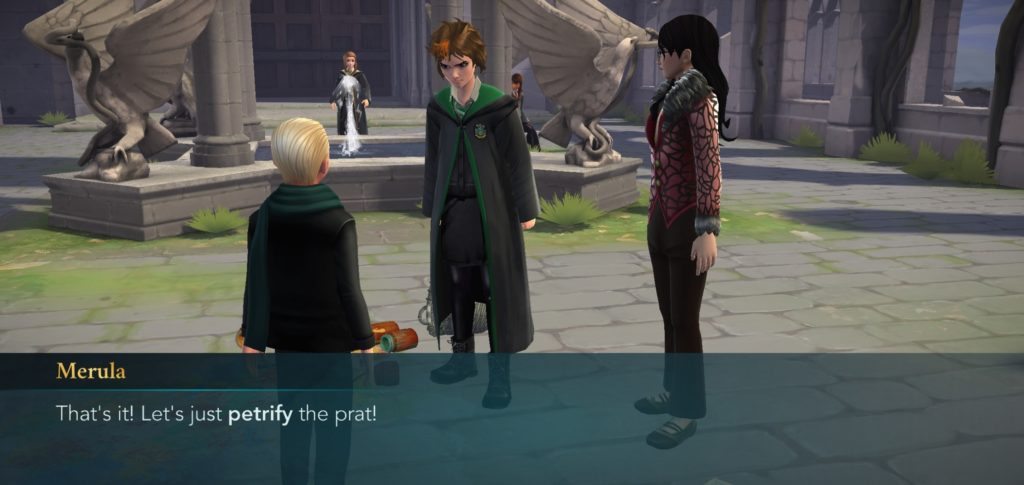 Said everyone ever. And while that would have been the preferred method of babysitting, we weren't given the option, leaving us no choice but to meet wee Draco.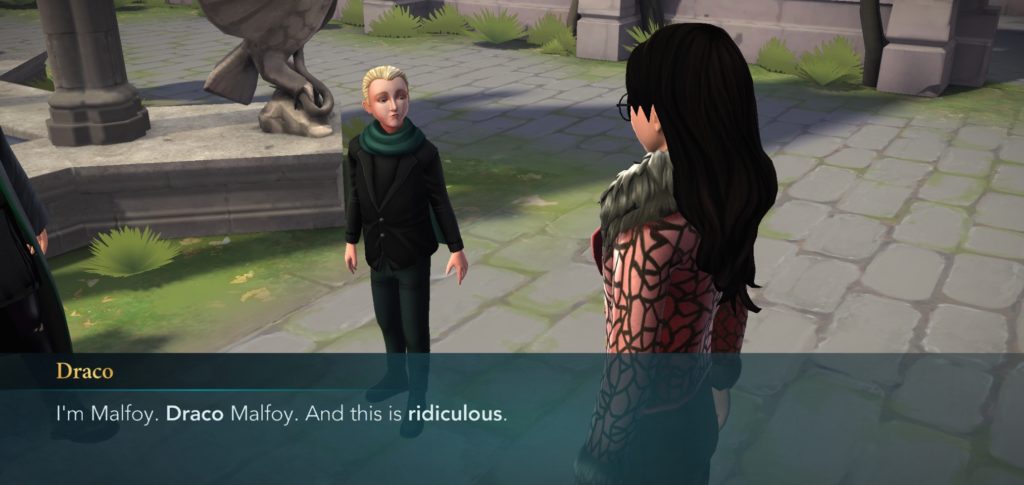 That's Riddikulus to you!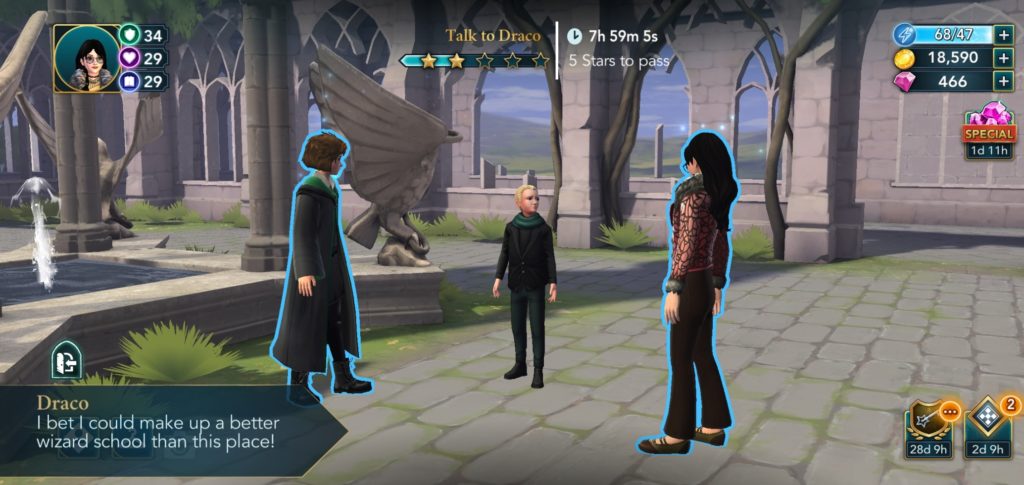 Yes, we're aware. Pigfarts, Mars, Rumbleroar; we're all about you going there. At least in the middle of all this blond ambition, something adorable happens.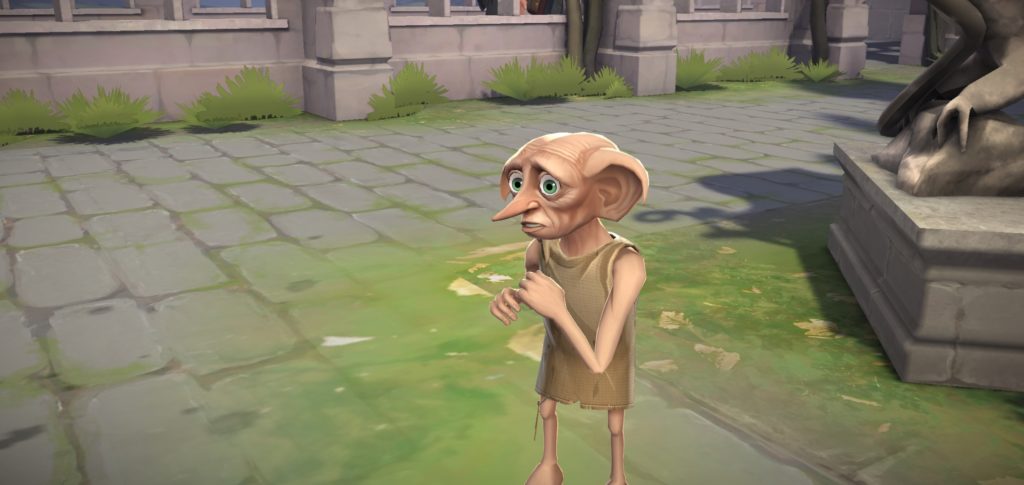 DOBBY! After we finished tapping everything in sight in a failed attempt to smuggle him a sock, we discovered there was a problem between...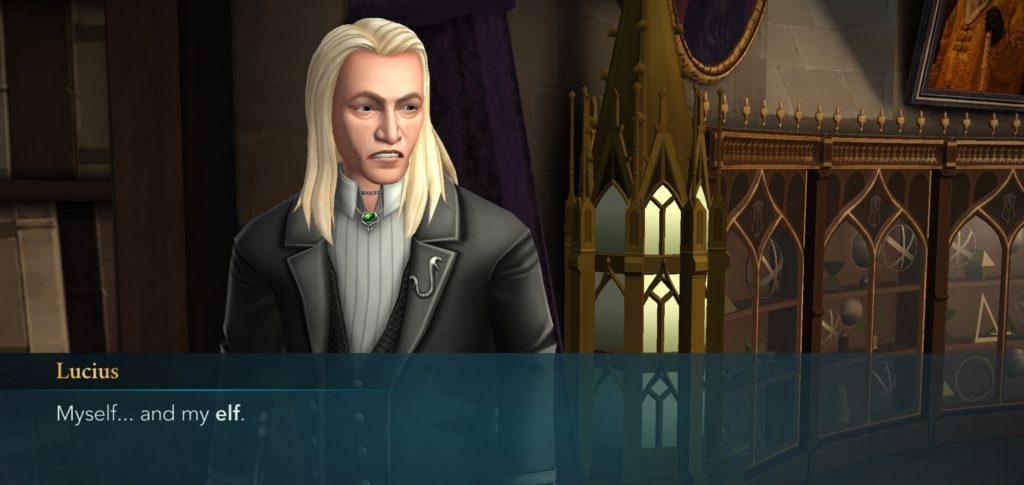 He's a poet and didn't know it. This particular problem came in the form of a theft.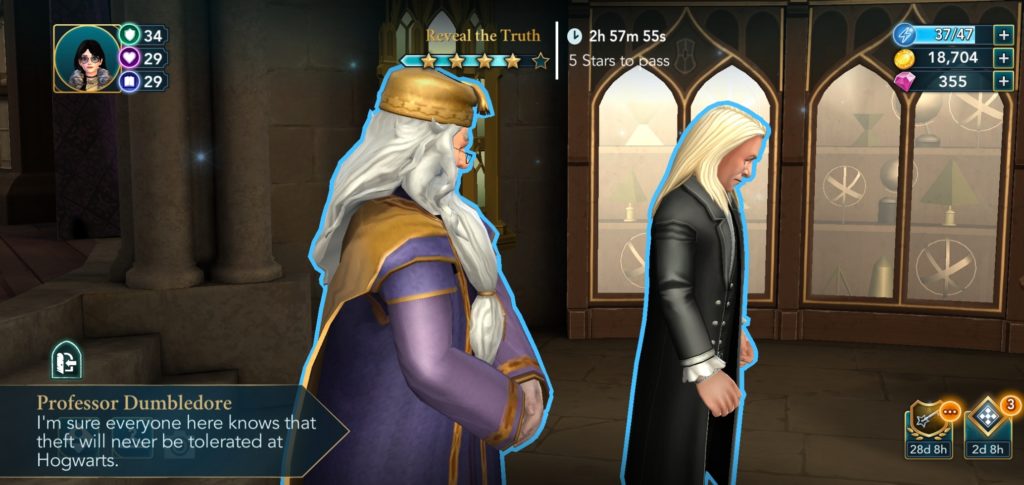 Tell that to Draco and some unfortunate Slytherin student's Christmas present in a few years. As it happens, Lucius is under the impression that Dobby has stolen his wand, and it's up to us to save the house-elf from abuse. For a day, anyway. Dobby is, of course, innocent and has an alibi.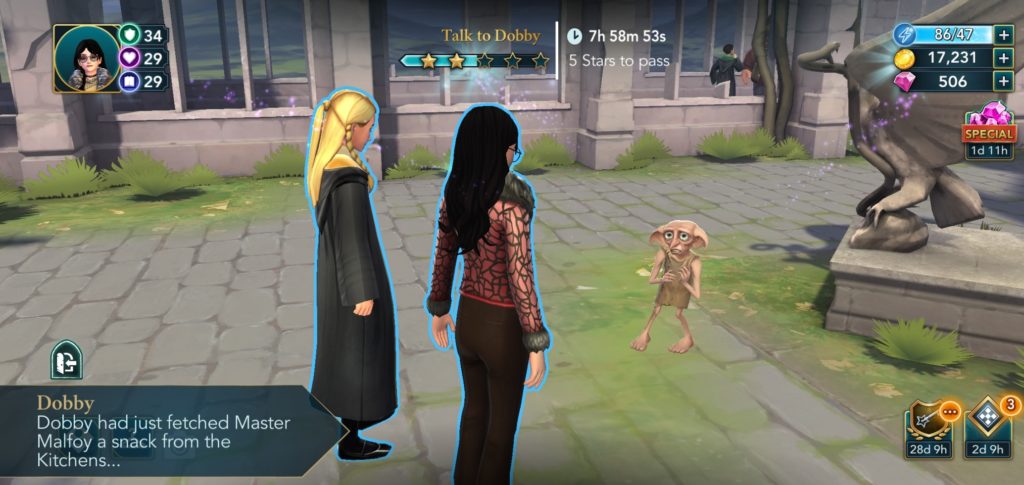 Can we take a quick moment to speculate on what sort of snacks Lucius Malfoy eats? We have a hard time picturing him strolling around Hogwarts, muttering about Mudbloods through a mouthful of cauldron cake. Leave your Lucius snack ideas in the comments! Meanwhile, it turns out Draco was the culprit all along, having stolen the wand in an effort to remain at Hogwarts a little longer. We can't imagine why he wouldn't want to go home.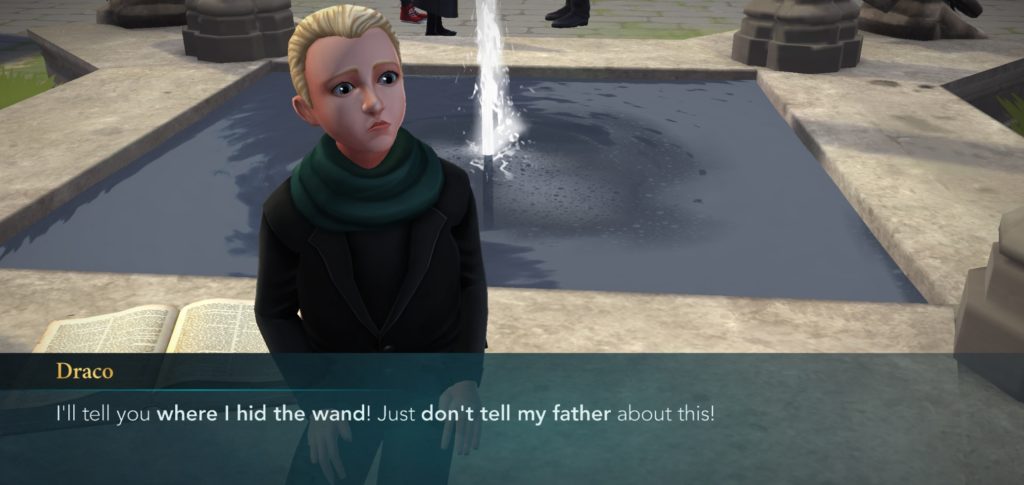 Well, that's a first! We agreed to keep Draco's secret, convincing Lucius he'd just pitched his wand into a shrubbery, and Draco was unusually grateful.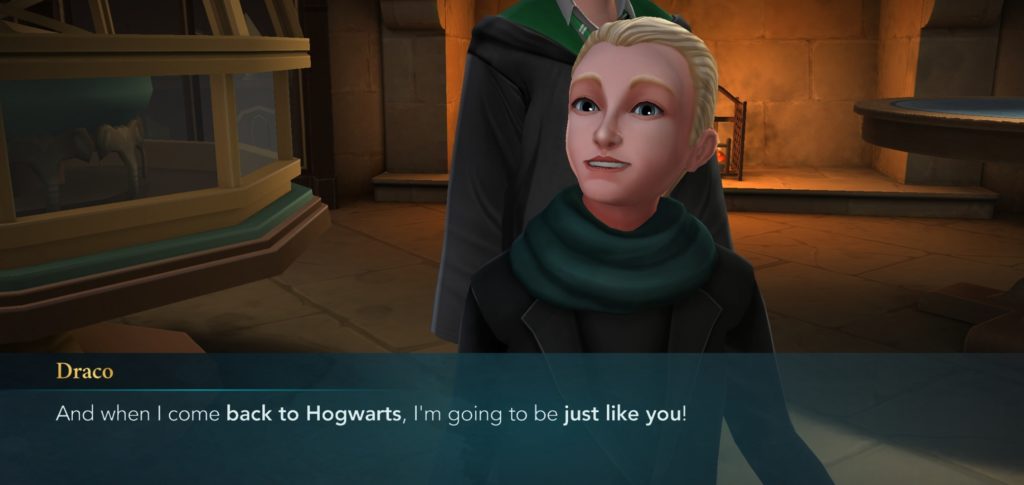 Hey, don't go blaming him on us! Unfortunately, the quest ended with Draco having to go home with his father anyway.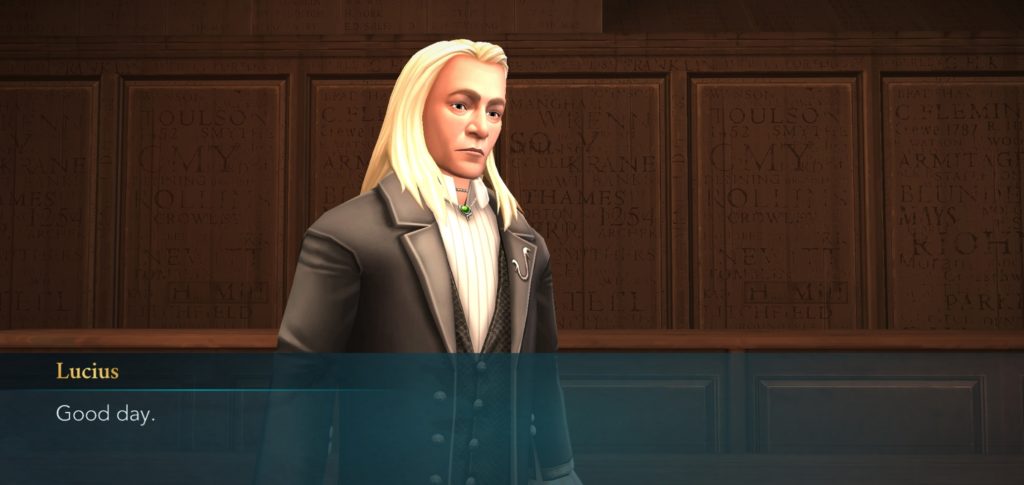 We said good day, sir!
Other Game Updates
Who's up for another Harry Potter RPG rumor?
Rumors, of course, are all we've had to cling to for years regarding the Game-That-Must-Not-Be-Named, but since another one began making its way around the Internet Sunday, we'll play along. Keep in mind that this is only a rumor, and considering all the detail it contains, there's a much-better-than-average chance it's wishful thinking.
The purported leak was posted on Reddit, where a user claimed the game was to be titled Hogwarts: A Dark Legacy. That's a red flag on its own since all licensed games up to this point have had Harry Potter in the title. Regardless, the user went on to state the game would be set far enough in the future that Harry's children have graduated from Hogwarts but not so far that Harry and the gang won't be available for cameos. Players would be able to customize their fifth-year students, who would be battling forces amassed by a disgruntled former Death Eater.
The user also says the game would operate in a hub-based structure with four hubs, three of those being Hogwarts, Hogsmeade, and the Ministry of Magic. Combat, skill trees, missions, quests, and Quidditch would all be involved in a game that would be made available for both current and next-generation consoles and PC. The rumored release date is June 2021.
It was also stated that the game's existence in general would be revealed this summer, so either way, we'll continue keeping an eye out.
As for non-Potter games that might appeal to Potterheads, we have a new one for you this week that's just about set for release via Steam for PC and for both iOS and Android devices.
The Academy: The First Riddle is a Pine Studio title that will see us taking control of the primary character, Sam, a freshman at the Hogwarts-esque Academy. Completing puzzles and riddles as well as interacting with different characters will move you through the story, which centers around a mystery swirling about the school. Pine Studio co-owner Boris Barbir specifically gave a nod to the Potter series as a source of inspiration.
We're huge fans of the Professor Layton series and its colorful puzzles. We wanted to make a game that would allow players on all platforms to experience that thrill of getting a puzzle just right. We are big fans of Harry Potter, so the school is greatly inspired by Hogwarts, but it's also inspired by the architecture of our city, Zagreb [Croatia]. Early on in development, it became clear that what we actually set off to achieve was to capture the essence of being a kid - the feeling that adventure lies around every corner.
You can check out the full trailer below, which looks awesome apart from the scene in which a bear is charging us!
The Academy: The First Riddle is scheduled to debut June 19, with a version for PlayStation 4, Xbox One, and Nintendo Switch slated for later this summer.