Year 2 of "Harry Potter: Wizards Unite" Introduces SOS Training
Can you believe that we have been playing Harry Potter: Wizards Unite for just over a year? On June 21, 2019, we chose our Hogwarts Houses, wands, and professions before taking to the streets with our phones to discover fantastic beasts, magical objects, and more.
In fact, to celebrate this milestone, Niantic, Inc. and Portkey Games released an infographic that showed the accomplishments of players in the game's first year. Players returned 5 billion traces, paid 2 billion visits to points of interest, and walked 400 million kilometers. That's a lot of steps!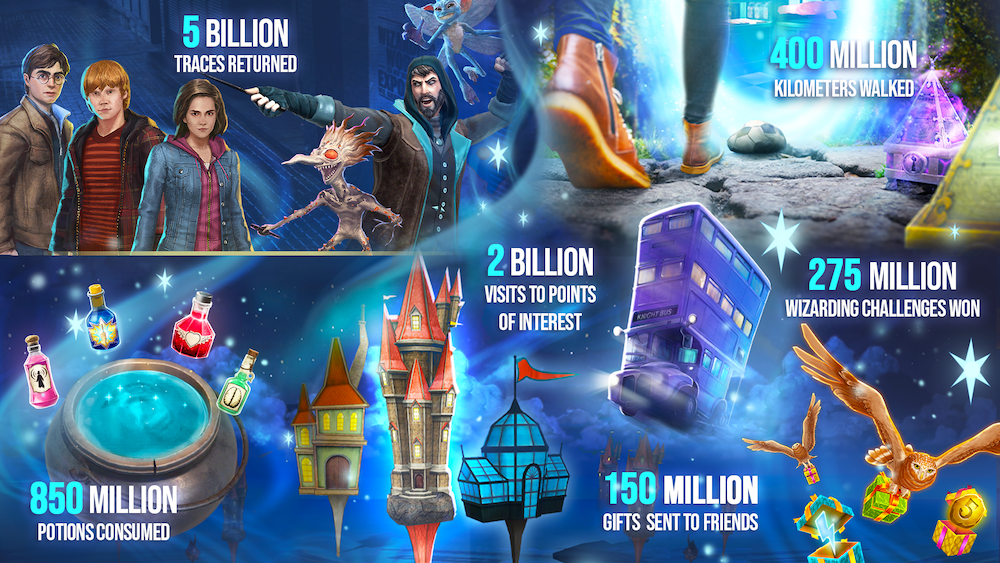 To welcome in the second year of Wizards Unite, a new feature called SOS (Statute of Secrecy) Training will be introduced later this July. SOS Training will help players develop their skills by unlocking lessons and tracking their development through the SOS Task Force Appraisal.
SOS Training is a major update heading into year two of Harry Potter: Wizards Unite. Learn more about how we're giving players exciting new ways to fulfill their magical potential: https://t.co/qVSZ1bAnV5 #WizardsUnite pic.twitter.com/q3quvX1WT8

— Harry Potter: Wizards Unite (@HPWizardsUnite) July 15, 2020
Soon, players at Level 4 and above will have access to never-before-seen lessons that will allow them to invest in skills that they feel will be useful to their playing style:
Departure Denial, which reduces the chances that Foundables will flee
Field Charms, which can be cast directly on the Map to reveal nearby bonus rewards, including rare Traces and Potion ingredients
Mastery, which helps make your spells even more powerful
Potion Brewing Enhancements, which help boost the strength of your concoctions and reduce the time it takes to make them
Reward Upgrades, which increase the output and rarity of rewards received from Inns, Greenhouses, Fortresses, and even Family Chests
Along with the new lessons, the SOS Task Force will be providing three new resources for players to collect and use: Field Guides, Ministry Manuals, and Defence Against the Dark Arts Books.
There isn't an exact date yet for when SOS Training will be rolled out, but we will be waiting eagerly for its arrival!
Did your gameplay contribute to the incredible first-year accomplishments of Harry Potter: Wizards Unite? Which of the new SOS Training skills will be most helpful to you?