Rubber Duck Pond: Blue Fizz Mocktail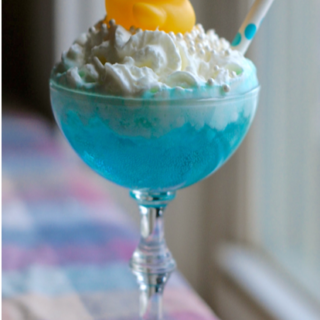 Rubber Duck Pond: Blue Fizz Mocktail
Emily Lawrence
In honor of the wonderful Arthur Weasley, this wonderfully presented nonalcoholic beverage is both sweet and exciting. This one certainly proves that there is more than one use for a rubber duck!
Ingredients
5

oz.

Kool-Aid Unsweetened Drink Mix

blue

5

oz.

lemon-lime soda

Whipped cream

sprinkles

white, round
Instructions
Combine blue Kool-Aid and soda in goblet glass.

Top with whipped cream as desired.

Garnish drink with sprinkles, mini rubber duckie, and a paper straw.
Notes
Homemade whipped cream is a healthier alternative to the canned whipped cream available in most grocery stores. Simply whip heavy cream in a mixer. Add sugar and vanilla extract to whipped cream as desired.
Did you know that MuggleNet is 99% volunteer-run? With your monthly pledge of $5, you can provide monetary support to our volunteers while becoming eligible for exclusive swag giveaways!