Sherbet Lemon Drop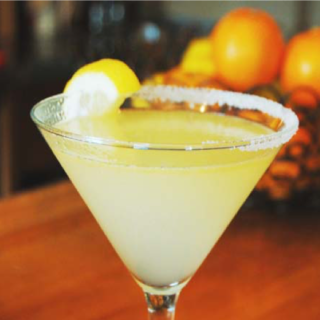 Sherbet Lemon Drop
Emily Lawrence
For when those visitors like Dumbledore drop in unannounced, this drink is a perfect crowd-pleaser. Acidic and fun, the addition of sherbet adds a sweet note to this bright, mouth-puckering cocktail.
Ingredients
1

shot

vodka

1

Tbsp.

triple sec

2

Tbsp.

lemon juice

1

Tbsp.

simple syrup

sugar

for garnish

sherbet

for garnish
Instructions
Rim martini glass with lemon and sugar.

Fill shaker glass with ice.

Combine vodka, triple sec, lemon juice, and simple syrup in shaker. Shake.

Strain into prepared martini glass and top with a slice of lemon and sherbet.
Notes
Simple syrup can be made by combining equal parts water and sugar in a pot and dissolving over low heat. Cool syrup before use. Store in squeeze bottle for easy access.
This is an alcoholic drink and not intended for minors. A mocktail could be made by replacing the vodka with lemon-lime soda and the triple sec with a splash of orange juice.