19 Years Later: The Impact "Potter" Has Made
It's been 19 years since the first Harry Potter film was released, and we don't think anyone could have predicted how huge this franchise would become in the years after its initial release. In his Home Party: 19 Years Later, Tom Felton stated about the film, "It was a film that was… I don't know – 'underestimated' would be a ridiculous statement because who could have ever predicted that we would be here now?"
He reflected on the impact of the series as a whole. "Every year that I've embraced the Harry Potter fandom more, the more I realize how important it is to everyone – individually, in groups, in whatever it is," said Felton.
Tom also had his castmates speak on what 19 years later means to them.
Bonnie Wright stated, "It's hard to always forget that the wizarding world was that long ago in my experience. I think it's kept so alive by our incredible fans. You really are what makes the wizarding world, and I think it's just a reminder that Hogwarts is always there."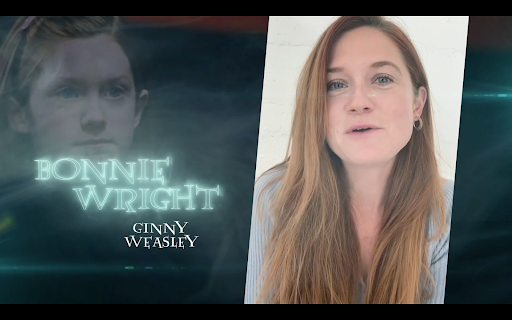 James Phelps (Fred Weasley) shared a sweet story:
A couple of months ago, actually, before lockdown, I met a couple who had gone on their first date – 19 years ago, it would be – to see the first movie. They have now married and have got two kids of their own, so that absolutely blew me away.
Evanna Lynch reflected on her time as a Harry Potter fan before she was cast as Luna:
I distinctly remember buying my first ticket for the first Harry Potter movie and how much of a big deal that was as a Harry Potter fan. You had to be early; it was a point of pride – be one of the first to get your tickets! So six weeks early, or however soon they opened the box office, I would buy my ticket, and I would always try to be first in line to get the best seats.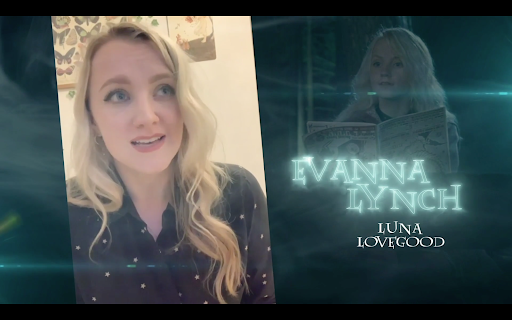 Rupert Grint also made a surprise appearance. Grint discussed filming a scene that sticks out to him
It was when we were waving goodbye to everyone, and there was the Hogwarts Express. I remember, for me, it really did feel like I was stepping into that world, and it was very overwhelming. I'm just very proud to have been part of something that means so much to so many people, and… yeah… here's to the next 20 years.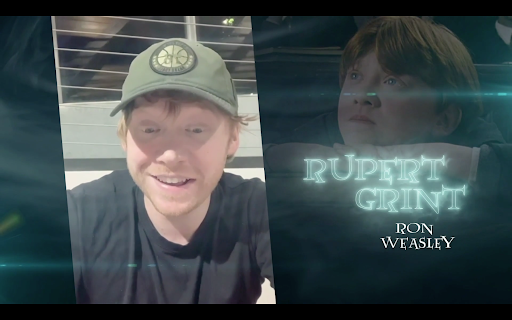 It wouldn't have been a celebration without Harry himself. Daniel Radcliffe joined and discussed the growth of the Potter fandom.
It has been amazing to watch the whole thing continue to grow after the films finished, and not just with obviously the play and with Fantastic Beasts, but with the new generations of people being introduced to it all the time.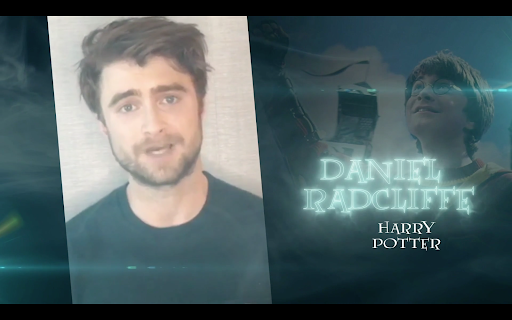 Harry Potter and the Sorcerer's Stone set the franchise off on a beautiful note, all thanks to director and producer Chris Columbus. He shared one of his favorite scenes to shoot:
Right at the very end, the camera pushes in slightly to Dan Radcliffe, and it's Harry, Hermione, and Ron as they're leaving Hogwarts. I don't remember the exact dialogue; you guys probably know it much better than I do – it's been a while since I've seen the film – but Hermione says, 'Are you sad to be leaving?' and I think Harry says, 'I'm not going home, not really,' and David Heyman, the producer, and I looked at each other, and we had tears in our eyes, and we knew we were onto something special.
Fans were lucky enough to hear from other cast members, including Oliver Phelps (George Weasley), Chris Rankin (Percy Weasley), Joshua Herdman (Gregory Goyle), Alfred Enoch (Dean Thomas), Louis Cordice (Blaise Zabini), and Jason Isaacs (Lucius Malfoy).
It's safe to say that the Harry Potter franchise means just as much to the cast as it does to the fans. A huge thank you to Tom and the cast for sharing your favorite memories and for celebrating 19 incredible years with us. Remember, this cast reunion is still available to watch on Veeps until Saturday, November 21.
Want more posts like this one? MuggleNet is 99% volunteer-run, and we need your help. With your monthly pledge of $1, you can interact with creators, suggest ideas for future posts, and enter exclusive swag giveaways!
Support us on Patreon