Become a Legendary Quidditch Coach with "Harry Potter": Catch the Snitch Board Game by Knight Games!
One of my favorite things in the wizarding world is Quidditch. I fancy myself a keen sportsperson, and I hazard a guess that my Quidditch skills would be superb. Sadly, I haven't been able to prove this… until now. Knight Models, a.k.a. Knight Games, has solved the conundrum for me – and you too – in a wildly successful Kickstarter campaign that more than doubled its original pledge goal. The game is called Harry Potter: Catch the Snitch, which is available now, and it sees players like me recreate the most famous wizarding sport in a game packed with speed, decisive dice rolling, and last-gasp victories where the action never stops.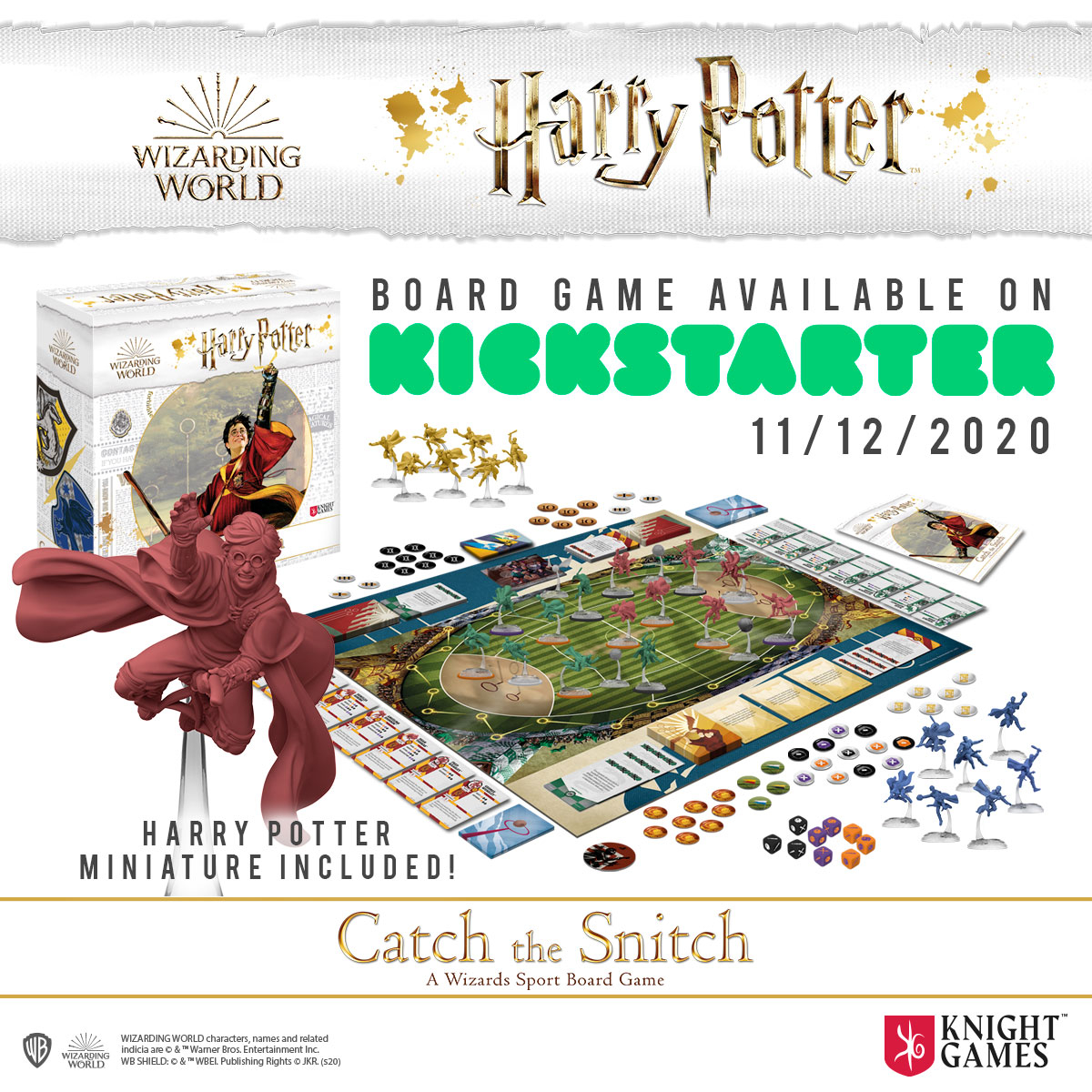 Harry Potter: Catch the Snitch is played between two players – the Coaches – in two game phases, and it consists of a plethora of elements from tactical cards to locked tokens and even spectator bonuses. The object of the game is to take charge of a Quidditch team, execute plays, and catch the Snitch before the rival Seeker does.
The game requires some reading commitment beforehand so you can get the hang of the rules and sequence of play. Some elements of the game (like the flag tokens) we weren't sure how to use, but this did not take away from any element in the game since there was plenty more to learn. The rules may seem complicated at first, but a fully comprehensive illustrated game book helps explain how to play and utilize the many game elements involved. Even a rookie roleplaying gamer like myself was able to pick up the rules with relative speed.
In fact, the action moves and copious amounts of strategic play added to our enjoyment of the game. We were stealing the Quaffle, defending our Chasers from the Bludgers, and successfully scoring by avoiding rival Keepers in no time. Once we felt we had mastered the basics, we started adding in the additional optional rules the game offers for an extra dimension. This is when Hermione Granger and Severus Snape came into play. I won't say how they work, but I will leave you with knowing that Hermione – though having little Quidditch skill herself – does come in handy.
There are 28 player cards and 100 tactical cards to choose from as well as many different actions and game sequences to play, so you will find yourself playing and replaying this game many times over. Fair warning*: This game gets addictive. In our first match, we played until well past midnight, and our second game was started less than 24 hours later, so it is safe to say this is a game you will enjoy again and again.
Knight Games has one simple goal – to create high-quality, innovative board games from the world of comics and cinema – and it shows. In Harry Potter: Catch the Snitch, the lovingly designed components, including beautifully detailed miniatures representing your favorite characters such as Harry Potter, Draco Malfoy, and Luna Lovegood, are definitely collectors' items and come ready to be painted and added to by any miniature enthusiast.
Overall, this was a fantastic and magical game to play. Utilizing strategic plays and intrepid movements to beat the rival team made the game constantly engaging and fun – much like watching the real thing. Harry Potter: Catch the Snitch is such a stimulating game, it doesn't matter if you are the biggest Harry Potter fan or not – you will be sucked into the gameplay and invested in your team. I certainly was, and I am very pleased to note that in my first ever game of Quidditch – I won! Harry Potter beat Draco Malfoy to the Snitch, and now I have conclusive evidence that I would indeed have made a great Quidditch player.
*Some bonus photos of my win below.
A Harry Potter: Catch the Snitch board game was provided by Knight Games. All opinions belong to the reviewer.
Want more posts like this one? MuggleNet is 99% volunteer-run, and we need your help. With your monthly pledge of $1, you can interact with creators, suggest ideas for future posts, and enter exclusive swag giveaways!
Support us on Patreon