Marshmallows
They sat by the hour eating anything they could spear on a toasting fork – bread, English muffins, marshmallows – and plotting ways of getting Malfoy expelled…" (SS 199)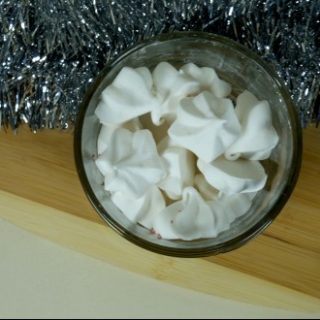 Marshmallows
John L. Wilda
Light and airy, these marshmallows have a hint of honey and vanilla. They make a great holiday treat!
Ingredients
1/2

oz.

gelatin

powder

1/2

cup

water

cold

1

cup

sugar

1/3

cup

corn syrup

light

1 1/2

Tbsp.

honey

5

Tbsp.

water
Instructions
Sprinkle gelatin over cold water and let rest for 20 minutes.

Combine sugar, syrup, honey, and water in small heavy-bottomed pot. Cook to 248°F.

Carefully pour hot syrup into bowl of stand mixer. Add bloomed gelatin. Let stand 5 minutes.

Using stand mixer, whip sugar on low until gelatin and sugar are uniform.

Increase to medium speed and whip 4–6 minutes. Stop whipping when marshmallow can hold itself up.

Pipe marshmallows while warm onto cornstarch-dusted parchment paper.

Dust marshmallows with cornstarch. Let set for 2 hours.

Store marshmallows in an airtight container.
Notes
If the marshmallow firms up too much, put the mixing bowl over a pot of simmering water. Be careful not to overheat.
If the honey flavor isn't for you, replace the honey with more corn syrup.
Extracts can be added to this recipe to change the flavor.
Marshmallows can also be molded into shapes by creating a cornstarch mold: Fill a baking sheet with cornstarch and use a clean item (such as an egg) to create a cavity. Slightly underwhip the marshmallow and pipe it into the cavity.