MinaLima's Illustrated "Sorcerer's Stone" Is a Bona Fide Showstopper
MinaLima has just released a brand new, originally illustrated version of Harry Potter and the Sorcerer's Stone, and it is truly something to marvel at. MuggleNet initially mentioned this exciting release back in March 2020, and now that it's here, we can't get enough.
From the moment you lay eyes on the gold-gilded cover, the magic begins. This edition is stunning with hand-drawn images that bring the words on the page to life. You can actually see a shadowy Hagrid fly across the page on his motorbike as he first brings Harry to number four, Privet Drive and drool over pictures of the Great Hall's delicious, multi-colored welcome-to-Hogwarts spread.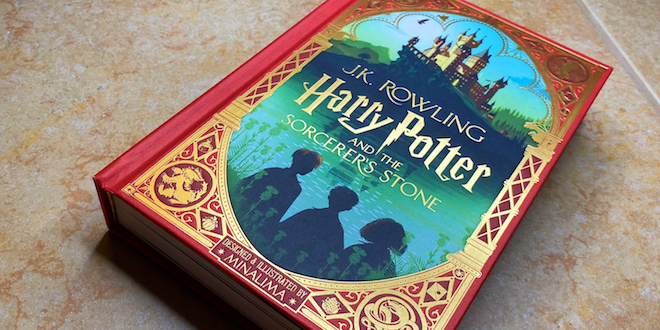 All of the amazing illustrations were done by Miraphora Mina, Eduardo Lima, and their talented studio team. The dynamic duo of MinaLima began their journey in the wizarding world as visual graphics specialists on the Harry Potter films and then continued with the Fantastic Beasts series. It makes perfect sense that the artists that handcrafted the original Advanced Potion-Making book, Marauder's Map, and plenty of other film props put their expertise to the test in creating this gorgeous new edition.
Sorcerer's Stone is a beloved book for many as it introduced us to magic we had never known before. We met Harry, Ron, Hermione, Dumbledore, McGonagall, and so many more beloved characters while learning of enchanting potions and spells that shook up our whole world. I'm sure each and every one of us can remember the wonder that we were greeted with when we initially opened up the pages of the first book in this life-changing series. Now, with the brand new MinaLima edition, I've been able to capture that feeling all over again.
You've truly never read Sorcerer's Stone like this – with full-color graphics popping out of every corner, just begging to catch your eye. Deep plum and teal sit alongside vibrant gold and scarlet, immersing you in all of the beauty that you can expect to find at Hogwarts and beyond. You might think this would be a sensory overload, but the text complements the images beautifully, only adding to your enjoyment. Each page has been carefully drawn with touches of magic. Every chapter even begins with a full-page color illustration that perfectly sets the mood.
My favorite parts of this book are the interactive elements. From a page that features the moving eyes of the Fat Lady to an actual Hogwarts letter addressed to Harry that you can open and read, there are eight different surprise elements to find throughout this copy. But my absolute favorite? The fold-out Diagon Alley that expands to double its size. When you open it up, you can see the deep black robes being tried on at Madam Malkin's Robes for All Occasions, spy the orange, green, and red potions sitting in the windows of the apothecary, and marvel over the volumes piling up outside Obscurus Books. The adventure hits a peak, of course, when you reach the climactic scene in the last chamber. As Harry faces off with Quirrell and discovers the incredible truth behind who he really is, you can actually peel the turban back from Quirrell's illustrated head and see the red eyes of Voldemort glowing from behind. It gives me chills.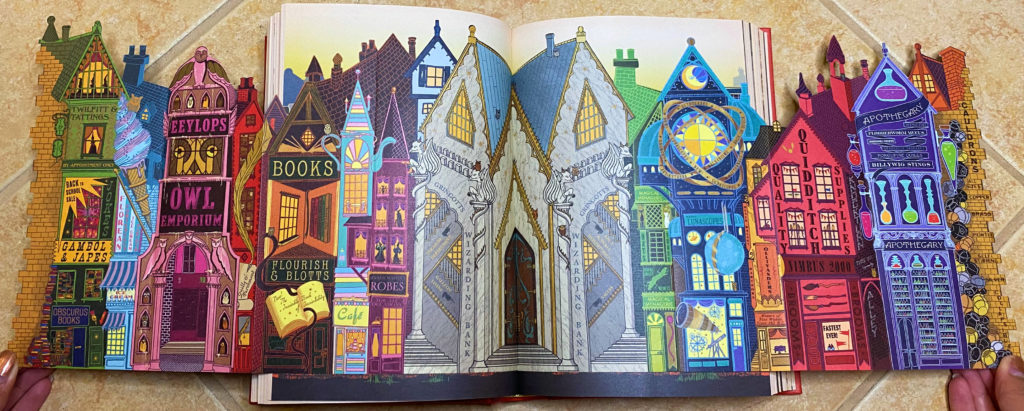 One of my favorite things about Sorcerer's Stone is that every time I read it, I feel as if I'm learning about everything for the first time alongside Harry. I ride on the train with him, take an introductory Potions class with him, make new friends with him, and fight Lord Voldemort with him. And while I know there's a certain magic to picturing everything yourself and conjuring images up in your own head, there is also something special about seeing it drawn onto the page by artists who truly understand this world and are able to translate the text into really beautiful companion pictures.
This is the book that started it all, and this is your chance to experience the beginning of the Harry Potter series in a whole new light. MinaLima is selling this edition now, both on their website and on Amazon. And as always, you can visit their site to pick up a bevy of other gorgeous items, such as prints, pillowcases, and papercrafts. Best of all? The next installment in this illustrated series – Chamber of Secrets – is already set to release in the fall of 2021.
Want more posts like this one? MuggleNet is 99% volunteer-run, and we need your help. With your monthly pledge of $1, you can interact with creators, suggest ideas for future posts, and enter exclusive swag giveaways!
Support us on Patreon