Review: "Harry Potter" Wizarding Quiz from TOMY Games!
One of the best things about being a Potter fan is trivia – there's nothing like showing off your hard-earned Wizarding World knowledge and discussing and debating answers to questions. With most at-home trivia games, one person has to take on the role of quiz master and miss out on the fun of answering questions, but the Harry Potter Wizarding Quiz Game from our friends at TOMY Games makes answering Harry Potter trivia fun for everyone!
The Harry Potter Wizarding Quiz can be played with two to four players, with the objective being for players to win the House Cup by earning the most points. Each player starts the game with 200 points, with ten points awarded for each correct answer, but be warned: Each incorrect answer loses 20 House points.
With 1,000 true/false movie-based Wizarding World trivia questions divided across two levels, there are questions for casual fans and Potterheads alike. Unlike conventional trivia games, which involve question cards and the need for someone to keep score, this game makes full use of an electronic Game Master, so there is no real setup required. Just grab some friends, choose a difficulty level, and play! (In fact, the only difficulty we had with setting up the game was deciding which Hogwarts House to be, seeing as all players were Hufflepuffs!)
Once the game is turned on, the Game Master reads out all the rules to players, which means there is no need to read the instruction leaflet before playing (unless you're as studious as Hermione). After welcoming everyone, the Game Master asks players to choose their Hogwarts Houses by pressing the corresponding crests before you decide on a difficulty level by pressing Gryffindor for beginner or Slytherin for advanced.
For the first round of questions, the Game Master decides which player will answer each question. This allows players to increase their point advantage by answering questions correctly using the gold and silver true/false buttons in the middle of the device. For the second round of questions, it's every magical person for themselves, since only the fastest player can answer the question. In this round, players must press their House crest first before answering true or false. This is where the game really comes into its own, particularly if you are playing with competitive people! We really enjoyed the added element of speed to the regular trivia questions; it made for a really fun round with a lot at stake.
The light and sound effects in this game add another level of fun to the quizzing. Throughout the game, the crest of the player in the lead will light up, and the scores are revealed at the end of each round, so we were always aware of who was in the lead. The comments from the Game Master are encouraging but can get a bit repetitive. Like all trivia games, there is also a chance that once you've played a number of times, you will start to recognize some of the questions – and unfortunately, we were getting repeat questions on our third playthrough. However, the Game Master likes to keep players on their toes and change up the points available for questions, so make sure you're listening! Another downside to this game is that a maximum of four people can play at a time, but we're sure that if people wanted to pair up and play together as one House, it would be just as fun!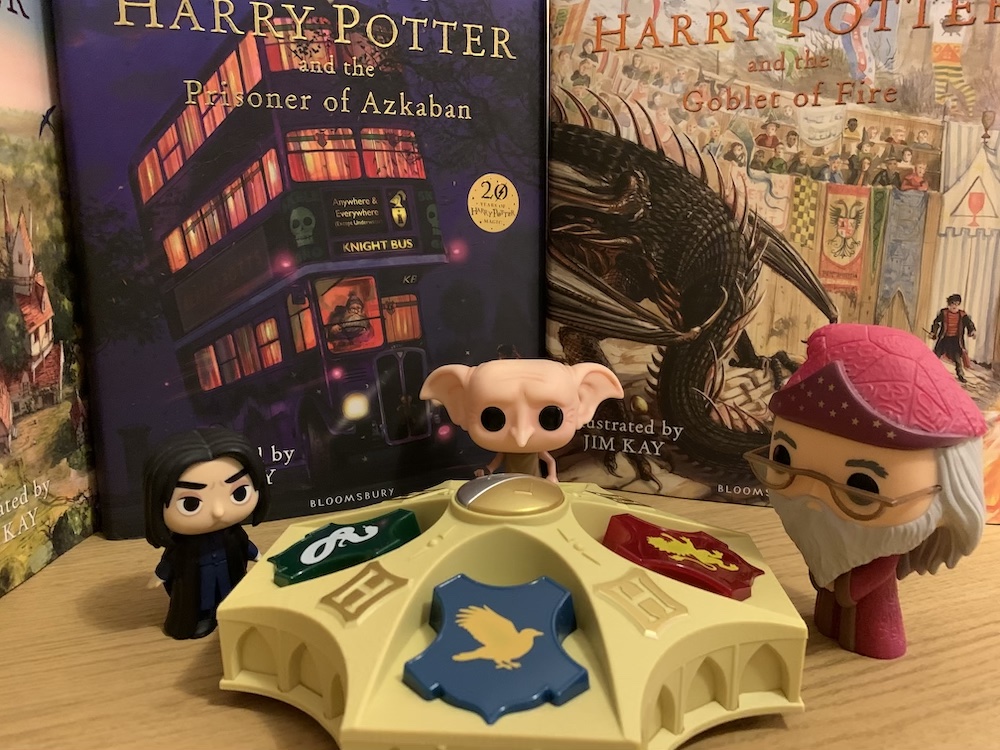 Overall, Harry Potter Wizarding Quiz is an excellent upgrade from the usual trivia-based games. It was nice to leave all of the scorekeeping and question reading up to the Game Master so that everyone could get involved. The questions covered a range of movie trivia questions and would make a wonderful gift for any young Potter fan. An additional bonus of this product is that the game comes packaged without any plastic, meaning that all packaging can be recycled with other cardboard waste!
A Harry Potter Wizarding Quiz Game was provided by TOMY Games. All opinions belong to the reviewer.
Want more posts like this one? MuggleNet is 99% volunteer-run, and we need your help. With your monthly pledge of $1, you can interact with creators, suggest ideas for future posts, and enter exclusive swag giveaways!
Support us on Patreon