Christmas Pudding by Rita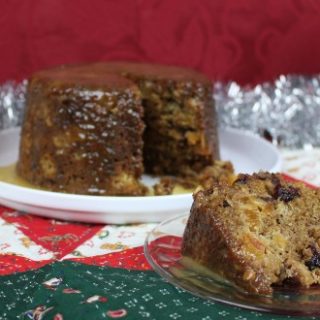 Christmas Pudding by Rita
Rita Mock-Pike
Christmas pudding dates all the way back to Hogwarts's founding, and perhaps even earlier! Many families have their own secret recipes for this traditional holiday dish, also known as plum pudding, so we can assume that the castle kitchen makes a very special one for the students and staff.
Ingredients
Pudding
1

cup

raisins

1

cup

dried apricots

chopped

1 1/2

cup

all-purpose flour

1 1/2

tsp.

baking soda

1/4

tsp.

salt

1

cup

butter

finely grated

1

cup

bread crumbs

fresh, brown

1

cup

brown sugar

light

1

cup

mixed nuts

1

tsp.

cinnamon

ground

1/4

tsp.

allspice

ground

1/4

tsp.

nutmeg

ground

1/4

tsp.

cloves

ground

1/4

tsp.

ginger

ground

1/4

tsp.

coriander

ground

1

cup

milk

1

egg
Butterscotch Sauce
5

Tbsp.

butter

1/2

cup

brown sugar

packed

3/4

cup

heavy cream

1

tsp.

vanilla extract
Instructions
Pudding
Fill a pot with a wider circumfrence than your pudding mold halfway with water. Heat pot over low heat to simmer.

Butter the inside of your pudding mold well and set aside.

Combine dried fruits, flour, baking soda, salt, butter, bread crumbs, sugar, nuts, and spices in a large bowl. Mix until combined and butter is smeared.

Add milk and eggs. Combine ingredients until they are well incoporated.

Pour mixture into prepared pudding mold.

Cover mold with two layers of aluminum foil. Do not cover tightly; leave some room for the pudding to grow.

Gently place pudding into the simmering pot. Water should rise about halfway up the mold. Add water as needed through cooking time.

Cover pot and steam pudding for 3½ to 4 hours.

Prepare butterscotch sauce while pudding steams (see below).

Once pudding is solid enough to flip out of mold, it can be either served immediately or cooled slightly, wrapped tightly, and refrigerated for later.

Pour butterscotch sauce over pudding to serve.
Butterscotch Sauce
Combine all ingredients in saucepan over medium heat and slowly bring to a boil. Let boil for 2 to 3 minutes, stirring constantly.

Remove from heat when the sugar is fully dissolved and the sauce is a pale caramel color, slightly thickened.
Notes
Use a box grater to finely grate cold or even frozen butter.
A 1.75 liter Pyrex container just fits the pudding.
Placing the pudding in something that can be lifted out of the pot such as a canning rack or instant pot rack will be helpful.
If this pudding will be served immediately, make the sauce either right before the pudding is done or in advance.
This recipe is from Rita Mock-Pike's The Unofficial Hogwarts for the Holidays Cookbook.