Merch Madness: Chibi Coins, Theme Park Loot, and Creative LEGO Sets
The holidays are a time of giving, and giving is most meaningful when it's the best merch. There is something for everyone, and if you don't spot it here, then we wish you the best of luck. Let's get started with Merch Madness!
New Zealand Mint Coins
Chibi and Movie Poster Collections
Chibi coins are a collector's dream. The cartoon-themed currency makes waves on the New Zealand Mint website every time a new piece is released. The latest coin in the chibi style is one Rubeus Hagrid, arguably one of the most lovable characters of the Harry Potter story. This piece is a one-ounce silver coin in the shape of Hagrid. If you plan on purchasing the coin, you should do so soon. Over 90% of the stock is already gone. But be warned, New Zealand Mint is limiting its chibi coinage. As per the website, "There is a strict limit of 3 units per household for each individual Chibi Coin." The one-ounce Hagrid costs $99 and only 2,000 coins of this style were minted.
Also from New Zealand Mint comes a new movie poster coin. Harry Potter and the Goblet of Fire will live forever on the face of a one-ounce silver coin. This is the latest addition to the movie poster collection from New Zealand Mint. Of course, the first three movie posters have been produced and are on the Mint website. Only 5,000 of this particular coin have been minted and are available for purchase, so it's best to get yours while you still can. The movie poster coin is on sale for $89.
Universal Orlando Resort Merchandise
Hogwarts Mask
Even wizards have to wear masks to protect against COVID-19. Thankfully, Universal Orlando Resort and many other places have been keeping up with a variety of mask styles. The latest design is white and gold and Hogwarts-inspired. The school crest can be seen on the front, and around it are designs that look like they've come straight from the Great Hall of Hogwarts. Each mask costs $8 and can be found at CityWalk at Universal Orlando Resort.
Pressed Penny Machines
A classic way to preserve the memory of a trip is to get your pennies pressed. Three new penny machines have arrived at Universal Orlando Resort. Each machine has a set of eight designs to choose from, and each set is different from machine to machine. However, they are scattered around the park and might take a keen eye to spot. They can be found at Universal Studios Store at CityWalk, Trading Post in Universal's Islands of Adventure, and the Universal Studios Store in Universal Studios Florida. Collect all 24 coins and show them off to your friends, who will be super jealous. (Fun Fact: The first pressed penny machine was created in 1893 and was at the World's Colombian Exhibition in Chicago, Illinois.)
Mini Hogwarts House Backpacks
In case you need a vessel to hold all your Harry Potter merch, we've got you covered. Four new mini backpacks have made their way to the shelves at Universal Orlando Resort. Inspired by the Hogwarts Houses, the colors to chose from are red, green, blue, and yellow. In case the colors aren't enough to indicate which House the mini bags represent, House crests sit boldly on the front of each bag with the respective color. It gets cuter, though. A big puffball is attached to the main zipper, which gives the bag a little flair and a fun element. The mini House backpacks cost $65 and can be found at the Trading Company store in Universal's Islands of Adventure.
Universal Studios Japan Merchandise
Witch's Cauldron Lemon Cake
This next item isn't necessarily something you can take home with you, but it could very well be the next butterbeer, so stay with us for a minute. Witch's Cauldron Lemon Cake from Universal Studios Japan looks like it came right out of the books. There are several layers to this cake, if one could even call it a traditional cake, and each step brings out a little more magic. Right when you get this treat, it sits in a tiny cauldron topped with cotton candy and tiny lemon popping rock candy. To get through the cotton candy, you pour a small liquid mixture that comes along with the dish and is served in a glass vial. But be sure to mix it up a little first because once you swirl it around, the colors of the liquid change. After you add your lemon-flavored liquid over the cotton candy, it dissolves to reveal a whipped cream flower, which sits directly atop your lemon cake. All in all, it's a seriously magical dessert with a dramatic flair fit for any witch. It costs ¥900 ($8.66) at Universal Studios Japan.
LEGO Set Coming Out in 2021
Lucius Malfoy Minifigure
Enthusiasts of LEGO will be pleased to hear about the new opportunity to get their hands on the Lucius Malfoy minifigure. The character figure has so far been available only in the 75978 Diagon Alley set, which is priced at an outstanding $400 on the LEGO website. Mr. Malfoy will be available in late 2021 and will come with the 2022 LEGO Harry Potter Yearbook. The book is full of puzzles, comics, and activities. It also includes Lucius Malfoy's cane, his wand, and an owl figurine.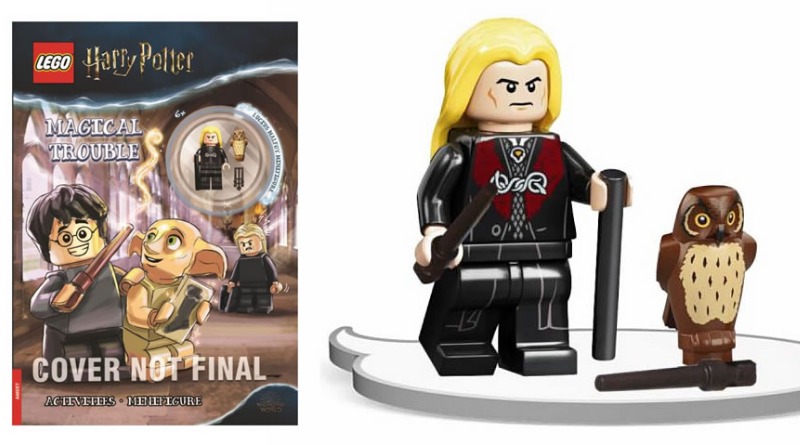 Hufflepuff Quidditch Player Minifigure
Hufflepuff, an often underrated Hogwarts House if you ask us, is finally getting some recognition in the LEGO-verse. Cedric Diggory will be the face of the Hufflepuff Quidditch player minifigure. While the torso/Hufflepuff uniform is still available within the 75978 Diagon Alley set, it's much cheaper to get this individual figure if it's still missing from your collection. Of course, to complete the Quidditch ensemble, a broom is included. Cedric Diggory is attached to the Let's Play Quidditch activity book, which will be available in the spring of 2021.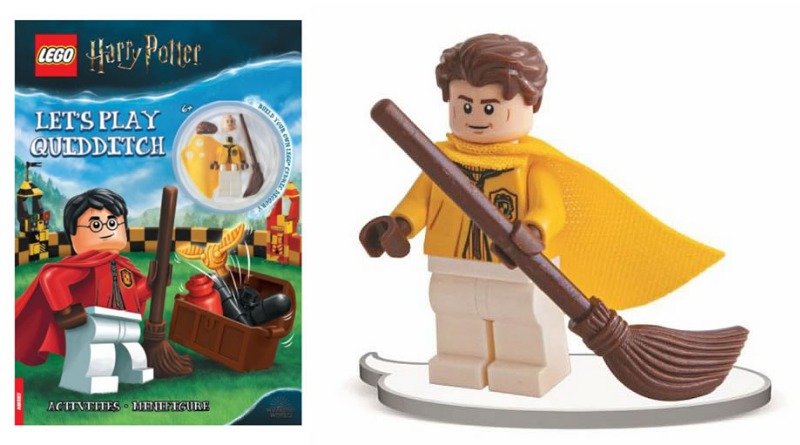 Four New Hogwarts Moments Sets
In a recent tweet, LEGO revealed the release of four new Harry Potter sets in the coming year. These are some very unique kits, to say the least, not only because new LEGO sets always seem to creatively outdo themselves, but all four of these are themed around the Hogwarts classes seen in the films. Transfiguration, Herbology, Potions, and Charms are all the classes your LEGO minifigures can take, so to speak. The set is self-contained in a box shaped and designed to look like a textbook from one of the four classes that opens to a 360-degree display of the classrooms.
Each set comes with three different minifigure characters, accessories, and everything else you may need to pass the class. The Transfiguration Class set comes with Professor McGonagall, Ron Weasley, and Hermione Granger. The Potions Class set comes with Professor Snape, Seamus Finnigan, and Draco Malfoy. The Herbology Class set comes with Professor Sprout, Neville Longbottom, and Cedric Diggory. Finally, the Charm Class set comes with Professor Flitwick, Harry Potter, and Cho Chang. All four sets are scheduled to be released in 2021 and will cost $30 each.
New LEGO Harry Potter Hogwarts Moments coming soon! Which is your favorite class?

A: Transfiguration
B: Potions
C. Herbology
D: Charms pic.twitter.com/udVNWr8CuN

— LEGO (@LEGO_Group) November 16, 2020
LEGO Art Set
If you thought building 3D models and designs was the only thing you could do with LEGO bricks, then think again. The latest art project craze will hit shelves in January 2021. Art sets use single bricks of all colors to make a mosaic-style work of art. The Harry Potter design gives builders instructions for all four Houses. Once you put all 4,249 pieces together, the finished product will show off not only the House colors and animals but also your skills as a brick artist. There is a slight catch, however. A single set will build the crest for only one House at a time. If you want to create a full Hogwarts crest featuring all four Houses, you'll need to buy four sets. When released, one set will cost $120.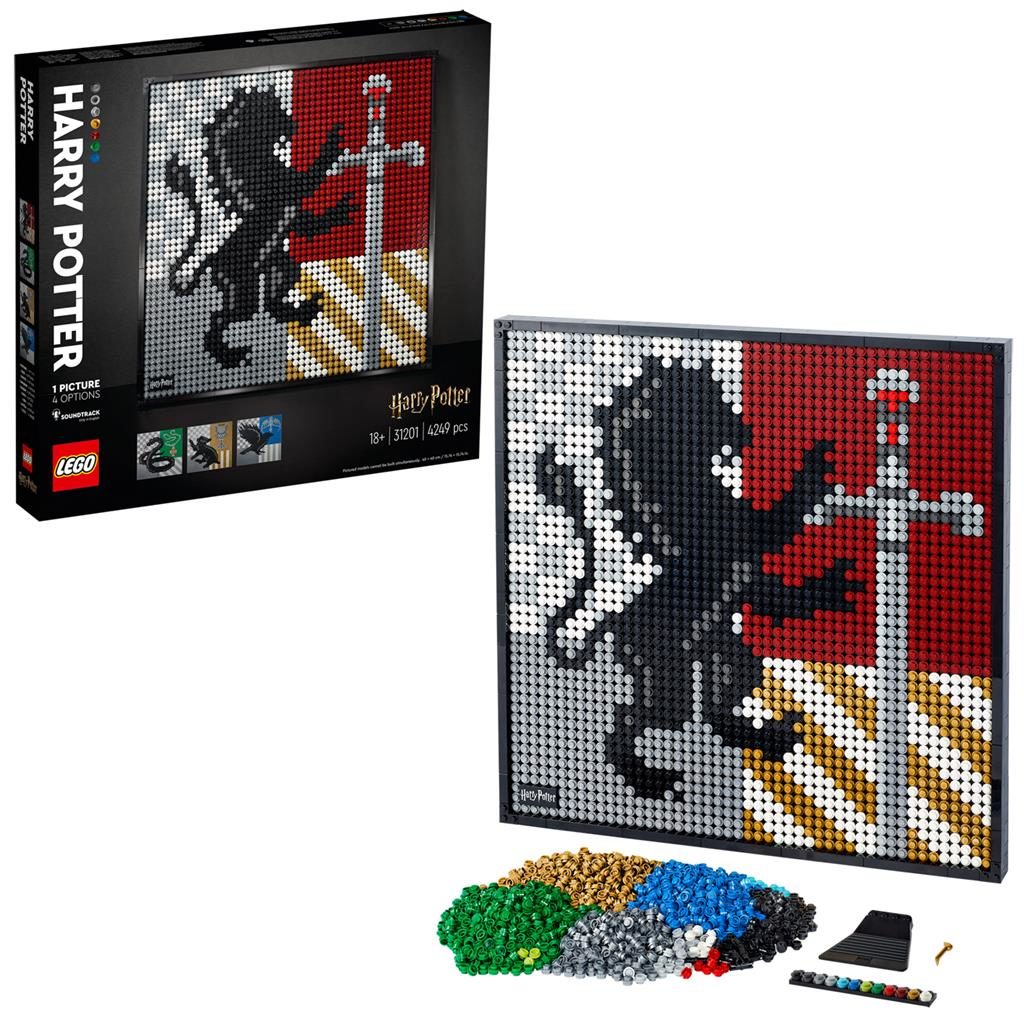 Monster Book of Monsters Set Unavailable in the United Kingdom
We regret to inform British LEGO fans that the Monster Book of Monsters set will not be available to them. We know – it's awful, especially considering this set comes with some exclusive stickers. It is, however, still available as a free promo item in the European Union when buyers spend more than €75 in stores and also in the United States as a gift-with-purchase at Barnes & Noble stores. On the bright side, if any British builders have all the parts in their own collections, the building instructions are online.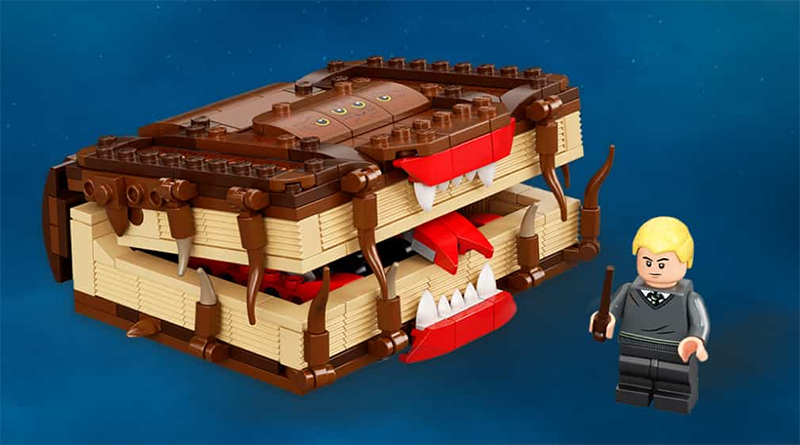 That's all we have for this Merch Madness! Be sure to check back often for more merchandise, collectibles, and announcements. Are you planning to purchase any of these items for the holidays? Drop us a line and let us know!
Want more posts like this one? MuggleNet is 99% volunteer-run, and we need your help. With your monthly pledge of $1, you can interact with creators, suggest ideas for future posts, and enter exclusive swag giveaways!
Support us on Patreon