Dan Fogler and Mads Mikkelsen Talk "Fantastic Beasts" and More
Dan Fogler (Jacob Kowalski) and Mads Mikkelsen (Gellert Grindelwald) spoke during Fogler's Fiction Fest 2021 about the filming of the third Fantastic Beasts movie – which is currently in production – as well as other subjects, including their job as actors and the struggles of making a film during the pandemic.
Mikkelsen is taking over the role of Grindelwald after Johnny Depp's departure from the franchise, while Fogler is returning as Jacob Kowalski. The pair have worked together before on Hannibal, and both said that they were pleased to be working with the other on a new project. Fogler stated that he has "such a love" for Mikkelsen and described him as "an anchor" who balances out the chaos of the coronavirus pandemic.
The film itself has struggled during the pandemic: Filming has been halted and restarted, and the release date has currently been pushed back to July 2022, although there is no guarantee that the film won't experience future delays. It was originally supposed to be released in November 2020, repeating the two-year gap of the first two films in the series.
Although they weren't able to discuss it in much detail, the pair also talked about the plot of the new film. Fogler stated that it was "gonna be a great movie," even revealing a small spoiler. He said that his character, Jacob Kowalski, is going to have "a moment" with Grindelwald, leaving fans wondering what this moment is about and where it appears in the film.
Leading up to this small spoiler, Fogler talked about his feelings about Depp and his departure from the series, describing them as a "nitroglycerin situation," a reference to an explosive chemical compound. He also revealed that it "made him sad" thinking about the previously mentioned "moment" with Depp that he will now never be able to have.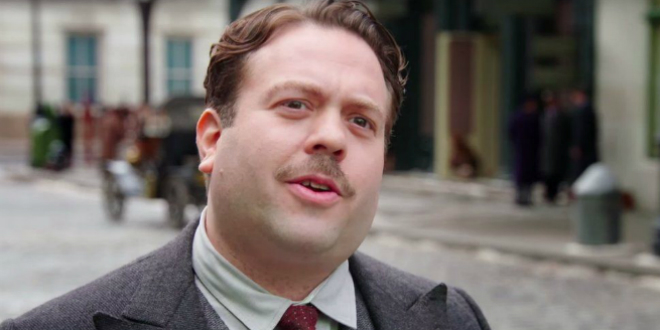 This interview between Dan Fogler and Mads Mikkelsen has only increased the anticipation and excitement surrounding the third Fantastic Beasts film and clearly showed the respect between the two actors. What are you hoping for in this new movie? You can watch the full interview (which starts at 7:07:30) below!
Want more posts like this one? MuggleNet is 99% volunteer-run, and we need your help. With your monthly pledge of $1, you can interact with creators, suggest ideas for future posts, and enter exclusive swag giveaways!
Support us on Patreon