Why Scorbus Should Have Been Canon
Rose: '. . . My mum and dad met your dad on their first Hogwarts Express you know. . .'

Albus: 'So we need to choose now who to be friends with for life? That's quite scary.' (CC 12)
"Quite scary" indeed, but little did Albus Potter know that this was exactly what he was about to do.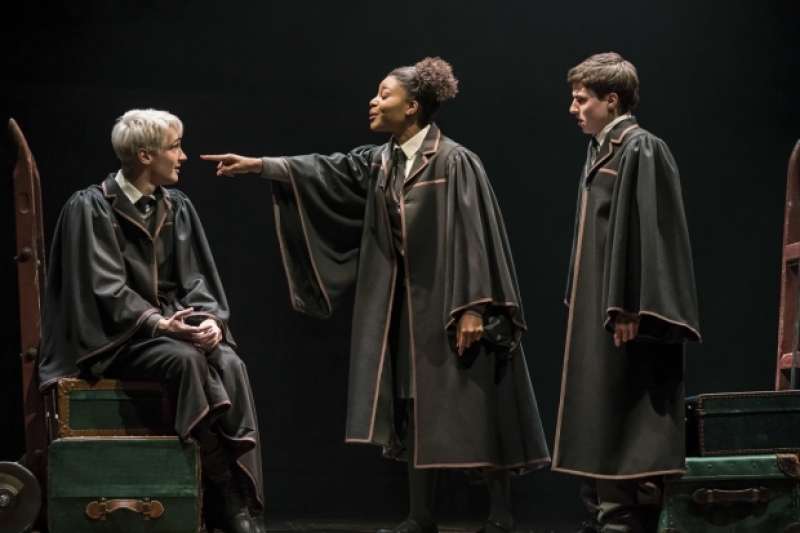 After reading the epilogue of Harry Potter and the Deathly Hallows, which saw Albus and Scorpius simultaneously beginning their education at Hogwarts, I was immediately intrigued by the possibilities for the two characters. What type of relationship would the sons of Harry Potter and Draco Malfoy have? Would they be school rivals like their fathers before them, or would they defy expectations and become friends? I was pleasantly surprised when both Albus and Scorpius became instant friends – much like Harry and Ron had back in Harry Potter and the Philosopher's Stone. As I read on, it became clear that there was the potential for them to be more, with active directions and dialogue throughout the script book suggesting the possibility of a budding romance between the two.
Fellow MuggleNet editorialist, Chelsea Korynta, wrote a piece entitled "How I Learned to Stop Caring and Love the Gay Subtext in Cursed Child" where she highlights how same-sex relationships within the wizarding world are very much a fan creation. She noted that, aside from Dumbledore being revealed to be gay by Rowling as the series came to a close, there's next to no LGBTQ+ representation in the Potterverse – and I couldn't agree with her more.
There is a lot of debate revolving around Harry Potter and the Cursed Child, and whilst I understand why others dislike it and I too have grievances with aspects of the story, I personally consider it to be canon. One of the major grievances I did have, however, revolved around the outcome as the play came to an end:
Scorpius: 'Rose Granger-Weasley. I asked out Rose Granger-Weasley.'

Albus: 'And she said no.'

Scorpius: 'But I asked her. I planted the acorn. The acorn that will grow into our eventual marriage.' (CC 310)
While it is obvious that Scorpius harbors a crush on Rose throughout the play, it is not until the end of the script book that she is even remotely nice to him. The relationship between Scorpius and Albus, on the other hand, is there for readers and viewers alike to watch blossom and flourish throughout the play's entirety. Due to this, I found the ending to be a let down as well as a missed opportunity on Rowling, Thorne, and Tiffany's part to introduce what would undoubtedly be the OTP of same-sex couples in the world of Potter.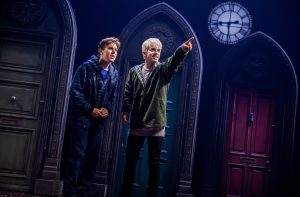 So many moments exist within the script book that would have provided a stable foundation from which a romantic relationship could emerge or even be known to be desired. Even Delphi told Scorpius that he and Albus belonged together (CC 138) and knew that torturing Scorpius would be more effective than torturing Albus in having the young Potter do her bidding (CC 238). In addition to these small moments, it was my observation during my re-read that many of the Scorbus moments focus on Scorpius's feelings – making it all the more surprising that he pursued his desire to date Rose at the end of the play.
[Scorpius] looks at his friend talking to a girl – and part of him likes it and part of him doesn't. (CC 99)
Of course, this moment could be interpreted in various ways: He could be jealous of how easily Albus can interact with Delphi while he finds difficulty in his attempts to interact with Rose, or he could be jealous of Albus and Delphi growing closer, which can be later backed up when he is "over-enthusiastic, trying to join in" (CC 99). One of the biggest moments, however, is when Scorpius is being attacked by Death Eaters:
Snape: 'Listen to me, Scorpius. Think about Albus. You're giving up your kingdom for Albus, right?' (CC 200)
Snape then goes on to reference his love for Lily, advising Scorpius that "all it takes is one person" (CC 201) and – for Scorpius – that one person is none other than Albus Potter.
There are many who would not agree to the concept of Scorbus as a ship. However, I'm sure there are some who will also read Cursed Child with a similar mentality as myself. In both the script book and on stage, there is a moment shared between the two boys on the staircase (CC 130) that I think not only shows how Harry's decision to keep them apart is the wrong one, given how miserable both boys are without one another, but how the writers' choice to not have them become something more results in losing the first mutually romantic, same-sex relationship that could have been introduced in the Potterverse.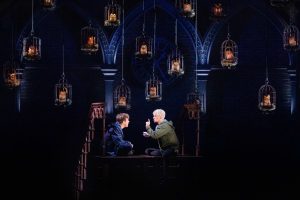 Want more posts like this one? MuggleNet is 99% volunteer-run, and we need your help. With your monthly pledge of $1, you can interact with creators, suggest ideas for future posts, and enter exclusive swag giveaways!
Support us on Patreon