USQ Stands Against Utah House Bills for Gender-Based Discrimination
Last summer, US Quidditch (USQ) showed support for the LQBTQIA+ community; now, the organization is showing its support and speaking out against two new bills in Utah.
The Utah House of Representatives passed House Bill 302 (HB0302), on "Preserving Sports for Female Students," on February 17.
This bill:

defines terms;
requires schools and local education agencies to designate athletic activities by sex;
prohibits a student of the male sex from participating in an athletic activity designated for female students;
The main problem is that it excludes transgender girls from any female sport at public schools. According to the bill, transgender youth should participate in school athletic activities designated for either "male" or "female" students according to the sex assigned to them at birth.
'Sex' means the biological, physical condition of being male or female, determined by an individual's genetics and anatomy at birth.
HB0302 wasn't the only piece of discriminatory legislation to be considered by the Utah House this past week. House Bill 92 (HB0092), on "Medical Practice Amendments," was brought before the Health and Human Services Committee on February 19. It would forbid performing "a medically unnecessary puberty inhibition procedure or a sex characteristic-altering procedure on a minor" or prescribing medication known as "puberty blockers" to transgender youth.
This bill:

defines terms;
makes it unprofessional conduct to perform a medically unnecessary puberty inhibition procedure or a sex characteristic-altering procedure on a minor; and
makes technical changes.
Both bills have faced opposition from LGBTQIA+ rights groups. USQ strongly opposes gender-based discrimination, and Muggle quidditch is based on opportunity for athletes of all identities, races, and genders. It's a mixed sport, and gender inclusivity is always included in the rule books, both by the International Quidditch Association and by USQ.
While House Bill 302 passed on February 17, House Bill 92 was rejected by the Utah House Health and Human Services Committee on February 19 and sent back to the House Rules Committee. Before that, the Governor of Utah, Spencer Cox, mentioned that he planned to veto both bills, and USQ strongly supports this decision.
If you are a resident of the state of Utah, we urge you to contact your state senator as well as the governor's office to voice your opposition to these bills. Here is a template letter, which can be personalized.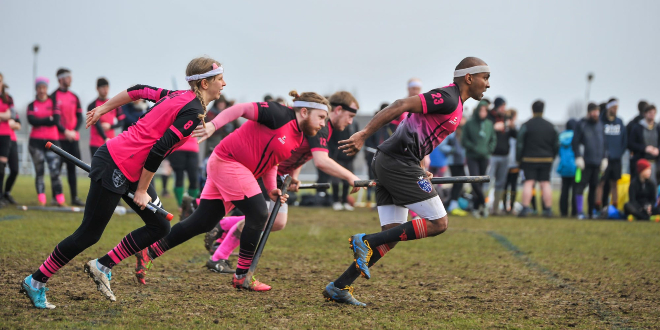 If this legislation passes despite all of this, it might have an effect on the next US Quidditch Cup. As previously announced, US Quidditch Cup 15 is planned to be held in Salt Lake City, Utah, in 2022. The latest USQ bid manual introduced new diversity, equity, and inclusion guidelines for host cities. By these guidelines, the new legislation might disqualify every city in Utah from hosting a USQ-sponsored event.
USQ expects a host city to be welcoming and safe for people for all backgrounds, including transgender people, gender non-conforming people, and Black, Indigeous, and [p]eople of [c]olor, and we are concerned for the safety of our athletes, volunteers, officials, staff, and fans should this discriminatory legislation be signed into law in the state of Utah.
Want more posts like this one? MuggleNet is 99% volunteer-run, and we need your help. With your monthly pledge of $1, you can interact with creators, suggest ideas for future posts, and enter exclusive swag giveaways!
Support us on Patreon