English Bookshop Unites Hardback and Paperback "Philosopher's Stone" First Editions
An independent bookstore called St Mary's Books in Stamford, Lincolnshire, claims to be the only shop in the United Kingdom currently offering two extremely rare first editions of Harry Potter and the Philosopher's Stone. Both copies were published in 1997 by Bloomsbury. One is a paperback and one is a hardback, united after decades of circulating among the readership. With the only other paperback available in the United States, these books are an incredibly rare find and they are worth a combined £107,500 (a staggering $149,114).
It's crazy that the original paperback copy could have been purchased for about $7 when it first hit shelves. When the private seller realized they had such a valuable book in their possession, they placed it in a safe to preserve its superb condition. Today, it is on sale at the antiquarian bookshop for £12,500 ($17,363). And that's not even that bad a price given it is not signed by the author. Additionally, while the paperback is one of 5,000 originally printed copies, there were only 500 of the hardback editions printed at the same time. This latter one is, therefore, on sale for £95,000 ($131,740), despite the lack of an autograph and its slightly used state after having been sent to school libraries. This works out to £426 per page.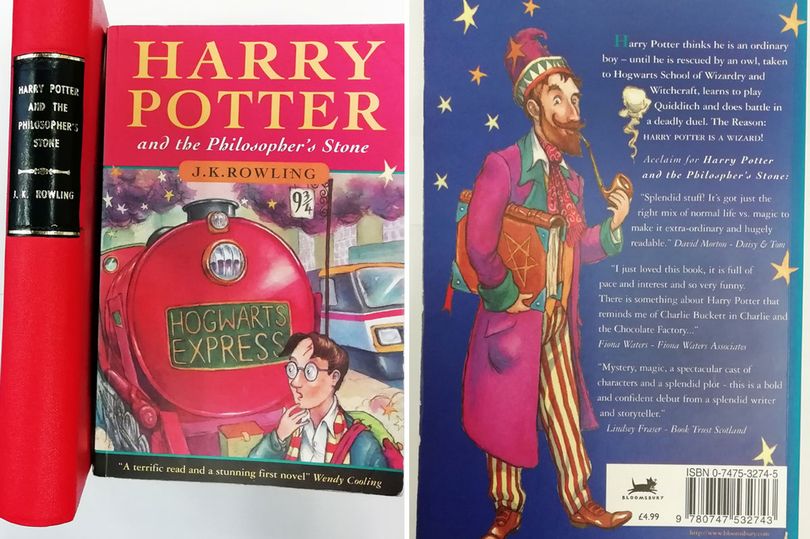 And they are imperfect pages. The first editions contain certain mistakes that differentiate them from fakes or later reprints in which certain telltale errors were corrected, explained shop owner Marcus Tyers, age 40, from Stamford.
People often ask me how we identify these books, but it's about recognising a lot of quirky things, and in the Harry Potter books, you're looking for a particular number of 10-1. And then also certain words that had been missed during proofreading, so in [Harry Potter and] the Philosopher's Stone, the word 'wand' is repeated twice, and the word [']philosopher's['] is also mis-spelt [sic].
You might want to double-check if you think you could have a valuable copy at home. "The hardback is extremely rare and is the sort of book that could have been sitting in your bookcase for a long time," Tyers says. He's right: Out of the 500 original hardbacks, 300 were sent to schools and libraries, so you would be doubly lucky to have found one in a shop, but it never hurts to check.
The shop acquired the softback version from its original buyer only last week. The rarer hardback will arrive this Wednesday. Where has this one been lying all these years?
The story behind that one is, it went out to schools, and so it didn't even have a dust jacket on it because they thought it would be too awkward for it to have it on. But these books that were sent for children to read may have now been thrown in the bin or even discarded from the libraries due to looking a bit battered from being read so much.
This means that some of the few originals ended up being too worn for use and thrown away.
"Our store is the only store offering the hardback and paperback in the whole of the UK at the moment," Tyers claims, but he also shared that, for security, neither of the copies is currently stored on the shop premises:
We have had the softback before, but we've never had the pair together at the same time – so it's just really exciting to have them together.
"This book is the one that caused everyone to queue for the rest of the series when they launched in the middle of the night and started the whole fascination with the wizarding world," the bookshop owner mused. "This book is the one that set it all off, and that is why I find it highly important."
If you fancy one of the copies, hurry because an Italian buyer has already contacted the shop. They expect the books to be sold within a couple of months. The store also sells maps, prints, taxidermied owls, and other rare books, including first editions of the Lord of the Rings trilogy for £25,000 ($34,750) and Jane Austen's Emma for just over £28,000 ($38,920).
Want more posts like this one? MuggleNet is 99% volunteer-run, and we need your help. With your monthly pledge of $1, you can interact with creators, suggest ideas for future posts, and enter exclusive swag giveaways!
Support us on Patreon