Top Five Adorable Newtina Moments
When it comes to the relationship between Newt Scamander and Tina Goldstein, the "will they, won't they?" aspect makes watching their romance flourish on screen all the more appealing. Much like the romance between Ron Weasley and Hermione Granger in the Harry Potter series, Fantastic Beasts and Where to Find Them teases the possibility of Newtina finally becoming canon. Having read the textbook version of Fantastic Beasts and Where to Find Them, we fans are aware that these two characters eventually do become a couple since the "about the author" section states:
Now retired, he [Newt] lives in Dorset with his wife Porpentina and their pet Kneazles: Hoppy, Milly, and Mauler. (FBaWtFT 99)
However, the moment in which the two make their relationship official is still to come in the Fantastic Beasts movie franchise, and so I decided to pass some time awaiting the third installment of the series by ranking their top five adorable moments.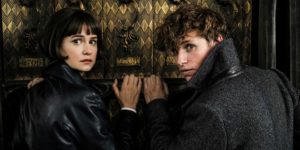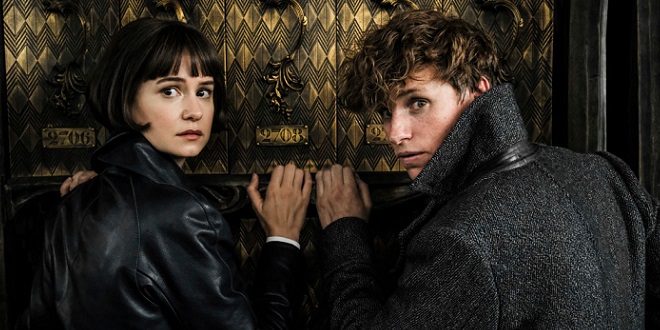 Moment #1: Salamander Eyes
Flirting may not be a skill that Newt Scamander possesses, but that doesn't mean he lacks the ability to make your heart melt. One of my favorite scenes between Newt and Tina is this moment in Fantastic Beasts: The Crimes of Grindelwald. After explaining to Tina that it's Theseus who's marrying Leta and not him, Newt shows Tina a picture of herself that he keeps with him. This is not only an adorable moment, but it also shows how Newt's affection for her has grown and has changed him as a person, given that in the previous movie it was a picture of Leta he carried. Additionally, it pays tribute to how much Tina understands Newt that she is the one who finishes his compliment when he struggles to refrain from saying it (as Jacob earlier advised him).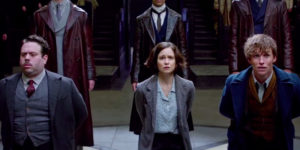 Moment #2: "I'll catch you." (Fantastic Beasts and Where to Find Them)
It wasn't until re-watching Fantastic Beasts again that I realized just how significant this moment was when it came to their budding romance. Prior to this moment, Tina had always referred to Newt as "Mr. Scamander," addressing him in a formal manner that's later played upon in the second movie to express her anger toward him. However, after the near-death experience that sees Tina having to put her trust in Newt and his Swooping Evil in order to survive, it becomes apparent that she begins warming up to him – not only through her actions and tone but also by how she finally begins to address him as "Newt." This turning point in the relationship between the two also holds similarities to the one between Ron and Hermione, who became closer after Ron and Harry rescued her from the troll in Harry Potter and the Sorcerer's Stone.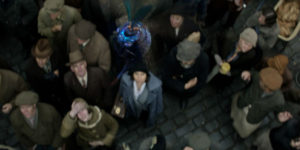 Moment #3: "Take care of my creatures." (Fantastic Beasts and Where to Find Them)
When it comes to Newt Scamander and his fantastic beasts, there's no question as to how much he cares for them. Having witnessed the mistreatment that many of the magical creatures suffered, it's not hard to imagine that he would be wary about whom he allows near his beloved creatures. That's why I was pleasantly surprised when this heartwarming moment occurred in the film, and Newt, all too prepared for the outcome of his death, entrusted Tina with his case and all the information he had on how to care for his creatures. This moment goes to prove just how deeply he trusts Tina, who, through her interactions with Newt and exposure to his creatures, also develops a visible interest in and affection for them.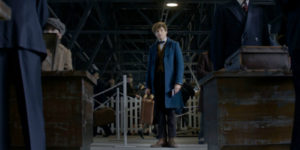 Moment #4: Goodbye (But Only for Now)
If there's one thing I remember from when I first watched Fantastic Beasts, it's how badly I wanted Newt and Tina to kiss. This desire was heightened when both Queenie and Jacob shared their kiss toward the end of the movie, and Tina cast her gaze in Newt's direction. That being said, I was surprised to find I was relieved when they didn't kiss at all. In hindsight, I believe that a kiss between them at this point wouldn't have reflected their characters truly, and so instead, I found great satisfaction in the childlike innocence of how their goodbye was done.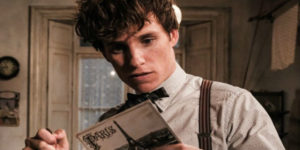 Moment #5: Searching for Tina
When Queenie and Jacob arrive at Newt's home in Crimes of Grindelwald, Newt is delighted to see his friends, and it would be easy to assume that Tina would be there too, right? Wrong. After Newt eagerly makes his way to the front door in search of Tina, he returns into view looking much like a kicked puppy, and there's no hiding the disappointment and sadness in his tone and expression when Queenie advises him that it's just herself and Jacob who have come to visit.
While these may just be a few of the adorable Newtina moments, there are still more movies to come. Until then, why not let us know what your favorite moments are and what you hope will happen to Newt and Tina in the upcoming films?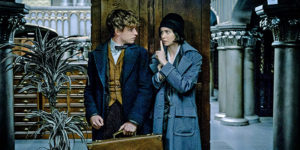 Want more posts like this one? MuggleNet is 99% volunteer-run, and we need your help. With your monthly pledge of $1, you can interact with creators, suggest ideas for future posts, and enter exclusive swag giveaways!
Support us on Patreon