Detailed Replica of Hogwarts Textbook Holds True Magic in Its Pages
When the love of a fandom meets professional-level artistry, you know whatever that fan comes up with is going to be extraordinary.
Jack Tuckwell, the artist who runs Alarm Eighteen, brought fan-made art to a whole new level. His hand-made replicas of Hogwarts textbooks are filled from cover to cover with exquisite texts and drawings. His most recent replica of A History of Magic is one for the books (pun absolutely intended).
The process to make the replica textbooks can be long, but the result is worth every second in our eyes.
This process can take anywhere from three months to two-and-a-half years, depending on the size of the book and how many other projects I am working on simultaneously.
In total, Tuckwell has created five textbook replicas. The most recent project, the re-creation of A History of Magic, is a sight to behold. Tuckwell says he starts a project by doing research and finding the right content for the book.
I start by researching the series – primarily the books and the films, occasionally bits and pieces from the games and other supporting media – and collect together every piece of information relevant to the book's topic. I am especially careful to include any specific content known to be found within the books, such as 'This book is the [P]roperty of [t]he Half-Blood Prince' in Advanced Potion[-]Making, and 'Page 394' of The Essential Defence Against the Dark Arts' bearing details on [w]erewolves! Once I have collated everything I can find, I then begin to fill in the gaps, which can be fairly substantial.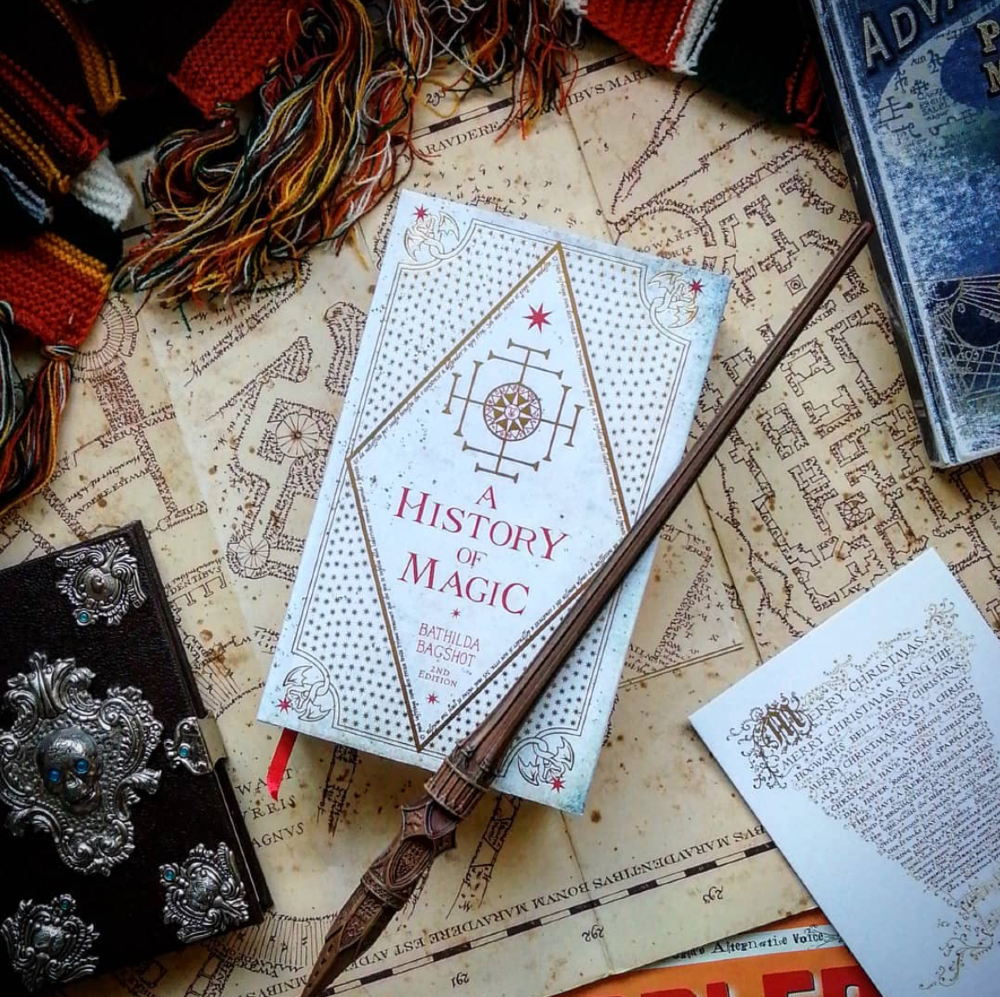 He says he fills in the parts of the books we don't see from the movies or book series with content that stays "true to the feel of the book." When he's finished, the entire book is readable front to back with information that any witch, wizard, or Muggle could find useful in their studies.
Tuckwell says, of all his replicas, A History of Magic is a personal favorite.
By far, my most detailed replica to date is 'A History of Magic', and it is also my personal favourite. Although the book does not boast the most pages, at 744, it does have the most content – over 200,000 words and 35 full-page illustrations. I poured two-and-a-half years into this book, with the help of my (now) friend Claire (@cm_wizart on Instagram), who I commissioned to produce the stunning illustrations.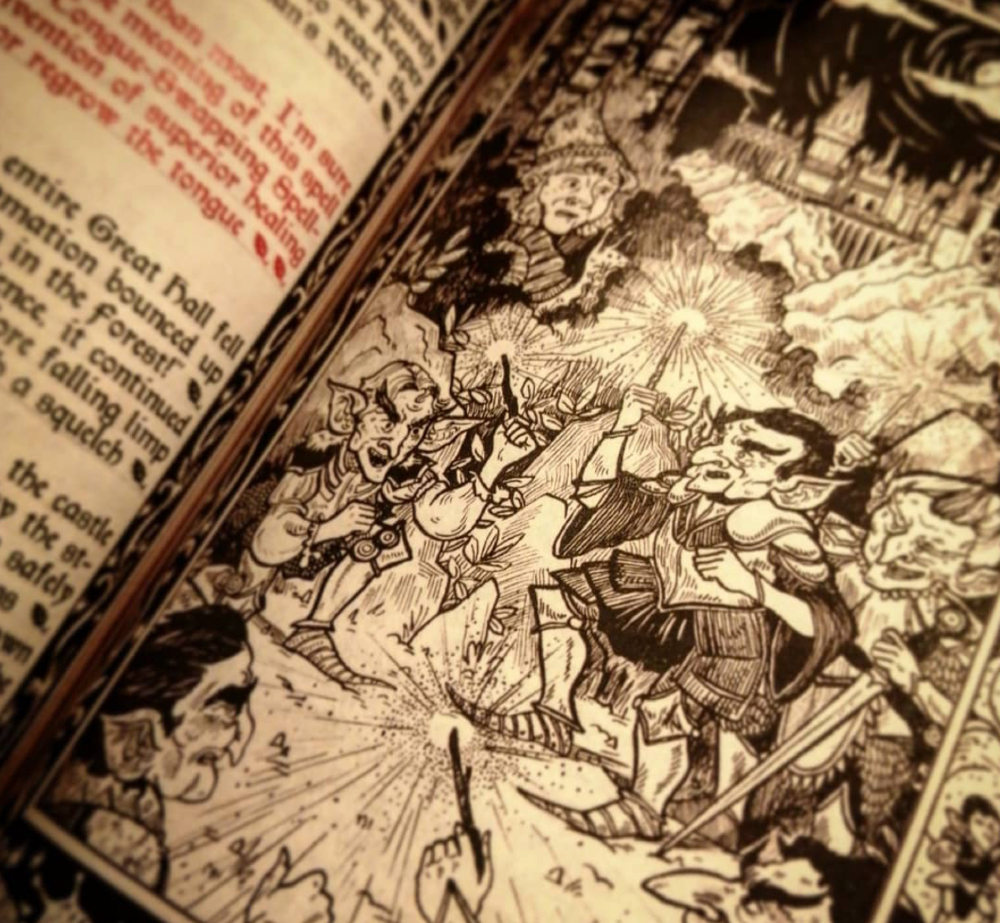 Even with all the time, research, and art creation, Tuckwell says he loves to bring this kind of content to life.
I enjoy creating these replicas immensely, and honestly speaking, I love every part of the process. There is something particularly satisfying about designing the feel of the pages, though – combining fonts and imagery to form magical textbooks that tie into the content. I also love writing stories and poems based upon the smallest of facts, such as the creation of the Wand-Lighting Charm, or the Dungbomb!
Sometimes there are tricky parts to conquer, Tuckwell mentions. But there is no stopping a determined artist, no matter the challenge.
The hardest part of the process is, without a doubt, deciding on what information to include and what to omit – sometimes given details conflict with each other, or else contain enough detail to write a book on the topic by itself! However, I love the challenge, and as I said, I find joy in every part of the process.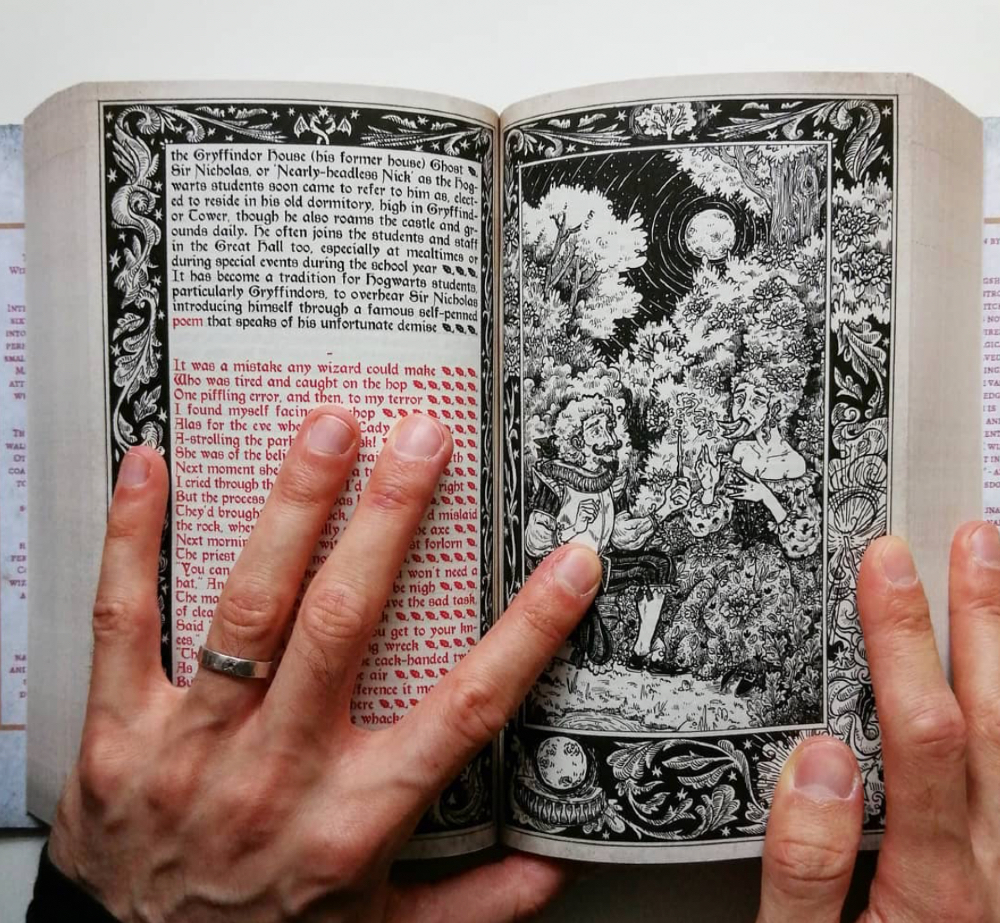 In spite of years of hard work, Tuckwell wants to continue his art. He just has to pick which of the many books mentioned throughout the Harry Potter series gets to be brought to fruition. Many of his fans request books like The Life and Lies of Albus Dumbledore, The Monster Book of Monsters, and Fantastic Beasts and Where to Find Them.
I plan to work on more Harry Potter replicas when time allows, and I would be very surprised if one of these titles wasn't in the mix for my next.
Jack Tuckwell, under his professional name of Alarm Eighteen, has gained a following of more than 37,000 followers on Instagram. You can see more content of all the texts on Tuckwell's YouTube channel.
MuggleNet would like to extend a special thank you to Jack Tuckwell for his interview.
Want more posts like this one? MuggleNet is 99% volunteer-run, and we need your help. With your monthly pledge of $1, you can interact with creators, suggest ideas for future posts, and enter exclusive swag giveaways!
Support us on Patreon