We Solved a Wizarding World Murder Mystery and You Can Too
A murder mystery, you say? In Paris, no less? Go on, I'm listening… and it involves wizardry and witchcraft? I'm in!
This was the basic answer given to one of MuggleNet's newest video producers when she suggested we take part in an interactive detective game in Paris last month.
Because events are on the fritz at the moment, CluedUpp Games, an independent games studio, is working hard to produce socially distant-appropriate activities around the world.
Specializing in outdoor gaming experiences, CluedUpp claims to have had almost half a million players participate in its games (which play out in over 38 countries) since 2016, and it is not hard to see why.
Its flagship game is all about detective work. In teams (costumed or not – your choice), you download the app and take to the streets to interrogate virtual witnesses as you eliminate murder suspects and weapons along the way, competing to solve the crime before anyone else.
Our particular murder mystery involved a Dark wizard setting alight a wizarding township. We had about 20 witnesses to question spread out in walking distance around the 1st arrondissement of Paris.
The creators leaned heavily into the Harry Potter franchise for this. The characters – though not affiliated with Warner Bros. or Harry Potter – were given suspiciously similar names, such as Aquarius Black, Silius Caragor, Marjorie Mandrake, Cedric, and even "Hobby."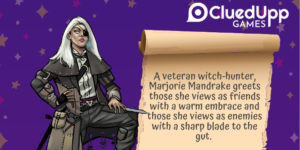 Our location was noted on the app, and using its built-in GPS, we were able to locate the whereabouts of each suspect. Unsurprisingly, the characters didn't always give us the right answers, and there were limited "truth potion" credits you could use to second-guess them.
The aim of the game is to solve this mystery the fastest, but you must interview at least five witnesses. By the seventh, we had a guess at who the culprit was, but it was fun to pound the streets and meet the other characters.
This tactic, though it allowed us to meet all the townsfolk, did end up placing us last since we took so long. In the end, we think our team (aptly named "Sherlock Owls") walked the equivalent of 6 km and spent just under three hours solving the crime with a coffee break in between – because #France.
There were relatively few glitches on the app, and we were able to locate all witnesses and answer any riddles along the way for extra points.
CluedUpp made sure to emphasize its plan for social distancing, which was that teams can start at any time after 9 a.m, but the game ends at 5 p.m. The witnesses are virtual and therefore very unlikely to pass on germs or viruses, and the only people you will be within two meters of are your teammates.
We saw a few other teams from afar dressed as Hogwarts students, donning classic witch attire, and one very well-dressed couple as Newt and Tina. At another time, we imagine this would be a great activity to meet people, but for the day, we were content to stay in our own team bubble.
All in all, our team of three really enjoyed our time as magical detectives, and we highly recommend CluedUpp. If one of their games comes to your town, we recommend you give it a nudge. You never know – you might find that you are the next Sherlock Holmes.
Want more posts like this one? MuggleNet is 99% volunteer-run, and we need your help. With your monthly pledge of $1, you can interact with creators, suggest ideas for future posts, and enter exclusive swag giveaways!
Support us on Patreon