Challah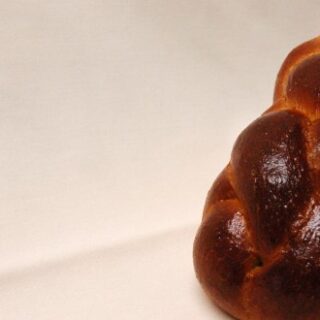 Challah
John L. Wilda
Challah is a classic Jewish bread that originated in the Middle East (spelled "חלה" in Hebrew). It is also popular with Polish Jews.
Ingredients
83

g

water

85

g

egg

24

g

egg yolk

35

g

vegetable oil

24

g

honey

373

g

bread flour

1¼

tsp.

salt

2⅛

tsp.

yeast

43

g

sugar

seeds

(optional – see note)

1

egg

(for egg wash)
Instructions
Combine all ingredients into bowl of stand mixer in order listed, except for seeds and egg for egg wash.

Mix dough with dough hook on low (KitchenAid Speed 2) for 8 minutes. Then mix on medium (KitchenAid Speed 4) for 4 minutes.

Remove dough from bowl, grease bowl with pan spray, and return dough to bowl. Cover and let ferment for 12–15 hours in refrigerator. (Overnight works well for this.)

Remove dough from refrigerator and divide dough into 170-gram pieces.

Preshape each piece of dough: press dough lightly to remove excess gas and fold over itself one-quarter at a time to create a log.

Cover logs with plastic wrap (or a clean trash bag) and let rest for 10 minutes.

Roll logs out to 16-inch strands of dough, keeping dough covered when not being shaped.

Place one strand of dough in front of you horizontally and then place a second strand vertically, crossing the first in the center.

Begin braiding dough starting with the horizontal strand. As you braid, remember: Right under left, top under bottom. There aren't many videos for two-braid loaves, so check out this one for an example of the braid.

Once loaf is braided and the ends of the pieces are left, bring the four ends together. Use the heel of the hand to roll them together and then tuck them under loaf.

Move loaf to a parchment-lined baking sheet. Cover with plastic wrap (or clean trash bag) and let proof* at room temperature for 1½ hours.

Preheat oven to 320°F 30 minutes into proofing time.

During proofing, whisk egg to pale yellow. Set aside.

Before baking, egg wash loaf thoroughly with whisked egg. Garnish with seeds, if desired.

Bake loaf for 34 minutes.
Notes
Seeds are a traditional garnish for challah bread. Sesame may be the most common, but poppy, pumpkin, and raw oats are also used.
Check out King Arthur Baking Company's videos to learn to make three-braid and six-braid loaves.
*proof - the final fermentation period of a dough once divided and shaped