Pączki
—You gotta try the paczki, okay, it's my grandmother's recipe, the orange zest—just—" (WtFT Scene 11)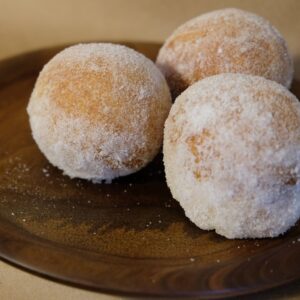 Pączki
John L. Wilda
These light, round doughnuts (pronounced POONCH-key) are a traditional part of the pre-Lenten season for many Polish Catholics. They are simple yet indulgent, and the orange comes through just enough.
Ingredients
210

g

water

cold

17

g

vegetable oil

42

g

egg

17

g

brandy

or dark rum

1/2

fruit

orange zest

1 1/2

tsp.

orange juice

35

g

butter

softened

582

g

all-purpose flour

1

Tbsp.

yeast

78

g

sugar

3/4

tsp.

salt

2–3

cups

sugar

for garnish
Instructions
Combine all ingredients except for sugar for garnish in bowl of stand mixer in order listed.

Mix on low speed (KitchenAid Speed 2) for 7 minutes, or until dough springs back at the touch of a fingertip.

Remove dough from bowl, grease bowl of stand mixer with pan spray, and return dough to bowl. Cover and ferment for 1 hour at room temperature (about 75°F).

After fermentation, flip dough from bowl onto lightly floured work surface. Press on dough gently and evenly to remove excess gas built up.

Divide dough into 45-gram pieces. Keep dough covered to prevent it from drying out during this process.

Round dough into rolls: Take one piece of dough and bring the corners to the middle of the piece. Flip over and roll in the palm of your cupped hand against the work surface. Do not push down on the ball. Instead, use the thumb and pinkie fingers to push in, bringing the dough together. Check out this King Arthur Baking Company video for a demo on how to do this.

Place shaped pączki onto lightly sprayed baking sheet (no parchment). Cover pan with plastic wrap (or a clean trash bag) and seal. Allow doughnuts to proof* for 2½ hours.

Once proofing period has about 45 minutes left, place a large pot on stove and fill halfway with frying oil. (Canola will do, but there are specialty frying oils available.) Heat oil to 300°F.

Once doughnuts have proofed, remove cover (or bag) and let rest for 10 minutes. The doughs should form a slight skin*.

Fry pączki on each side for 3–4 minutes, allowing a golden color to form.

Remove each pączki from oil and place directly into a bowl with granulated sugar. Roll each ball in the sugar. Transfer to a tray to cool.

Serve at room temperature.
Notes
One large egg is about 50 grams.
*proof – the final fermentation period of a dough once divided and shaped
*skin – a thin, dry outer layer of dough