"Harry Potter"-Inspired Starbucks Secret Menu Recipes
by Alyssa Keene and Jenni Fancher
Secret menu items from Starbucks are not a new phenomenon, but TikTok has recently revitalized the trend. In the past, MuggleNet has shared a few articles explaining Hogwarts House-inspired drinks as well as wizarding world-inspired drinks. Fortunately, we're here to share with you a freshly brewed list of uniquely magical drinks. The recipes and notes below are the work of my friend Alyssa, who is a brilliant barista and has graciously developed these delicious drink recipes just for MuggleNet readers. Each of these beverages is inspired by the magical characters, places, and treats that can be found in the wizarding world.
A few disclaimers:
When you order these drinks from Starbucks, do not order them by name. The barista will not know what you're talking about and won't be able to figure out what you're looking for without a recipe.
You don't need to preface your order with "this is a secret menu item." Simply order exactly how we have it written for you. Trust us!
Keep in mind that each of these recipes was developed with a particular milk option in mind. Feel free to substitute for any non-dairy options, but know that each option will change the flavor slightly. We've left a note of which dairy option we recommend when necessary.
Try them all; you're sure to find a new, magical favorite!
The Ron Weasley Frappuccino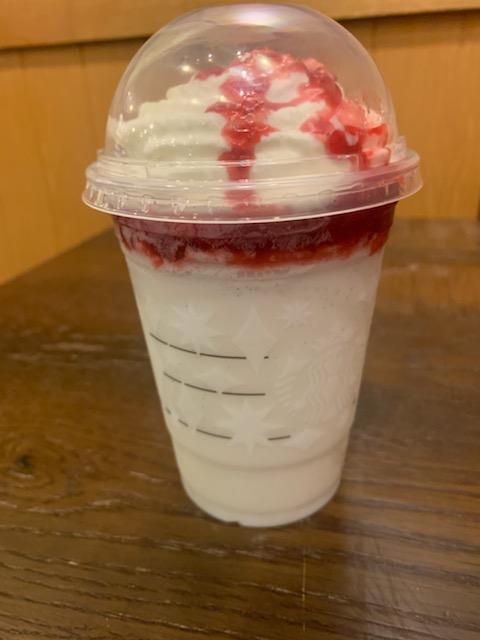 This beverage is a caffeine-free delight. I was inspired by Ron's fair skin and freckles, red hair (of course), and the peppermint toothpaste that Hermione associates with Ron when she smells Amortentia.
A Grande vanilla bean frappuccino
Add 2 pumps of peppermint
No whipped cream
Float strawberry puree on top
Non-dairy substitute: coconut milk
The Bertie Botts Every Flavor Latte
This recipe is probably a mistake, but I couldn't help myself. Taking inspiration from the risky sweets, I did the only thing that made sense: I mixed every flavor of syrup that the coffee chain has to offer. If you get a full pump of each, you'll end up with a cup full of liquid sugar. I suggest you order the largest size they have and only get a small amount of each flavor – if you dare!
A Venti latte
Add half a pump of every flavor syrup
Half a pump of mocha
Half a pump of white mocha
Whipped cream
Non-dairy substitute: coconut milk
Harry's First Christmas White Hot Chocolate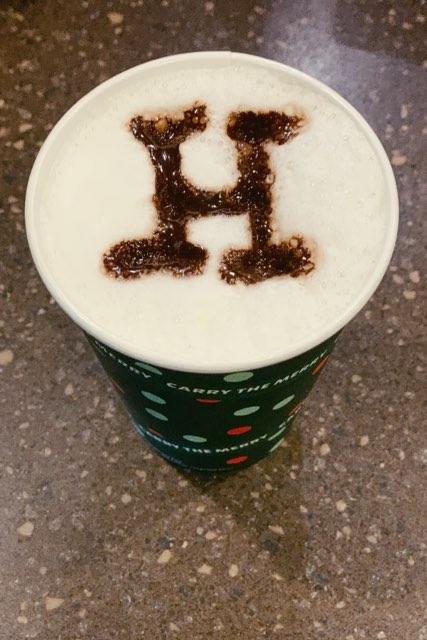 This is one of my more brilliant ideas. This white hot chocolate is creamy and decadent, but most importantly, it's a sweet reminder of Harry's first Christmas at Hogwarts. The cinnamon and the white chocolate are perfect together and are the perfect canvas to turn your drink into a Weasley sweater. Happy Christmas (any time of year)!
A Grande white hot chocolate
Breve (pronounced "BREH-vay." This means it's made with half and half. The hot chocolate will be extra creamy and delicious.)
Made with 3 pumps of white mocha
Add 2 pumps of cinnamon dolce
No whipped cream
With foam
Ask the barista to write an "H" in mocha drizzle on top (or opt for your initial instead!)
Non-diary substitute: soy or oat milk
Lupin's Chocolatey Dementor Remedy
Have the Muggles got you down? Never fear! Allow this smooth, chocolatey delight inspired by Moony himself to melt away your stress like the most powerful Patronus. You can also add a shot of espresso if you're looking for a caffeine jolt.
A Grande hot chocolate
3 pumps of mocha
1 pump white mocha
2 pumps of vanilla
Non-dairy substitute: coconut or oat milk
Dumbledore's Blended Sherbet Lemon-ade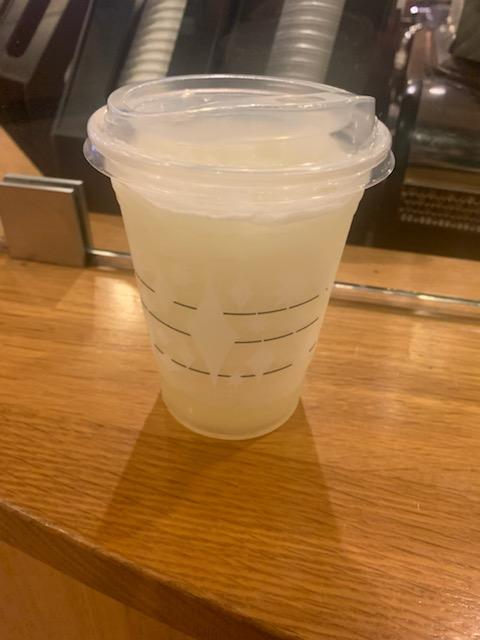 Now you're in on the secret, just like the password to the headmaster's office. This blended treat sounds like something the sweet-toothed Dumbledore might order if he wandered into a Starbucks one day. You're welcome for that mental image!
A Grande blended lemonade (don't add strawberry!)
Add a splash of kiwi-starfruit refresher base
Add 1 pump of raspberry syrup
Iced Butterbeer Latte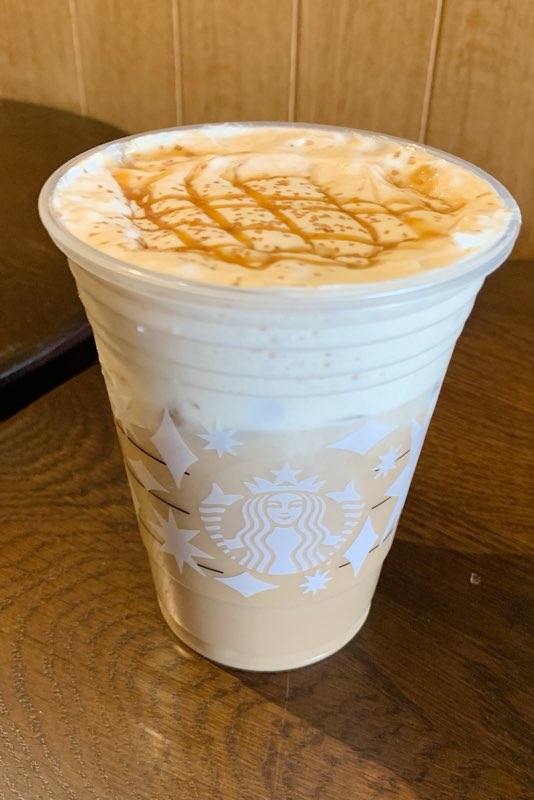 Ah, butterbeer – the classic we can't stay away from, even if we wanted to! This is a refreshingly icy version of everyone's favorite wizarding beverage. Butterbeer lovers will be very satisfied with the results.
Grande iced caramel latte
3 pumps caramel, 3 pumps toffee nut
Add sweet cream cold foam and caramel drizzle
The Forbidden Forest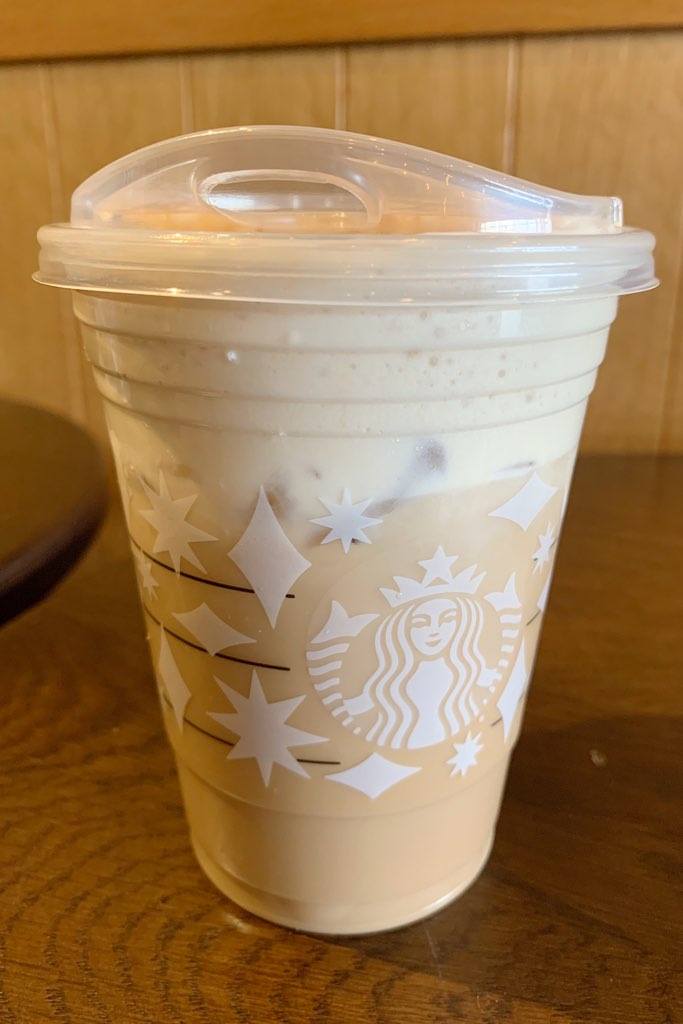 The last secret menu item on this list embodies the scene of many of Harry's most magical adventures: the Forbidden Forest. Enjoy this comforting blend of floral Earl Grey tea with a touch of vanilla sweet cream.
A Grande London Fog latte
Made with vanilla sweet cream instead of 2% milk
With foam
Which of these magical brews are you most excited to try? If you order one of our bewitching beverages, don't forget to share your photos and tag us!
Want more posts like this one? MuggleNet is 99% volunteer-run, and we need your help. With your monthly pledge of $1, you can interact with creators, suggest ideas for future posts, and enter exclusive swag giveaways!
Support us on Patreon