Theater Review: "The Dumb Waiter," Starring David Thewlis
SPOILERS AHEAD: PROCEED WITH CAUTION
Is it "put the kettle on" or "light the kettle"? This and other linguistic hurdles occupy the two characters of Harold Pinter's The Dumb Waiter before a twist ending turns partners into enemies. As part of its OLD VIC: IN CAMERA series, London's Old Vic theater has brought back the tragicomedy this summer for a special limited run directed by Jeremy Herrin and starring David Thewlis (Remus Lupin in Harry Potter) and Daniel Mays (White Lines). The result is a Pinter-perfect performance.
The Dumb Waiter is one of Pinter's early plays. It's everything you would expect from the Theater of the Absurd. We've got our nondescript cellar room for the setting, our bickering characters Ben (Thewlis) and Gus (Mays), petty linguistic disputes, lots of fussing with clothes, and an unnerving sense that we are waiting around for something without the promise of a resolution. Hence the titular pun. We also have an actual dumbwaiter in the wall, through which food orders arrive from an unknown third party, though they are hardly met. Ben and Gus talk in circles, like an old married couple quarreling about tea and matches and just who they ought to assassinate this week. They are hitmen, after all. They suit up and wait unwittingly and obediently for their instructions. Eventually, the action twists around in an unexpected circle much like the text: Gus leaves through one door and reenters the other, only to face Ben's gun. And curtain.
Thewlis's servile Ben is a balanced contrast to Mays's erratic, second-guessing Gus. It's not so much a good cop, bad cop act as a nervy hitman, grumpy hitman one. Despite all the predictable features of the genre, this revival of the play is surprisingly emotional.
Thewlis tricks us superbly into thinking that we are not in for any big shocks. He lets a crucial slip of the tongue almost get lost in a sea of small talk. He forgets to count on his partner pulling out his gun when he embarks upon a tiresome breakdown of an encirclement plan with the demeanor of a person ready to retire from a demanding profession. However, his words manifest the tragic twist ending: He realizes he has to kill his own partner. A collective gasp rightly ripples through the audience as he hesitates, full of fear, regret, and conflict. Will he pull the trigger? Thewlis holds his stance for long, tense seconds before the lights go down, leaving us with frustrating doubts similar to what the characters had to endure.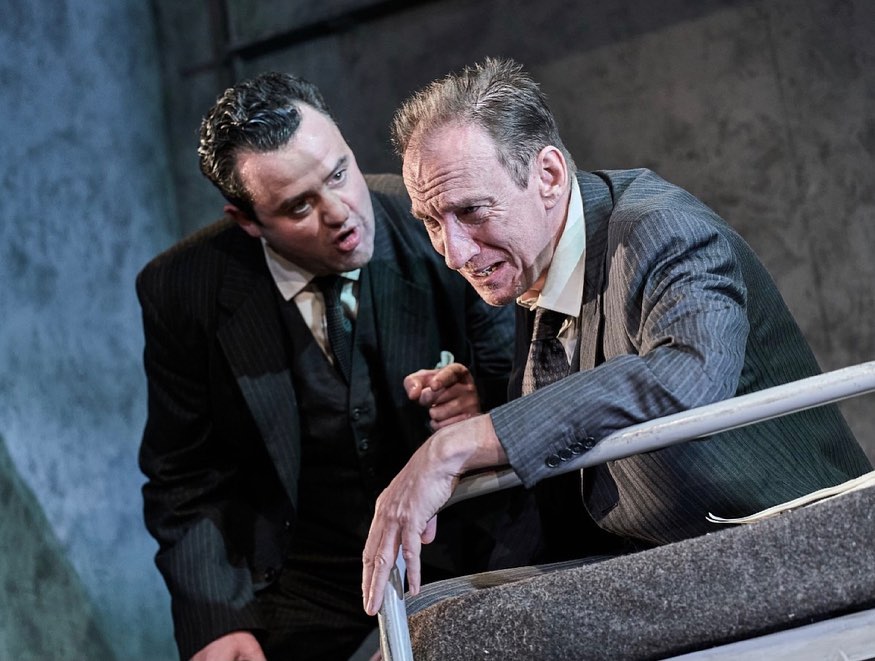 The production design, the costumes, and the sound create an unmistakably Pinteresque atmosphere. Since the performances are livestreamed, there is also one more cheeky surprise for both the limited, socially distanced studio audience and the streamers: In addition to the cameras placed around the auditorium, another lens peeks through a gap in the set whenever the dumbwaiter arrives, giving the viewers at home a refreshing angle.
A bejegyzés megtekintése az Instagramon
While The Dumb Waiter's run ends on Saturday, July 10, the OLD VIC: IN CAMERA series will return in August with Bagdad Cafe written by Percy and Eleonore Adlon. Thewlis is also not the only wizard or witch from the Potterverse on this stage this summer: June saw the premiere of Home?, a series of monologues curated by Noma Dumezweni (Hermione Granger in the original Harry Potter and the Cursed Child cast in the West End), which is still available to view on the theater's website.
Of course, between shows, the cast and crew also made full use of the Old Vic's beautiful auditorium to follow a different livestream, the UEFA EURO 2020 soccer matches.
A bejegyzés megtekintése az Instagramon
As Thewlis said in the above cast interview, "it's lovely to be part of something that's going to be an historic part of such an historic building, to go back to the theater, the theaters opening after all this time." We can tell you that this holds true for not only the creative team but the audiences as well.
Want more posts like this one? MuggleNet is 99% volunteer-run, and we need your help. With your monthly pledge of $1, you can interact with creators, suggest ideas for future posts, and enter exclusive swag giveaways!
Support us on Patreon