Cauldron Cakes by Alana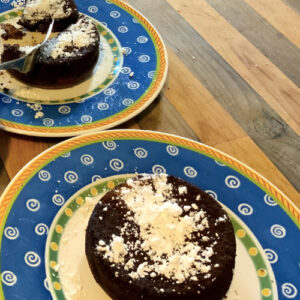 Cauldron Cakes by Alana
Alana Al-Hatlani
Here's a fun take on Cauldron Cakes, which are sold on the Hogwarts Express food trolley. This treat is a rich chocolate cake with a melty molten center. If you want to practice transfiguration, try to turn one of these cakes into a cabbage. But be careful - that's a spell for sixth years!
Ingredients
2

Tbsp.

cocoa powder

5

oz.

chocolate

semisweet, chopped

1/2

cup

butter

unsalted, cubed

2

eggs

2

egg yolks

1/4

cup

sugar

1/4

tsp.

kosher salt

2

Tbsp.

flour

powdered sugar

(optional)
Instructions
Preheat oven to 425°F. Grease muffin tin with nonstick cooking spray.

Dust muffin tin with cocoa powder, making sure there are no blank spots.

Combine chocolate and butter in a microwave-safe bowl.

Microwave chocolate and butter in 30-second intervals until melted, stirring between each interval. Set aside to cool.

In bowl of stand mixer, whisk eggs, egg yolks, sugar, and salt until pale and increased in volume.

Slowly whisk in chocolate mixture to combine. Then whisk in flour.

Divide batter among muffin cavities, filling them three-quarters of the way up.

Bake for 8 to 10 minutes until edges look set and center is puffed.

Allow to cool for one minute before inverting cakes onto a plate. Dust cake tops with powdered sugar, if using.

Serve warm, cracking open center of cakes to watch ooze.