Gigantic Wand Installation Unveiled in Leicester Square for "Sorcerer's Stone" 20th Anniversary
There's always a little bit of extra magic in the air this time of year, mostly because fall is the time when Hogwarts students return to school, and we love to commemorate that special day every year on September 1. This year, however, is extra special, because the Harry Potter and the Sorcerer's Stone film is celebrating its 20th anniversary on November 16. This calls for some serious celebration, and so far, there are plenty of events dedicated to doing just that.
Dress in your best Hogwarts robes and get ready for one of the most magical experiences you'll probably have this year: A magical installation of Wizarding World wands is now working its magic in Leicester Square, London. For those who remember, the first Potter film had its premiere in Leicester Square in 2001. Little did we know that we'd still be celebrating the magic two decades later.
This installation will take your breath away – it features nine wands from our favorite characters from Harry Potter and Fantastic Beasts and is 15 feet (4.5 meters) tall, forming a 60-foot (18 meters) walkway. The wands are exact, giant replicas of the wands in the films.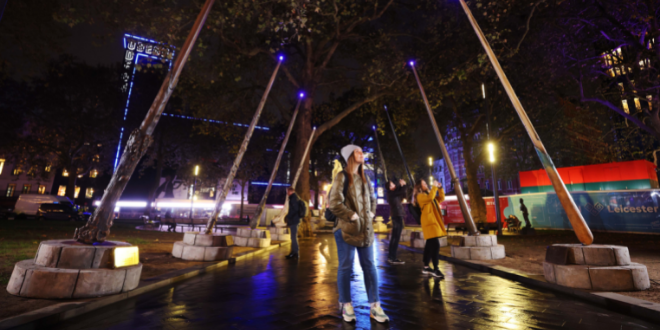 Paul Harris, who choreographed the wand scenes in Harry Potter, attended the unveiling event and offered a wand training class for local children (child or not, we would have joined if we were there in person). If you are jumping up and down with excitement right now in true childlike fashion, you'll be happy to know that the installation is officially open to the public until October 25. If you'd like to have the full magical experience, go visit the square between 6:00 and 8:35 p.m. During that time, the wands will be illuminated and perform a light show every half hour, accompanied by the music from the Potter and Fantastic Beasts films. Note that the square will be closed for a private event on October 18.
Polly Cochrane, Country Manager, UK & IE at Warner Bros., says that they are thrilled to be able to celebrate this special Harry Potter occasion.
It is so exciting to have the Wizarding World [w]ands brought back to London, and we are thrilled to celebrate the 20th anniversary of 'Harry Potter and the Philosopher's Stone' being released in UK cinemas. It is an honour to have the [w]ands displayed in Leicester Square, considering its legacy of hosting premieres for the 'Harry Potter' and 'Fantastic Beasts' films over two decades, and we hope the fans will love and enjoy the light shows as much as we do.
The best part is that the wands will be around for quite a while. The installation is going on tour in four cities in the United Kingdom until the release of Fantastic Beasts: The Secrets of Dumbledore. These cities include Hull, Stoke, Reading, and Birmingham. The wands will be displayed for a week in each of these cities starting in March next year.
As for other 20th-anniversary celebrations, fans can look forward to special screenings of the film that will take place across the UK and Ireland starting on October 29. The platform nine and three-quarters trolley will also go on a little tour, delighting fans at train stations in Edinburgh, Birmingham, Cardiff, and Belfast.
This year is truly going to end on a magical note, and we sure think we all deserve it after the dark times we recently lived through. Are you going to go have a look at the wand installation? Tell us in the comments.
Want more posts like this one? MuggleNet is 99% volunteer-run, and we need your help. With your monthly pledge of $1, you can interact with creators, suggest ideas for future posts, and enter exclusive swag giveaways!
Support us on Patreon