Events Roundup: Potterfest, a Wizard Pub Crawl, and Tom Felton at TGS Toulouse
We're into November, welcoming the colder weather and the longer nights, but Harry Potter fans, do not fear – this Events Roundup highlights some fun Potter-inspired events going on this month to keep you on your feet.
Potterfest
Potterfest couldn't take place last year due to COVID-19, but it's returning to Danville, Illinois, United States, on Friday, November 5 between 5:00 p.m. and 8:00 p.m. CDT, and it looks like it's going to be a magical night.
The evening begins at the Danville Public Library, where you can park, wander into the world of Hogwarts, and grab a Potterfest map. Community relations administrator Ashton Greer spoke about what to expect at the event.
We'll have people dressing up, and trivia, and different things like that. But we also have some really exciting things going on at the library this year. The library is going to be Hogwarts. It's going to be just this full Hogwarts experience, so we're really excited about that.
You'll then head down Diagon Alley (Vermilion Street) while taking in the sights before venturing into the notorious Knockturn Alley (North Street) to shop for wizarding supplies.
Follow the map and be sure to stop at each place to find the listed scavenger hunt items, and on the way, enjoy butterbeer, pies, and Slytherin soup.
Potterfest!

Danville Public Library is transforming into Hogwarts School of Witchcraft & Wizardry for one night only. Get sorted into your house & visit the classrooms before heading to Diagon Alley & beyond!

5:00 – 8:00 p.m.

Facebook for details: https://t.co/7SPUSmby7L pic.twitter.com/Ha8gE3pQQX

— Danville Public Library (@DanvilleLibrary) October 21, 2021
Costumes are encouraged. You can get your themed Potterfest photo taken and printed, and there will be a costume contest at Temple Plaza at 6:30 p.m.
Finally, you'll head to the Fischer Theatre to watch Harry Potter and the Prisoner of Azkaban at 7:00 p.m.
Don't forget to hand in your completed scavenger hunt maps by 8:00 p.m. because these will enter you into a prize draw.
Wizard Pub Crawl
Go for an enchanting stroll through some of Atlanta's most magical pubs on Friday, November 12 as part of Markster Con's Wizard Pub Crawl, which is returning for its sixth year.
This fun and interactive event visits various pubs or venues that are hosting wizard-themed stops, which offer exclusive magical-themed shots and drink specials. You can also expect a costume contest, a House points contest, and more.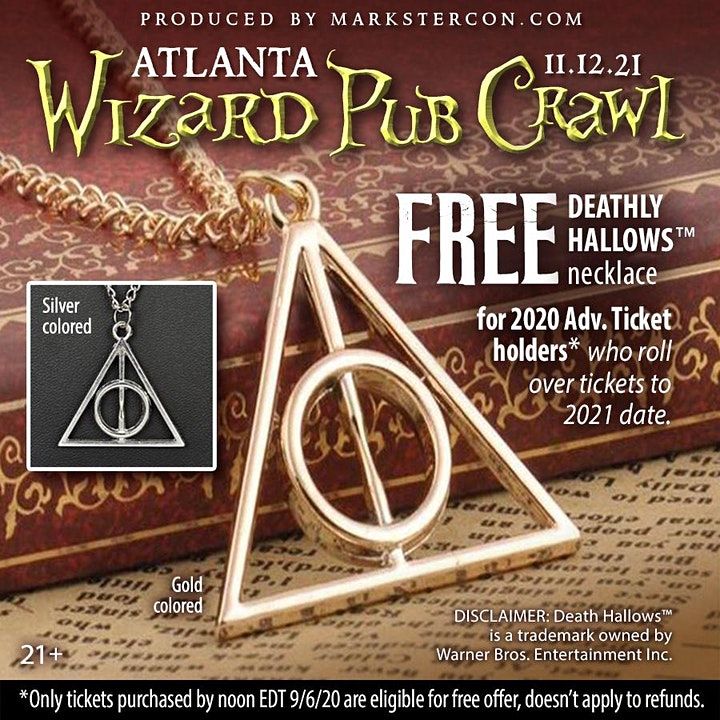 Those who were lucky enough to secure an Early Wizard ticket (these were on a first-come, first-served basis, with limited quantities available) will receive a free wand, and House-colored badges are included in all tickets purchased before November 6.
If you rolled over your 2020 ticket to the 2021 event, you'll also receive a free Deathly Hallows necklace.
The confirmed venues include Diesel Filling Station (Wizard Registry), Limerick Junction Irish Pub, Tiki Iniki, Dark Horse Tavern, and Neighbor's Pub.
Wizards 5K
If you're feeling active, why not head to Greenlake Park in Seattle, Washington, on Saturday, November 27 for the third annual Wizards 5K?
The magical journey starts at 10:00 a.m. and will take you through Seattle's Greenlake Park. If you're not feeling up for a run, walkers and strollers are welcome and encouraged. You can also bring your dog, as long as it's on a leash. There will also be a costume contest at 11:00 a.m. and a raffle, in which random race bib numbers will be picked as the winners.
The event early bird price is $25 (this includes the race, a bib, photos, and a medal), and it costs $20 for kids aged 14 and under. You can also take part virtually for $35.
Don't forget to check out the FAQs, and you can even purchase a Wizards 5K tee for the big day too.
Meet Tom Felton at TGS Toulouse
TGS Toulouse is a two-day expo in Toulouse, France, where visitors can meet celebrities, entertainers, merchants, and publishers. And this year, Potter fans will be delighted to hear that Tom Felton (Draco Malfoy) will be attending when it takes place on November 27 and 28.
View this post on Instagram
Felton will be there on both days the event is taking place, and you'll even be able to take a photo with him. Unfortunately, there aren't enough tickets for everyone, so you'd better be quick and purchase a ticket if you want to meet him. Ticket prices range from €16 ($18.50) to €100 ($115).
If you're hosting an upcoming magical event, you can submit it to be included in a future Events Roundup by sending all relevant information to submissions@staff.mugglenet.com.
Want more posts like this one? MuggleNet is 99% volunteer-run, and we need your help. With your monthly pledge of $1, you can interact with creators, suggest ideas for future posts, and enter exclusive swag giveaways!
Support us on Patreon