Butterbeer Cupcake in a Cup
Have you ever wandered into the kitchen and wished a nice slice of cake would magically appear? Maybe you have that craving for a sweet snack, but it just takes too long and too much effort to bake a dozen cupcakes. There is a brand new cupcake recipe that will satisfy your cravings in less than ten minutes! You can find this new recipe on MuggleNet's Rosmerta's Recipes page.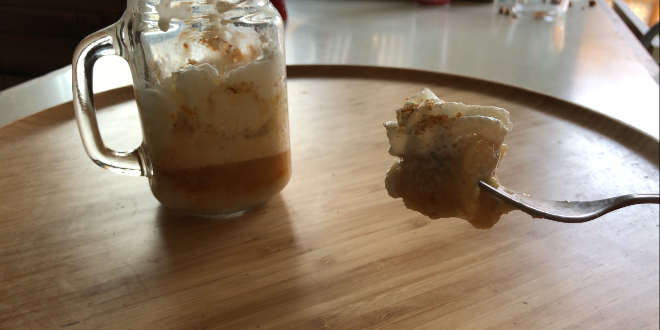 A cupcake in a cup, more commonly known as a mug cake, is a type of single-serve cake that can be cooked in the microwave in about a minute. Microwaves will excite the water molecules in the cake batter, causing the cake to cook from the inside out and very evenly as the dish rotates. The gluten from the flour will create the cake-like structure while the baking powder bubbles and causes the batter to rise.
This recipe was so much fun to play with. I had never made a cupcake in a cup before, and I was curious as to how it even worked. After doing a little bit of research, I started my first attempt. I started with just a regular vanilla cupcake hoping to get the hang of how to make the cake batter properly before experimenting with different flavors.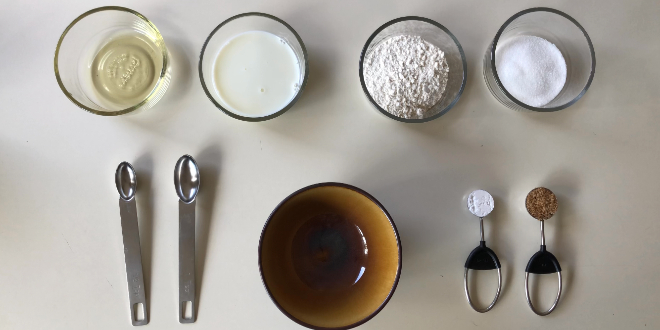 Now the thing to keep in mind when making a cupcake in a cup is that they are not regular cupcakes. Cakes are generally fluffier and lighter, but this recipe makes for a more spongey texture. I used bread flour in this recipe to make the cake slightly more filling, but bread flour can always be replaced with regular all-purpose flour in a one-to-one ratio.
While mixing the cake batter, I kept waiting for it to thicken up the way that regular batter does. I knew the baking powder would cause it to rise, but it seemed way too fluid, and I was very skeptical at first. However, within moments of being cooked, it began to shoot up and take form. It was incredibly satisfying to watch. After some testing, I found that my cupcake was fully cooked in about a minute and 30 seconds. If you find your cupcake to still be wet along the sides or along the bottom of your cup, then try cooking it for an additional 15-30 seconds.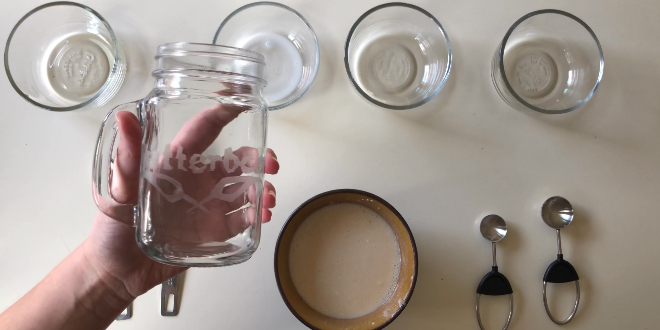 It is important to remember that the cupcake will be extremely hot when it comes out of the microwave, so you'll want to let it sit for a few minutes to avoid burning your mouth. I added whipped cream on top of my cupcake, and it melted relatively quickly. Personally, I really liked this, but if you do not want your whipped cream to melt into your cupcake, then you should allow the cupcake to cool completely.
The addition of butter extract, brown sugar, a pinch of cinnamon and nutmeg, and butterscotch shavings were used to turn a regular vanilla cupcake into a perfect butterbeer flavor. The butterscotch chips and butter extract gave the cupcake a more traditional butterbeer taste, and the cinnamon and nutmeg were added to provide hints of a rich nutty and woody flavor which I felt really tied the dessert together.
I had a leftover bag of butterscotch chips from when I was experimenting with some cookies and thought that they would be perfect for this recipe. I used the smaller shredding holes on my cheese grater to make little butterscotch shavings and sprinkled them on top of my cupcake. Since my cupcake was pretty small, I only grated about seven chips. If you don't have access to a cheese grater, you can finely chop the butterscotch chips with a knife. The butterscotch chips can also be replaced with a butterscotch candy bar, or you can use a butterscotch sauce.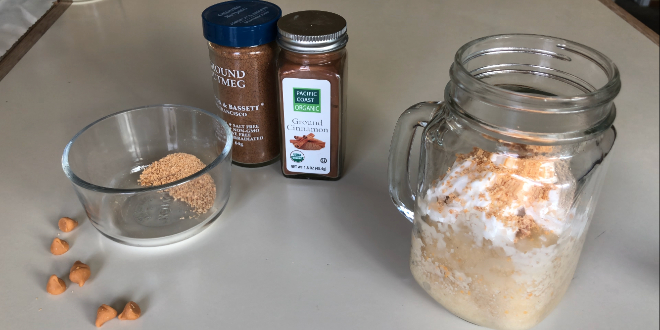 I hope you have enjoyed following along with my process. Have you tried making your own Butterbeer Cupcake in a Cup? Let me know what you think and any additional suggestions you may have in the comments.
Want more posts like this one? MuggleNet is 99% volunteer-run, and we need your help. With your monthly pledge of $1, you can interact with creators, suggest ideas for future posts, and enter exclusive swag giveaways!
Support us on Patreon