Interview with Jessica Williams Sheds Light on Some of Eulalie Hicks's Backstory
Jessica Williams, who plays Eulalie Hicks in Fantastic Beasts, is the April digital cover star for Essence magazine. She recently sat down with Essence for an interview, and in it, we learn some interesting details about the Ilvermorny Charms professor's history.
The article doesn't quote Williams on the subject directly, but it does reveal that Lally was raised by her "sagacious" grandmother in the Muggle world in Harlem and that her wand is a custom tool with a core of African merperson hair. It also elaborates on how her magic is connected to her Black identity.
Lally learned of the traditional magic that existed in her family bloodline despite their living in the nonmagical world. She's bookish and proficient at an early age, and multiple parts of her character serve as a lens on different facets of Black identity. Her existence as a wizard and a Black woman, straddling magical and nonmagical worlds, adds new dimensions to Lally's unique state of double consciousness in the series. And her ability to draw from her bloodline is a reinforcement of the mysticism and secrecy that exists throughout the Black diaspora, hidden in plain sight. As an Ilvermorny student, Lally has a tool that's not an Ollivander Wand Shop creation but a custom object. It's comprised of a strand of African mermaid hair that shocks anyone else who picks it up—a seeming homage to the African folklore water-spirit Mami Wata.
Like many plot points in Fantastic Beasts, this raises even more questions. Does this mean Eulalie is Muggle-born? What happened to her parents that caused her to be raised by her grandmother? Who created her wand, and what makes it "shock" anyone else who picks it up?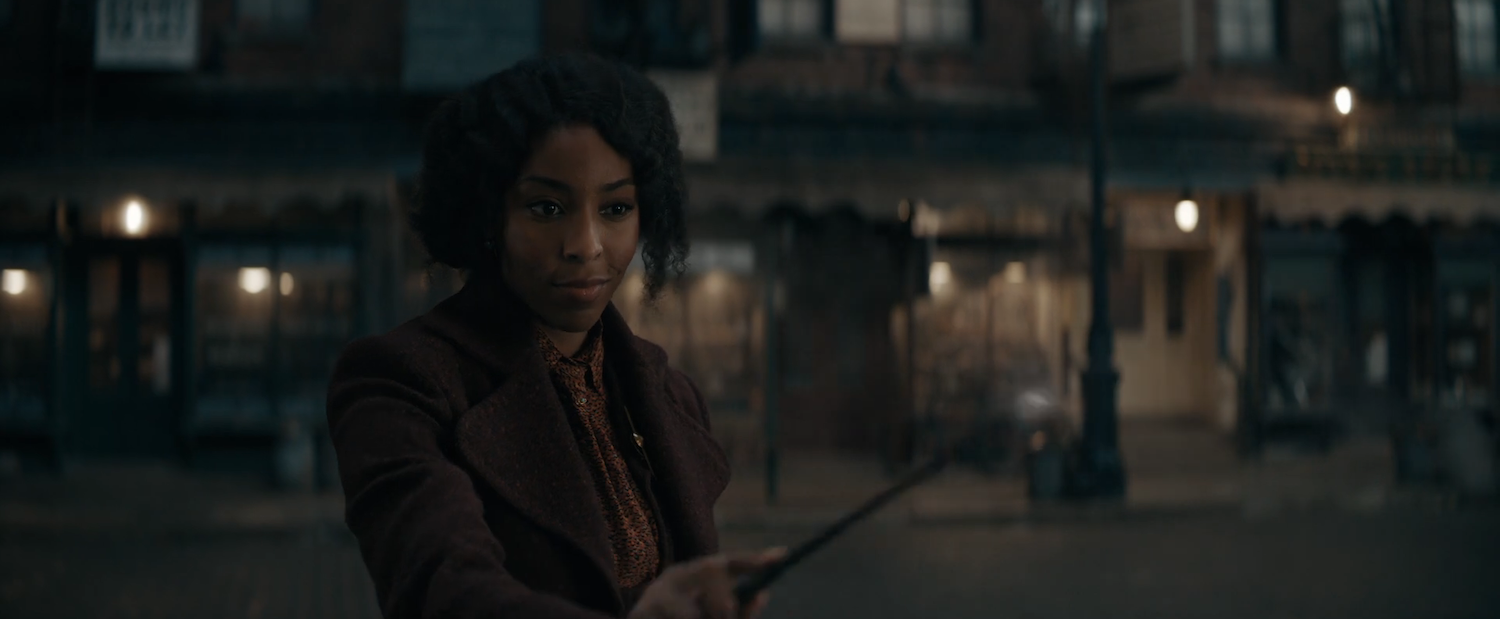 Of course, as a lifelong fan of Harry Potter, Williams also described the excitement she felt during filming:
I would be on these sets that were 40 feet tall, to kind of immerse you in this world. At that point, I'm like, 'Bitch, I'm a f***ing witch.'
Williams was actually given a custom role by author J.K. Rowling, first appearing in Fantastic Beasts: The Crimes of Grindelwald, but she made it clear that she doesn't support the author's transphobic views.
I'm so, so, so grateful that she wrote me into this movie, because it's life-changing. But that does not mean that we have the same views at all. I firmly stand with the trans community, and I one million percent believe that Black trans lives matter and trans lives matter, then, now, and always, period.
Williams has been outspoken in her support of Black women, queer women, and trans women. As a fan herself, she loves seeing cosplay and said she's "just trying to give Black people more stuff that they can cosplay."
When asked about fans cosplaying her character, which will no doubt happen soon after the release of Fantastic Beasts: The Secrets of Dumbledore, Williams was overjoyed: "I use the phrase I would be screaming a lot – and I would scream, because I would be so excited. That's literally my dream."
The full interview also covers Williams's experience with severe pain from Stage 4 endometriosis and her role in the comedy series Love Life – not to mention, it also includes some gorgeous photographs of her. You can check it out on Essence's website.
Additionally, Warner Bros. released a featurette on Thursday that focuses on Eulalie. It touches briefly on her relationship with Dumbledore and her love of charms.
Fantastic Beasts: The Secrets of Dumbledore is out now in many markets, including the United Kingdom, and it will be released in the United States on April 15. You can catch up on all our Secrets of Dumbledore coverage here.
Want more posts like this one? MuggleNet is 99% volunteer-run, and we need your help. With your monthly pledge of $1, you can interact with creators, suggest ideas for future posts, and enter exclusive swag giveaways!
Support us on Patreon