Music Recommendations Based on Your Hogwarts House – Slytherin
Like any taste or preference, choice in music can say a lot about a person. It can reflect a part of your character, or unearth unseen depths and emotions. This time, we're taking a look at Slytherins' music choices, which are definitely quite the change from Gryffindors', at least. Will House rivalries play out in musical preferences, or does Slytherin have more to them than first thought?
Slytherins love dark, soothing vibes in their music and can be a little snobby about playing vintage records over Spotify playlists. However, they also love emotional songs and pieces that pull the heartstrings. They also secretly love lo-fi. Find out what else is hiding under that tough exterior with this deep dive into Slytherins' musical taste.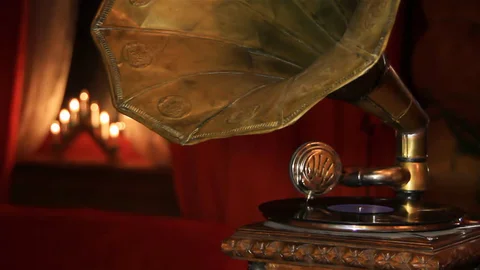 Classical/Cinematic
For classical music, it's got to be Rachmaninoff for the grandiose and powerful vibes: the preludes, the piano concertos, anything big and bold but sophisticated. However, Slytherins also have a soft spot for movies with heart-tugging pieces, like Interstellar and The Imitation Game. It's the perfect shower music, and nobody can tell them otherwise.
Vintage Favorite
"I Only Have Eyes for You" by the Flamingos. It's a bit sentimental, but Slytherins love it. It's got that old-world vibe; you can just imagine it played on a gramophone while listeners drink port and whiskey from cut crystal glasses.
Do they listen to lo-fi?
Yes… all the time. It's just the perfect productivity music. Anything slightly moody or music that you could fall asleep to is perfect for Slytherin. They absolutely love a lo-fi take on classical music – it's right up their alley.
Iconic/House Spirit Song
If they had to pick something (and Slytherins hate being pigeonholed), it would be "Dark Horse" by Katy Perry – just for fun. Firstly, it tends to annoy Gryffindors by reminding them that they don't have a monopoly on pop music. Also, the music video is cool.
A Piece from the Harry Potter Score
"Umbridge's Theme" – just kidding! It's "Lily's Theme" because it's so dark, emo, and wonderfully depressing. Also, it's the theme music to one of Slytherin's most iconic members: Severus Snape.
Favorite Decade
The '90s. Such a reaction to the loud '80s vibes, the '90s suit Slytherin down to the ground. It's the decade of alternative rock, grunge, and glam metal. Some '90s classics that Slytherins enjoy include "Wonderwall" by Oasis, "Losing My Religion" by R.E.M., and "Closing Time" by Semisonic.
Christmas Carols
Now, Slytherins aren't Grinches or anything, but they don't love Christmas carols – especially when the stores insist on playing them on repeat in OCTOBER. Come on, people, it's not even Halloween yet!
Favorite Genre
Country! No; we're kidding, of course. But Slytherin doesn't really have one genre that they jump to – they don't like being pigeon-holed, remember? They do, however, have heaps of least favorite genres: metal, folk, R &B, anything Gryffindor is listening to…
Favorite Band
U2. It's got the soul, the lyrics, and everything. It's a perfect blend of rock and acoustic vibes. They've got albums to jump along to and albums to listen to while sipping gin on a Friday night. Some favorite tracks include "Where the Streets Have No Name," "The Troubles," "With or Without You," and of course, "Pride (In the Name of Love)."
Unexpected Favorite
Musical theatre. Slytherin is a sucker for anything Phantom of the Opera, Wicked, or Rent. That's also why they have a huge soft spot for Disney Princess movies.
So there you have it – Slytherins' musical vibes summed up. Of course, Slytherin is a lot more varied and less stereotypical than people imagine, so it's by no means a definitive list. What would you expect to see Slytherins enjoying music-wise? Does your musical taste match Slytherins' vibes? Or do you relate to Ravenclaw or Gryffindor more? Let us know in the comments. Join us next time as we wrap up our musical recommendations by having a look at the most underrated House at Hogwarts: Hufflepuff.
Want more posts like this one? MuggleNet is 99% volunteer-run, and we need your help. With your monthly pledge of $1, you can interact with creators, suggest ideas for future posts, and enter exclusive swag giveaways!
Support us on Patreon