Timothy Spall Talks About Peter Pettigrew and "The Last Bus," Praises Fellow Actors Such as Alan Rickman
Timothy Spall (Peter Pettigrew) has discussed his film The Last Bus, reminisced working with Alan Rickman (Severus Snape), and praised Kristen Stewart for her performance in Spencer in an exclusive interview with Looper.
In The Last Bus, the actor plays a frail, 90-year-old man named Tom who goes on a journey to honor his late wife. The movie was mainly filmed in Scotland, showing off the scenic views of the British Isles. It showcases both beautiful landscapes and the beauty found within people.
He described the film as a story about love and loss and how, "in the last moments of someone's life, where they're undergoing one of the biggest odysseys, going towards [the] inevitable, they actually oddly come to life again through discovering the world through their eyes of being somebody who is in a state of death, in a bizarre way."
Despite his character's age and illness, he is quite fearless and has an old-fashioned sense of right and wrong, which the audience sees when he defends a woman from being harassed on a bus.
Tom could not be further from Spall's role as Peter Pettigrew, whom Spall described as cowardly, weak, and reprehensible. However, he believes that the character was driven to do those things out of a need for survival and not inherent evil.
So-called evil [people] are often people who are weak or driven by something that's really some injustice, some indignity in them that creates this action that makes … It ultimately is a very, very unpleasant way of self-survival, and you choose to use the evil route to survive rather than be kind and get smashed. It's a lesson for life, really, and understanding and ultimate compassion.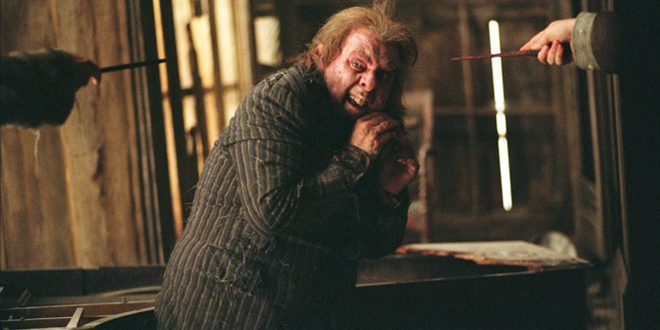 He also compared Pettigrew's death by his own hand to Monty Python. There was a debate about how this would look on-screen because readers could know the reason behind the action, but on-screen, it would be "very difficult to show that, somebody with a rogue hand [killing themselves, without looking like] Inspector Clouseau."
He also reflected on working with Gary Oldman (Sirius Black), David Thewlis (Remus Lupin), and Alan Rickman in the scene inside the Shrieking Shack where Scabbers is revealed to be Pettigrew in Harry Potter and the Prisoner of Azkaban. Working with all three actors was a wonder because "these three are not only three of [his] contemporaries, but three of [his] favorite actors."
He worked with the late Alan Rickman in both Sweeney Todd and Harry Potter and described him as an actor who played sinister, terrifying characters that were the complete opposite of the man himself. Rickman was described as genuinely warm and kind and frequently brought his friends' children onto the Potter set to show them around.
He was a really charming, very witty and deeply intelligent and funny man and also very, very bright — and actually one of the best actors of his time, really. We've had the privilege of having him and the tragedy of losing him. It was great to work with him.
Spall has also worked with Kristen Stewart, who plays Princess Diana in Spencer. Though the movie is based on a true story, it is not completely factual. Spall's character, Major Alistair Gregory, was not a real person in Diana's life. He told Looper, "I'm playing, in a sense, the antagonist. I'm spending a lot of the film telling her off, quietly and respectfully, how to behave."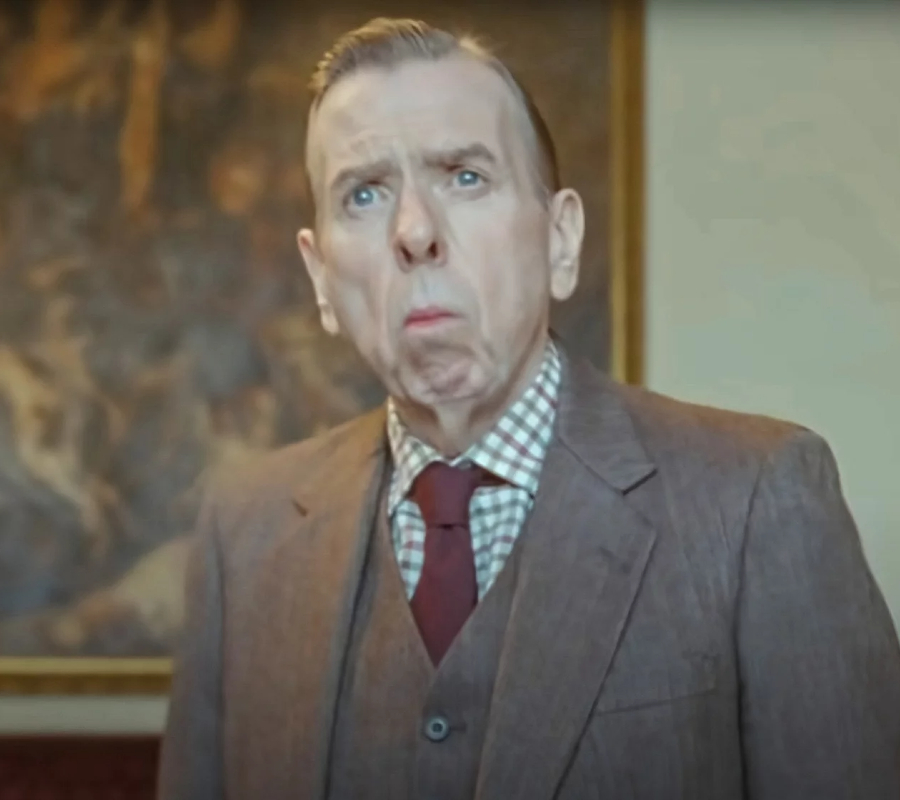 He praised Stewart for her portrayal of the late princess, saying she "slam dunked it" from day one. Both Stewart and Princess Diana experienced criticism as women in the spotlight. Spall explained, "Apart from the fact that she's a great actress, Kristen has experienced a lot of scrutiny, as we know from the media. She'd have a pretty clear idea how Diana Spencer felt." He also said it was clear she put a lot of thought, research, and great acting into her performance.
Though he praised his fellow actors and their abilities, he didn't mention his own, which are clearly visible in the range of characters he's played. From playing a Dark wizard to a military man to a man 25 years his senior, Spall's talent is unmistakable.
Want more posts like this one? MuggleNet is 99% volunteer-run, and we need your help. With your monthly pledge of $1, you can interact with creators, suggest ideas for future posts, and enter exclusive swag giveaways!
Support us on Patreon