Bill Nighy Discusses "The Man Who Fell to Earth," David Bowie's Legacy, and "Love Actually" 19 Years Later
Since the ending of filming for the Harry Potter franchise, the stars have been in countless projects. One of those stars is Bill Nighy, or Minister of Magic Rufus Scrimgeour, from Harry Potter and the Deathly Hallows – Part 1.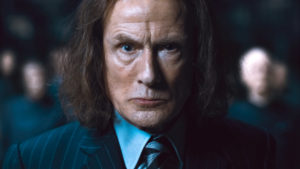 Even before his role in Harry Potter, Nighy was a highly well-known British actor. In fact, he is best known for his role as superstar Billy Mack in Love Actually. In 2019, he was even given the prestigious Maverick Spirit Award from Cinequest, proving how much of an impact he has had on acting over the years.
Recently, Nighy sat down for an interview with Variety in which he discussed his new TV series, The Man Who Fell to Earth; David Bowie (who starred in the original film); and his major hit, Love Actually.
When asked why he wanted to work on The Man Who Fell to Earth, Nighy explained that the script captured his attention the most. He attributes creators Jenny Lumet (The Mummy, Star Trek: Strange New Worlds, Star Trek: Discovery) and Alex Kurtzman (The Mummy, Star Trek, Star Trek: Discovery) with making a sensational script that would attract anyone. He also mentioned that he is a fan not only of everyone working on the current adaptation but also of everyone who worked on the previous adaptation.
Everything about it was attractive to me. The scripts were sensational. Jenny Lumet and Alex Kurtzman have done something really, really remarkable… I am a big fan of literature of the imagination (I'm trying to avoid the word 'sci[-]fi').
One of Nighy's only issues with the remake was that he will follow in David Bowie's footsteps. While following other actors doesn't intimidate him, Bowie is different due to the level of fame the singer reached. However, after looking at the character as his own rather than Bowie's, he realized he doesn't have to play him as Bowie did.
While Nighy has been able to star in projects that have been exactly what he was looking for, he still has a dream project: to star in a film where he can be a hero. However, he shared that his days of action stunts are over.
I want to do a farce that will bring down the government. And that's basically it. I'd like to – can I swear? – I'd like to f*** up their plans, you know, that the bad guys have for us. So I'd like something that was in vigorous opposition to the bad stuff that happens in our world, in which I got to be heroic, obviously.
Next year, 2023, will be the 20th anniversary of Love Actually, Nighy's most well-known project. The actor is surprised that the movie is still talked about to this day, but he loves it so much that he would be willing to reprise his role for a sequel.
When asked how he felt about retiring, Nighy said he doesn't want to retire anytime soon, if ever. Instead, he plans on continuing his career as long as he can deliver lines. He ended his interview on a funnier note, declaring that if there's money in it, he may consider using holograms or CGI after his acting career is over.
Nighy's latest work, The Man Who Fell to Earth, can be streamed on Paramount+ or Showtime. Let us know, have you watched The Man Who Fell to Earth? If so, what did you think? Would you be willing to watch a Love Actually sequel?
Want more posts like this one? MuggleNet is 99% volunteer-run, and we need your help. With your monthly pledge of $1, you can interact with creators, suggest ideas for future posts, and enter exclusive swag giveaways!
Support us on Patreon