LeakyCon 2022 – Orlando: Ten Things You Didn't Know About Stanislav Yanevski
I have to confess that acting like a professional, normal human being while facing my long-time celebrity crush has been one of the most challenging things I've done in my entire life – and to my not-so-humble opinion, that is a lot, as I'm a practicing lawyer and have given birth twice.
We already know a lot about Stanislav, who, as you probably know, played the one and only Viktor Krum in Harry Potter and the Goblet of Fire, so it was a challenge to find a new and interesting way to make this interview both entertaining and meaningful. So after a long self-debate – while doing the dishes and driving around doing errands – I remembered a great infallible way to get to know a person: a game of truth or dare.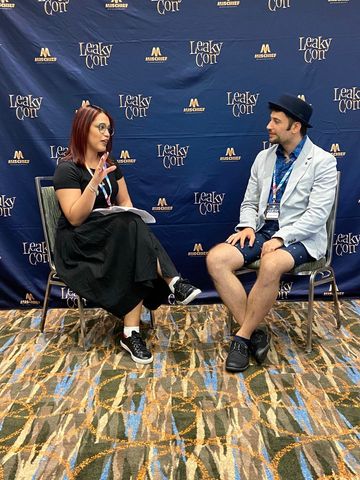 So here are ten new things that we learned from Stanislav that you didn't know:
He would date his high school crush today, even when he has no idea what she looks like now.
He has never been caught eagerly picking his nose in public, or at least that is what he hopes.
The craziest thing he has ever done on public transport was almost starting a fight on an airplane. We would never endorse or justify violence, but he shared that it was a very long flight, and the person behind him wouldn't stop kicking his seat. Thankfully the flight attendants took over the situation.
He is most ticklish on his ribs. And this question is very relevant… you know, for science.
He doesn't feel embarrassed about enjoying any type of movie and proudly shared watching cartoons and children's movies.
He is guilty of regifting presents, but we agree with him when he says that it is better to find those things a new home than to have them collecting dust at home.
He would rather have tattoos appear all over his body depicting what he did the day before than have his skin change color based on his emotions.
He would rather get away with every lie he says than detect every lie he is told.
He would rather end every phone call with "I love you" no matter who the person is than call a sentimental partner by the wrong name during a fight. Which he confessed kind of happened once, and the result was catastrophic.
And when we asked for whom he would volunteer as tribute in the Hunger Games, he said that he would WIN the Hunger Games for any member of his family.
If you are wondering if he did any dares, well, I have to confess that he unquestionably defeated me in a staring contest, as I was not able to make him blink or laugh in 20 seconds. This is a personal blow to my dream of ever becoming a stand-up comedian, but as I was competing with an actor, I refuse to give up on that dream just yet.
When the interview was over, we took the mandatory picture together —which I will most definitely print out and put on my bedside table— and I was able to keep it together long enough for him not to see me almost pass out of happiness. And since he shared my post on Instagram, I'm confident to say that Stanislav and I are now best friends.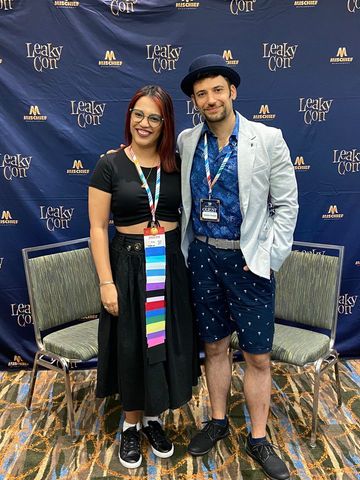 Did you know that MuggleNet is 99% volunteer-run? With your monthly pledge of $5, you can provide monetary support to our volunteers while becoming eligible for exclusive swag giveaways!
Support us on Patreon