Royal Mint Debuts First "Harry Potter" Coin Designs
The initial designs of the new commemorative coin collection from the Royal Mint celebrating the 25th anniversary of Harry Potter and the Philosopher's Stone have been debuted to the public. What's being called a "sparkling and spellbinding" collection by the Royal Mint was inspired by the illustrations of Jim Kay.
The first of four coin designs ranging from 1/4 oz. to 5 oz. in size will feature the face of a young Harry on one side of the coin with the effigy of Her Late Majesty Queen Elizabeth II on the other. Buyers will have the option to choose either silver or gold proof for 2 oz. coins. Of the varieties available for purchase, one exclusive design within the collection will feature a color version of Harry with his trademark black hair and round glasses on a silver background.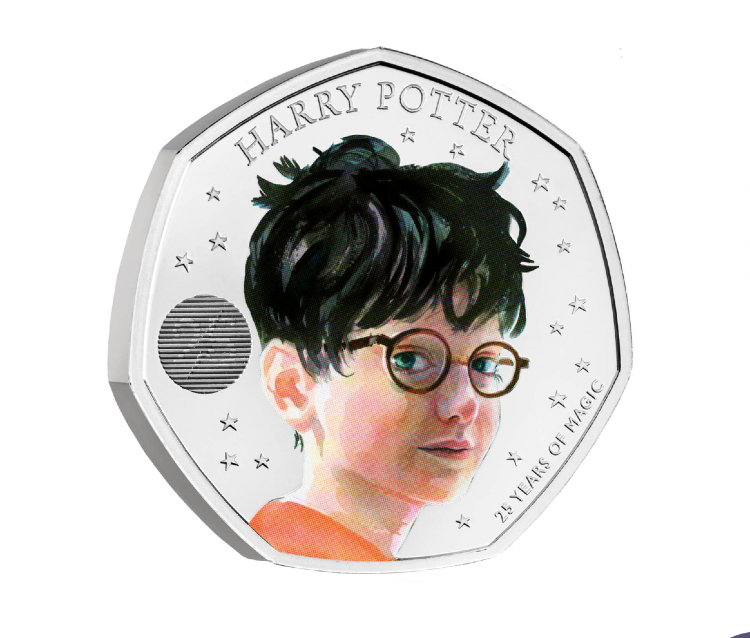 The remaining three designs, which have yet to be shown to the public, will feature the Hogwarts Express, Professor Dumbledore, and Hogwarts School of Witchcraft and Wizardry. They are expected to go on sale later this year and into next year.
Half the coins in the Harry Potter commemorative collection, those portraying either Harry Potter or the Hogwarts Express, will feature the effigy of Her Late Majesty Queen Elizabeth II, while the other half, those portraying either Dumbledore or Hogwarts, will feature the effigy of His Majesty King Charles III.
All coins portraying Harry from this collection are on sale, but supplies are limited for each version and expected to sell out quickly. Prices range from £11 (US$12.43) to £5,215 (US$5,895.30), depending on the buyer's choice of size and metal type. Be sure to check back for the latest information about the Royal Mint's Harry Potter coin collection.
Did you know that MuggleNet is 99% volunteer-run? With your monthly pledge of $5, you can provide monetary support to our volunteers while becoming eligible for exclusive swag giveaways!