Castium Revelio: Queen Imelda Arrives at the Palace
by Neave Williamson · Published · Updated
Welcome back to MuggleNet's Casting News! After we saw David Tennant return as Crowley last week, we've got a trailer with Gary Oldman returning to the role of Jackson Lamb and the first glimpse of Imelda Staunton as Queen Elizabeth II. Castium Revelio!
Harry Potter Cast and Crew
Before we get into all of that, however, we've got some award nominations for Helena Bonham Carter (Bellatrix Lestrange). She's been nominated for the Best Narration Award at the Critic's Choice Documentary Awards for her narration of Three Minutes: A Lengthening, a documentary about the Jewish citizens of a small Polish village during World War II. The documentary also received nominations for Best First Documentary Film, Best Archival Documentary, Best Editing, and Best Historical Documentary. Good luck to Bonham Carter at the award ceremony on November 13!
Rhys Ifans (Xenophilius Lovegood) is also entering the world of narration. He'll lend his voice to a new BBC Sounds podcast about the biggest drug bust in UK history. Acid Dream: The Great LSD Plot follows the story of a chemist who became a drug lord, running one of the largest international LSD rings from a rural village in Wales, and the huge police operation to bring it down. Episode 1 is available to listen to now, with a new episode released every Wednesday.
Speaking of podcasts, Bill Nighy (Rufus Scrimgeour) helped out on a Sky podcast called Backstage by showing us around the background workings of the BFI London Film Festival. He spoke about his film Living, which was showing at the festival earlier this month. He described how he took the role after speaking to Kazuo Ishiguro, the novelist who wrote the script for the film. You can listen to the whole episode now wherever you normally get your podcasts.
Up next is a new show for Ian Hart (Professor Quirrell). He'll join Season 2 of The Mosquito Coast, an Apple TV+ show about a family who hides from the US government by fleeing to Mexico, where they find themselves narrowly escaping drug cartels and corrupt police officers, and are now on the run again in a newly purchased boat. Check out the trailer for Season 2 below!
We've also got a new role for David Bradley (Argus Filch) this week. He's set to star in Good Grief, a Netflix film about a man who takes a discovery trip to Paris to deal with the loss of both his mom and his husband. The film's director and screenwriter, Dan Levy (Schitt's Creek cocreator), described the film as "funny" and "bittersweet" in a recent statement.
Alfred Enoch (Dean Thomas) also has a new role announcement. He's set to play Orlando in a new retelling of Shakespeare's classic comedy As You Like It at @sohoplace on the West End. The show will run over Christmas, with its opening night on December 6 and its final performance on January 28. Tickets went on sale earlier this week.
We've got the second trailer for a show starring Toby Jones (Dobby) and Ciarán Hinds (Aberforth Dumbledore). The English is an Amazon Western show about a woman (played by Emily Blunt) who seeks revenge on the man whom she holds responsible for the death of her son. The show will premiere on November 11, but you can watch the trailer now.
Sticking to trailers, we've got our first trailer for Season 2 of Slow Horses. The spy show follows a group of old MI5 agents who struggle with a boring office job filing rather than the flashy job of a normal MI5 agent. Gary Oldman (Sirius Black) returns as the lead character and head of the rebellious department, Jackson Lamb. Check out the trailer for the show's second season, which is set for release on December 2, below.
Up next is a memorial for one of cinema's greatest composers, featuring many current greats, including Harry Potter composer John Williams, Quincy Jones, Herbie Hancock, and Arturo Sandoval, as well as an 18-piece band. They've kicked off the memorial celebrations for Henry Mancini, who is best known for composing The Pink Panther and Breakfast at Tiffany's, by re-recording one of his most famous soundtracks: Peter Gunn. Williams was present for the original recording of the soundtrack and described how Mancini "had a wonderful, populist touch."
While Williams is remembering old times, we've got a new show called The House Across the Street, starring Shirley Henderson (Moaning Myrtle) as a single mother who is in recovery from cancer. She feels overlooked by those around her and seizes her opportunity to put herself back into her community when a young girl goes missing. The show was released on Channel 5 earlier this week.
John Cleese (Nearly Headless Nick) has returned to an old project. We told you last year about his monologue on Bryan Adams's song "Kick Ass," and this week we finally have a music video for the song. Cleese opens the video with his spoken introduction before Adams and a bunch of guitars fill the frame. Check it out below.
We've been hearing lots of news on Imelda Staunton (Dolores Umbridge) as she takes up the role of Queen Elizabeth II for the final two seasons of Netflix's The Crown. The first of her two seasons debuts on November 9, but this week we've seen a trailer, stills from the new season, and new posters! The new season is set in the 1990s, during what has been called the most difficult decade of the queen's reign. Check out all of the new content below, and let us know whether you think Staunton's time as her majesty will be as good as the other eras.
View this post on Instagram
View this post on Instagram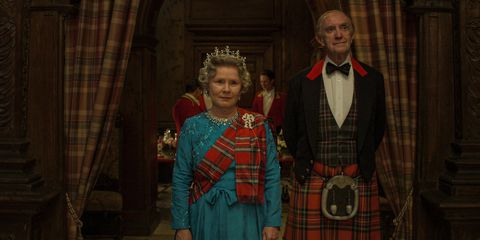 Fantastic Beasts Cast and Crew
Eddie Redmayne (Newt Scamander) appeared at the Newport Beach Film Festival last Saturday for a chat about and a showing of his upcoming Netflix film The Good Nurse. He recorded an episode of The Hollywood Reporter's Awards Chatter podcast after receiving the festival's Icon Award for his performance in the film, which will start streaming on Wednesday. Congrats to Redmayne on the ever-growing list of awards for his role in this film!
Redmayne is not the only one to have won an award this week. Zöe Kravitz (Leta Lestrange) has made it onto ELLE's 2022 Women in Hollywood list. The list celebrates women who are making strides in the film industry, and other women who made the list this year include director Olivia Wilde and actress Sydney Sweeney. Kravitz was interviewed by ELLE off of the back of her success, where she described how she believes that social media is "difficult" for actors, as "we give too much information [about ourselves] and it makes it difficult for us to disappear into roles." She thinks that social media may have both helped and hurt her career.
That's a wrap on this week's Casting News! Congratulations again to Redmayne and Kravitz for their successes this week. Let us know what you feel about Imelda Staunton's take on Queen Elizabeth II below!
Did you know that MuggleNet is 99% volunteer-run? With your monthly pledge of $5, you can provide monetary support to our volunteers while becoming eligible for exclusive swag giveaways!