Seven Magical Things We Learned at MinaLima's Book Event
Last week, MuggleNet's own creative director, Kat Miller, moderated a talk with Miraphora Mina and Eduardo Lima at Barnes & Noble Union Square in New York as they shared an in-depth look at their new book, The Magic of MinaLima: Celebrating the Graphic Design Studio Behind the Harry Potter & Fantastic Beasts Films. The artists discussed their process, partnership, and plans for the book. Here are seven magical takeaways from the event.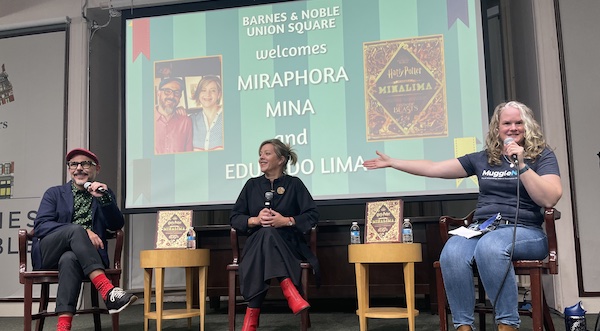 1. The Magic of MinaLima is a love letter to fans.
As they celebrated 20 years of their partnership, MinaLima wanted to share an inside look at their process with the audience that has supported them over the past two decades. It was the passion of the fandom that led MinaLima to consider licensing, publishing, and selling their work from the Potter films in the first place. They were blown away by the response they received at conventions and realized that there was a desire for more of their artwork in different forms, so they thought about how to present their work in a way they would want it themselves – not just the Marauder's Map on a mug or a towel but high-quality, artistic prints.
2. The Room of Requirement was accidentally included on the Marauder's Map.
The Marauder's Map posed a unique challenge as a prop because the novels provide very little detail about the design. MinaLima had to imagine how the Marauders would have done it and worked deliberate confusion into the map. However, they made a "philosophical mistake" in the design – among the various corridors and floors of Hogwarts was the Room of Requirement, which we know is not supposed to appear. The design made it through all the stages of development until the error was caught by a trainee on set who was well versed in wizarding lore.
3. Set decorator Stephenie McMillan continues to influence their work.
MinaLima credit Harry Potter set decorator Stephenie McMillan with teaching them a great deal, including how to work as a team and mentor others. They had the opportunity to work closely together, and MinaLima are grateful for it. McMillan passed away in 2013, but the duo still feels her impact. They often wonder, What would Steph do? when confronting a problem.
4. Running a shop was a shared dream.
Some kids play doctor or dinosaurs. Although they didn't meet until adulthood, both Mina and Lima played shop in their childhood and had fantasies of running a store. Creating their own space with their artistry infused in every detail was a dream come true. Now there are House of MinaLima locations in London, New York, and Osaka.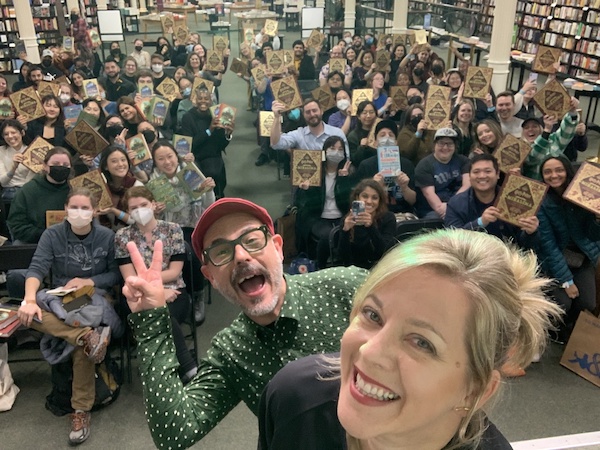 5. Developing handwriting was quite an undertaking.
Lots of handwriting is visible on letters, essays, and books in the Potter films, and each bit of penmanship is distinct. In order to create a fitting style for each character, MinaLima would try to get into their headspace and embody their emotions so that a large amount of information about the writer could be communicated through a brief moment on-screen, whether it was McGonagall's signature on a Hogwarts acceptance letter or Snape's annotations in the Half-Blood Prince's Potions book. They actually "auditioned" handwriting for characters, making a list of options and lining them up against the characters to see which fit best.
6. A film set is an ideal place to learn about collaboration.
Working with the various departments on a film set gave MinaLima the chance to expand their horizons. So many different people are involved in setting each scene, and the designers had to work together closely to make the vision come alive. The duo learned how to work together as a team and developed skills that were useful in growing their company, which is now 50 employees strong.
7. Research is an essential part of the process.
Between Harry Potter and Fantastic Beasts, MinaLima have had the opportunity to design for various cultures around the world. Even when designing material for his native Brazil for Fantastic Beasts: The Secrets of Dumbledore, Lima learned a lot about the history and art of his country. Deep research into real advertisements, newspapers, and other materials of the time and place they're designing for helps them create work that feels authentic and avoids stereotypes.
Many more insights are contained in The Magic of MinaLima, which is available for purchase now.
Did you know that MuggleNet is 99% volunteer-run? With your monthly pledge of $5, you can provide monetary support to our volunteers while becoming eligible for exclusive swag giveaways!