Review: "The Game Master's Book of Legendary Dragons"
Do you enjoy playing various tabletop role-playing games? Do you like dragons? If you answered yes to both questions, then you should check out The Game Master's Book of Legendary Dragons! This book not only comes with dragons but also dragon-kin, monsters, and three one-shot adventures. It makes a great companion to the previous two books in the series, The Game Master's Book of Random Encounters and The Game Master's Book of Non-Player Characters.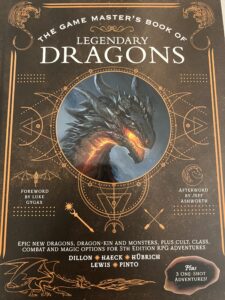 Upon opening the book to the table of contents, you'll find a list of 26 dragons taking up most of the two pages, along with a list of beings and items to use for a realm of dragons. These are followed lastly by the three one-shot adventures: Hold My Beer, Dragon Hunt, and Hell Hath Fury.
The foreword is written by Luke Gygax, whose father is none other than Gary Gygax — a pioneer in what we now know as Dungeons & Dragons. He discusses the importance of dragons since it is in that TTRPG's name. He also speaks on how dragons appear in so many cultures' folklore, from Europe to the Far East.
Flipping through the pages, you'll see fantastic illustrations of the various dragons. Each dragon has detailed information about the specific dragon's tactics, lair, and regional effects that could affect gameplay. There is also a chart with details for the game master (GM) about each specific dragon, such as the dragon's strength, dexterity, constitution, intelligence, wisdom, and charisma stats, alongside various actions. These charts will help any GM use these dragons in any quest they may design, adding a whole new level of interesting creatures for players to encounter.
The Game Master's Book of Legendary Dragons is now available on Amazon for $29.99. Add this guide to your collection to help create an even better experience in your next TTRPG.
A copy of The Game Master's Book of Legendary Dragons was provided to MuggleNet for review. All opinions belong to the reviewer.
Did you know that MuggleNet is 99% volunteer-run? With your monthly pledge of $5, you can provide monetary support to our volunteers while becoming eligible for exclusive swag giveaways!