Review: Ugears Knight Bus Wooden Model Kit
I received some fun wooden mechanical models from Ugears this week, and the gears in my head really started turning. Ugears currently has four Harry Potter kits: the Hogwarts Express, the Knight Bus, the Flying Ford Anglia, and an Advent Calendar. The first three are working mechanical models, while the Advent Calendar is a mix of small daily fidget builds. Inspired by my affection for mass public transportation, I selected the Knight Bus to create first.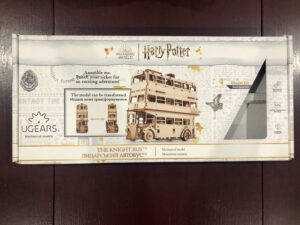 Something immediately evident was that this was going to be a long and detailed process. As I surveyed the materials and opened the instructions booklet, I felt a hint of wariness, but it was soon replaced by the anticipation my 11-year-old self used to feel when opening a new LEGO kit. I set up my station with the materials and instructions laid out before me, and within the first few steps, I felt myself entering that meditative zone that comes from creating.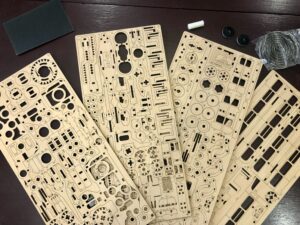 The instructions were clear but required much focus to follow. The Knight Bus is listed as being "medium" difficulty, but there were moments when I felt it could be in the "advanced" category. Patience was key, and as an artist, I reveled in the slow, detailed work. My artistic mindset was pushed further than it had been before — not only was I creating a beautiful, intricate model, but it was also going to move. Every new piece added a new component that would ultimately contribute to the bus winding up and zooming across the table. Though it was exciting to tap into my engineering side, there were stressful moments when something felt jammed, and I had to retrace my steps to understand where it had gone wrong. No shortcuts are allowed here! I soon learned to test the movement each step of the way to make sure there were no blunders.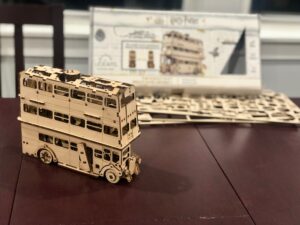 The box lists the Knight Bus as taking approximately six hours, and it took me a little less than that to complete the project. By the end, my fingertips stung from pushing out all the tiny wood pieces. I suggest either using a cloth for buffer when punching out pieces, taking breaks throughout, or building up some calluses before attempting one of these builds. If you enjoy detailed projects, love building LEGO sets, and/or have an interest in gears, check out Ugears' mechanical models. I finished the project feeling great satisfaction with an itch to start the next one.
A Knight Bus model kit was sent to MuggleNet by Ugears. All opinions belong to the reviewer.
Did you know that MuggleNet is 99% volunteer-run? With your monthly pledge of $5, you can provide monetary support to our volunteers while becoming eligible for exclusive swag giveaways!