Review: Enchantment Abounds in "The Unofficial Harry Potter Vegan Cookbook"
Enchantment abounds in The Unofficial Harry Potter Vegan Cookbook. This exceptionally extraordinary cookbook features over 170 pages of recipes conjured up by Imana Grashuis, a recipe developer, food photographer, and self-professed "kitchen witch." Cowritten by vegan activist, podcaster, and Protego Foundation cofounder Tylor Starr, the cookbook sets itself apart from other fandom cookbooks with its focus on plant-based eating, elevating it from a mere diet to a lifestyle.
The most remarkable thing about this cookbook is the escapist fantasy it provides. Contained within the elegant Slytherin-green embossed cover, from the first page to the last, it spirits readers away on a spellbinding journey, not unlike the one taken by everyone's favorite boy wizard.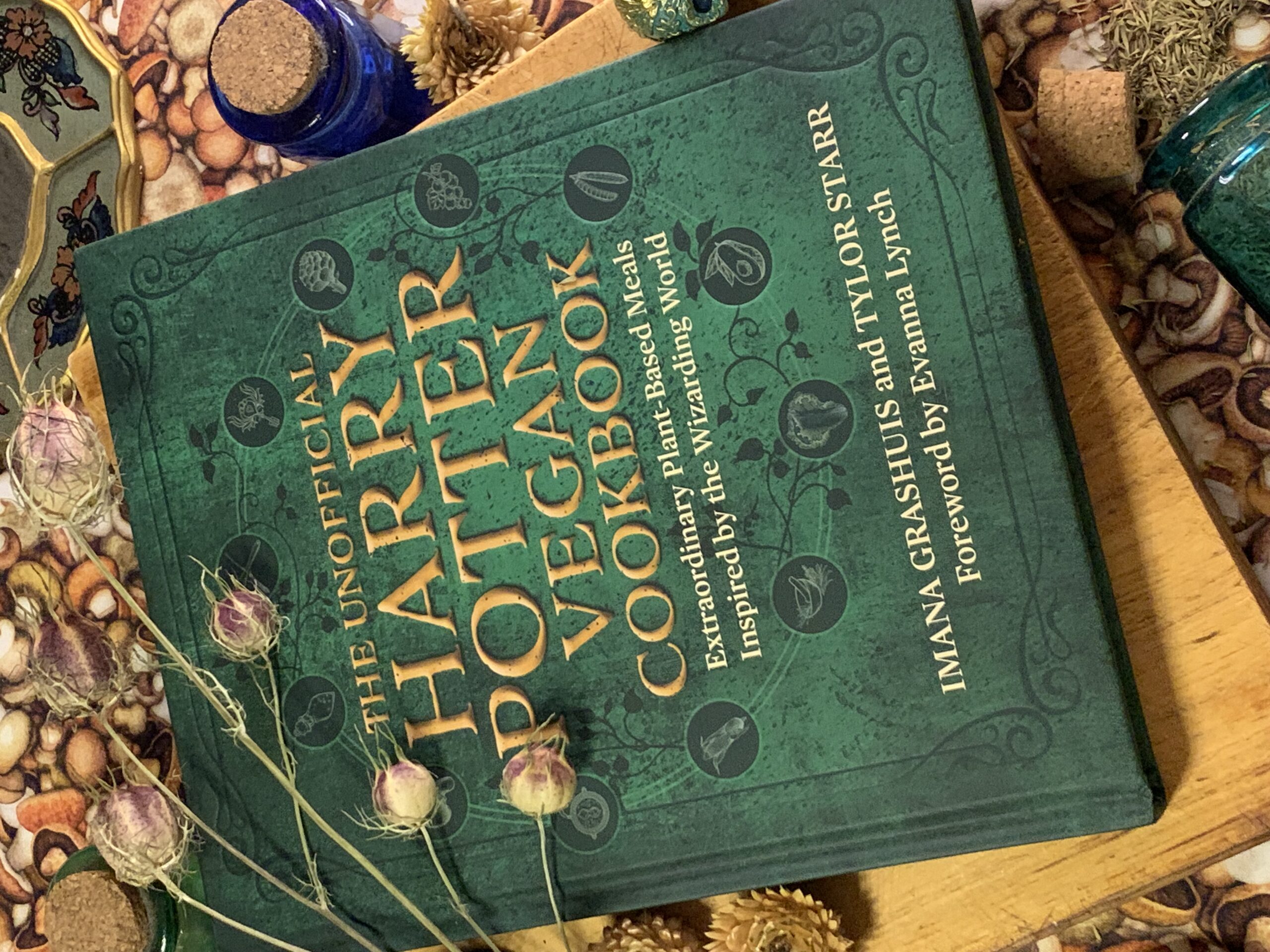 Published November 1, 2022, on World Vegan Day, the tome opens up with a heartwarming foreword penned by vegan icon Evanna Lynch, who played Luna Lovegood in the Harry Potter movies. In Lynch's fantastic introduction, she encourages readers to honor their relationship with nature and to choose compassion by opting for more plant-based foods.
It is an unpretentious cookbook that's a love letter to the Harry Potter series and the fans who retreat to the comforting, inspiring world within. From hearty soul-satisfying soups to dazzling desserts and awe-inspiring appetizers, the cookbook is divided into eight sections: "Magical Mornings," "Spellbinding Starters," "Mystical Munchies," "Greenhouse Salads," "Main Feasts," "Halloween," "Potions and Elixirs," and "Enchanting Desserts." The recipes in these sections are broken down into subcategories inspired by the most memorable locations in the wizarding world, ranging from the Black Lake to Hagrid's cozy hut, and even the dazzling Yule Ball.
The recipes spotlight vegan versions of fan favorites from the series, like butterbeer, Harry's first birthday cake, and Aunt Petunia's elegant sugared pudding. Other iconic food and drinks include Dragon Roasted Nuts, the Leaky Cauldron's infamous pea soup, and a fruit-and-green-juice take on the notoriously stomach-churning Polyjuice Potion.
There are also deep cuts that the most devoted Harry Potter fans will gleefully recognize, like Ernie the Knight Bus driver's sandwich, Cheery Owl cereal-studded doughnuts, and the bouillabaisse conjured up for the Beauxbatons students in Harry Potter and the Goblet of Fire.
Entirely new creations also appear, like a Bellatrix-inspired blackberry tart, a merpeople smoothie bowl, and a Herbology class-worthy Greenhouse Harvest Quiche.
Accompanied by vibrant photographs and paired with music suggestions from the Potter films soundtracks, the recipes are whimsical and a beauty to behold, taking witch, wizard, and Muggle cooks alike on their fantasy journey through Harry's magical world.
However, as captivating as the foods within the cookbook are, there are moments when they feel more fantasy than reality and require a certain level of privilege.
Many of the recipes require hours' worth of prep time and contain a lengthy number of ingredients. Mrs. Weasley's Mince Pies and Ernie's Sandwich call for over 30 individual ingredients each. The sheer volume of ingredients necessary to create these meals could be daunting for some cooks, and the everyday home cook simply doesn't have the time to embark on the serious culinary undertaking that some of these recipes demand.
In that same vein, some recipes are also less accessible for cooks and feature expensive kitchen equipment or difficult-to-find and costly ingredients, like lion's mane mushrooms and blue nata de coco, pricey enough to put a small dent in one's Gringotts vault. It would've been in keeping with the encouraging tone of the cookbook to have alternatives and substitutes. For instance, canned pumpkin puree, bottled juices, premade vegan whipped cream, and vegan gelatins would be great time-saving, budget-friendly swaps.
As it stands, only a handful of the 70+ recipes in the cookbook can be conjured up from pantry-friendly staples, making this less practical for everyday use, but instead something to break out for whipping up treats for a holiday or special occasion.
That said, The Unofficial Harry Potter Vegan Cookbook is a stunning treat that any Harry Potter fan, vegan or not, will find magical and enchanting. This terrific tome merits shelf space and a place in the heart and home of all Potterheads. Even if it's not used in the kitchen as intended, it'd make a beautiful addition to a stack of coffee table books or displayed in a place of pride among Wizarding World collectibles.
This editorial was written and submitted by a reader. The views expressed within it are the sole opinion of the author. To submit your own editorial, please follow our
submission guidelines
.
Did you know that MuggleNet is 99% volunteer-run? With your monthly pledge of $5, you can provide monetary support to our volunteers while becoming eligible for exclusive swag giveaways!