"The Harry Potter Wizarding Almanac" Official Companion Book Coming This Fall
Bloomsbury and Scholastic have announced a new official companion book to the Harry Potter series. Coming on October 10, 2023, The Harry Potter Wizarding Almanac is a richly illustrated compilation of information from the wizarding world, described on its cover as "the ultimate compendium of wizarding lists, charts, maps and all things magical!"
The book seems to lean into the magical number seven, featuring illustrations by seven artists from around the world, as well as seven chapters (per J.K. Rowling's website). The illustrators are Levi Pinfold, who illustrated the covers of Bloomsbury's 20th-anniversary Harry Potter House editions; Tomislav Tomić, who did the interior illustrations for the 2017 Bloomsbury editions of all three Hogwarts Library books and contributed to the Fantastic Beasts: The Wonder of Nature companion book; Peter Goes; Louise Lockhart; Weitong Mai; Olia Muza; and Pham Quang Phuc.
Wizarding World Digital has also shared previews of seven spreads that will be inside the book. These include a look at memorable clothing from across the series, a rundown of Weasleys' Wizard Wheezes, an interior map of Hogwarts, a guide to major characters' wands, a Time-Turning time line of events on the night Scabbers is revealed as Peter Pettigrew, a summary of memorable quotes about key characters, and a look at various characters' Patronuses.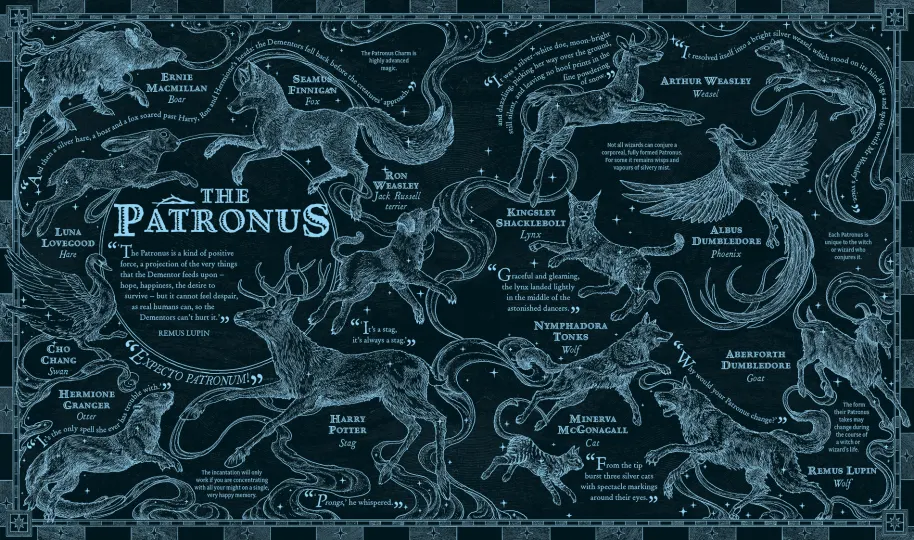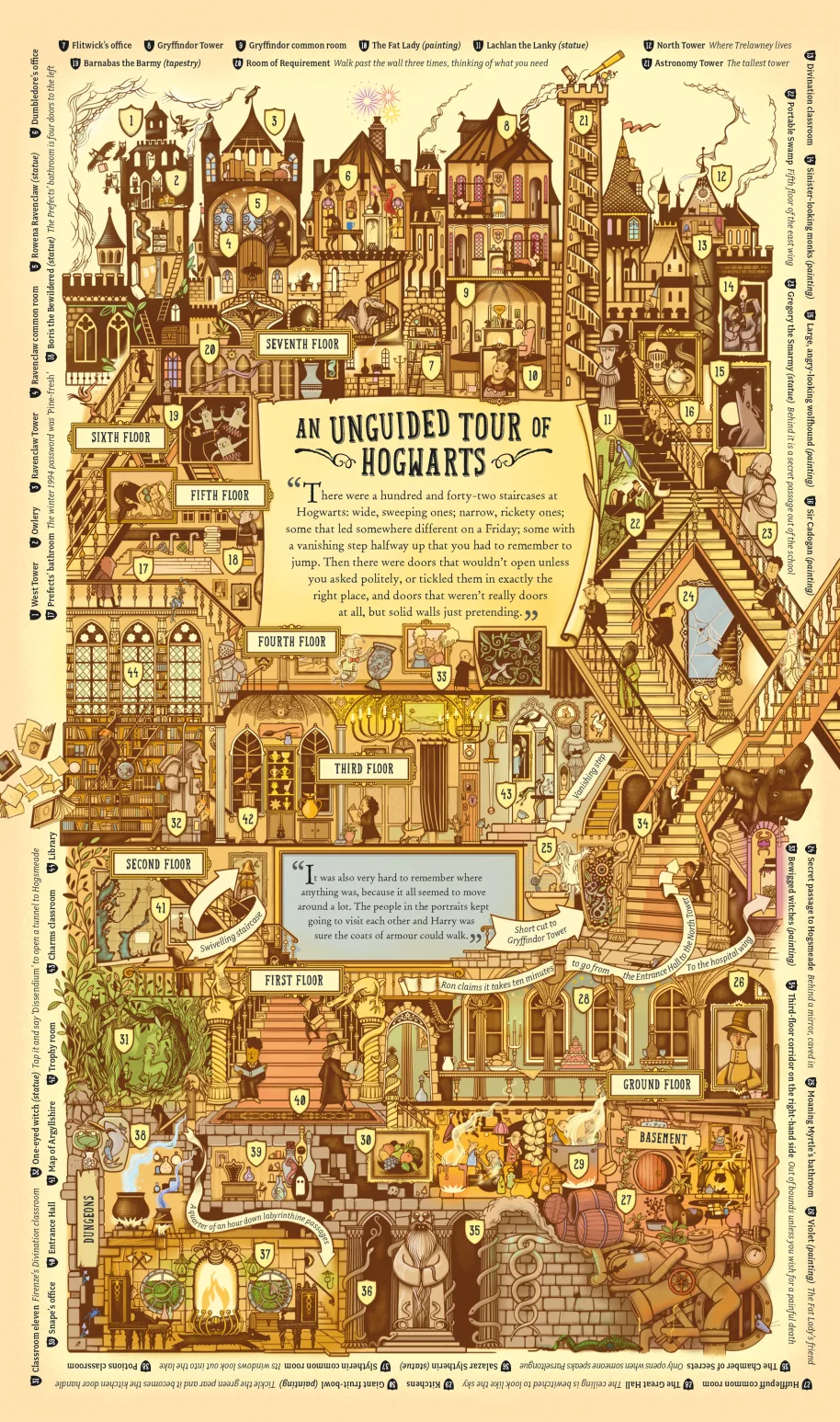 Though the Wizarding Almanac appears to be aimed mostly at younger readers, there are also supposed to be Easter eggs hidden within the designs of the pages for more experienced readers to discover.
The book will also be translated into 34 additional languages for publication around the world: Bulgarian, Catalan, Chinese (Complex), Chinese (Simplified), Czech, Danish, Estonian, Faroese, Finnish, French, German, Greek, Hungarian, Hebrew, Italian, Japanese, Kazakh, Korean, Latvian, Lithuanian, Mongolian, Norwegian, Polish, Portuguese (Portugal), Portuguese (Brazil), Romanian, Serbian, Slovenian, Spanish, Swedish, Thai, Turkish, Ukrainian, and Vietnamese.
Those in Australia, New Zealand, or the United Kingdom who preorder from Bloomsbury will also receive an exclusive notebook, while supplies last.
The 208-page hardback has a list price of AU$55 in Australia and New Zealand (currently discounted at AU$38.50 on Bloomsbury's website), £30 in the UK (currently discounted at £21.00 on Bloomsbury's website), and $39.99 in the United States.
Of course, for fans who prefer to buy unofficial companion guides, we recommend checking out MuggleNet's Unofficial Harry Potter Reference Library and related books! See them on our Amazon store here.