Q&A with "The Harry Potter Wizarding Almanac" Illustrator Louise Lockhart
Coming this fall, The Harry Potter Wizarding Almanac is an illustrated, official companion book to the Harry Potter series, featuring artwork by seven artists from around the world: Peter Goes, Louise Lockhart, Weitong Mai, Olia Muza, Pham Quang Phuc, Levi Pinfold, and Tomislav Tomić. MuggleNet is taking part in the book's blog tour, bringing you a Q&A with British illustrator Louise Lockhart.
Louise Lockhart studied illustration at the Glasgow School of Art and is now an independent illustrator and printmaker based in the UK. Louise's style is influenced by her love for vintage print ephemera and bright, bold colours. In the Wizarding Almanac, readers can take a moment to sample her mouth-watering sweets and treats on the Hogwarts Express trolley, then enjoy her brilliant broomsticks and magnificent Yule Ball robes.
Why did you choose to take part in this project, and what about it is most exciting for you?
I am a huge fan of the Harry Potter books, and it wasn't a hard decision to say yes to this one! I was amazed to be asked to show my own vision of this incredible world.
What are your memories of first reading the Harry Potter stories?
When the first book came out, I was 11 and Harry was 11, so we grew up together, really. It was a big part of my formative years. Me and my best friend Charlotte would read it together, alternating chapters and trying not to read it when we were apart.
Who are your favourite Harry Potter characters?
I probably most identify with Ron, but I also enjoy the bits with characters you're supposed to hate, like Aunt Marge and Umbridge.
How did you become an illustrator? Have any other artists or illustrators particularly inspired you and your journey?
I have always done drawing and making picture books, from a very young age. I studied illustration at Glasgow School of Art. I love all sorts of illustrators, and I am especially drawn to vintage children's books that use limited colours, such as those by Roger Duvoisin and Nathalie Parain.
How did you approach illustrating your sections of the book? Was illustrating the wizarding world difficult?
It felt like a world I know so well, it came very naturally to delve into it. The hardest thing was trying to make everything look magical, especially if it was just something seemingly normal, like the tea trolley Hogwarts Express.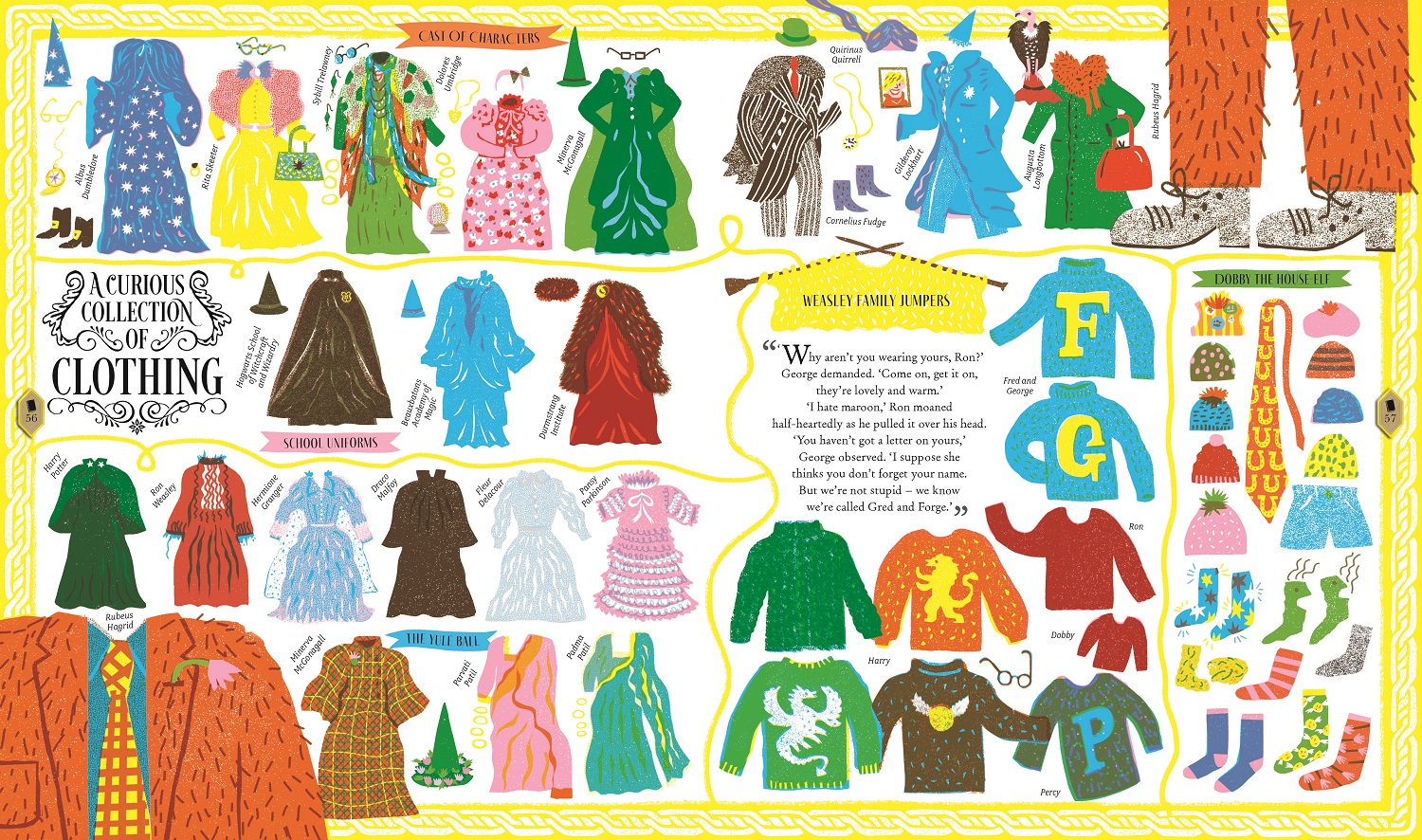 Bloomsbury have already shared your stunning Curious Collection of Clothing to readers worldwide as a preview for the publication in October 2023. Please, could you tell us a little bit about the making of this piece of artwork?
Some of the outfits were very easy to draw because the descriptions are quite detailed and evocative, such as Professor Trelawney's or Umbridge's. Others in my mind had been influenced by the films, so I had to really remember how I used to imagine them before the films were made, such as Hermione's dress at the Yule Ball. At first, I set myself the challenge to make this entire spread using just three colours, but it soon became apparent I had to be more truthful to certain items of clothing, such as Ron's maroon jumper. I loved drawing Dobby's section on this. It was all a lot of fun to draw, actually!
Aside from the Clothing pages, what was your favourite spread to illustrate, and why?
The sweets, 100%. It has probably scratched the itch of my entire childhood dreams to be able to illustrate the magical sweets in Harry Potter.
What is your Hogwarts house?
Hufflepuff.
The Harry Potter Wizarding Almanac publishes on 10 October 2023 – pre-order it from your local bookshop or Amazon now!
Harry Potter Book Day 2023 takes place on Thursday, 12 October 2023.