Harry Potter: The Exhibition – Seattle, WA, USA
by MuggleNet · Published · Updated
The Exhibition was hosted at the Pacific Science Center in Seattle, Washington, from October 23, 2010, to January 30, 2011. This was its fourth North American stop and fourth stop overall.
Press Report - Ramona Andrews & Michele Berg
Ramona Andrews and Michele Berg traveled from St. Helens, Oregon, to see the Harry Potter: The Exhibition in Seattle, Washington, in February of 2011 and found themselves in another world. What follows are their reflections on the exhibit that brought the books and movies of the Harry Potter series to life, as if by magic.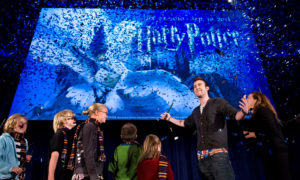 There is magic, even for us Muggles, and we were lucky enough to experience it as soon as we walked through the entrance of Harry Potter: The Exhibition. The magic? We instantly went from middle-aged adults to children in a split second. The books and movies have all done the same thing, but the happiness, awe, and pure joy we felt wandering amo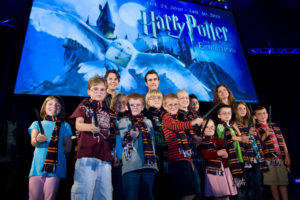 ngst the set pieces, costumes, models, and memorabilia took us out of Seattle and apparated us straight into the Wizarding world.
We were greeted by a lovely witch, who asked us a few questions in order to "sort" us into our houses. Any Harry Potter fan, no matter the age, has dreamed of being sorted by the Sorting Hat. Once we had been sorted, we were led, still grinning ear-to-ear, into a dark room where they had us view clips from the films for about 10 minutes to get us psyched up for the tour. For the most part, all items had a "hands-off" policy and we were also not allowed to take pictures. We were able to stand on Platform 9 and 3/4 to see the Hogwarts Express, complete with billowing smoke. Every wall was draped with black curtains, and the exhibit was organized into corridors, so you could just concentrate on the scenes and items in front of you. It really made it feel like you were standing in the actual rooms, not in a museum. There were many books and papers in glass cases to look at, like Harry's Hogwarts letter, the Marauder's Map, and the test Gilderoy Lockhart gave to the second year students in Defense Against the Dark Arts. When we walked into the dormitory areas and saw Harry and Ron's beds, they looked very small, but they were children so it makes sense that they would look small. The Exhibit actually brought the beds used in the films, straight from Leavesden Studios. Also in the dorm area were costumes, the golden egg from the TriWizard Tournament, and Quidditch equipment. They had the Nimbus 2000, and all the balls needed to play Quidditch. The quaffle was the coolest, you could tell it was heavy and was really made of leather.
We were surprised at how tiny the robes and uniforms were as well, but everything was placed perfectly in the dorm, because we expected Harry or Ron to run into the room at any moment! Other costumes could be seen in various areas of the exhibit, including Lockhart's robes, which were very posh looking, the street clothes worn by Harry, Ron, and Hermione looked lived-in and worn, Dumbledore's wizard robes, and Umbridge's awful pink dress from when the Weasley twins burst into the Great Hall to interrupt exams. Her dress was also a lot smaller than what we remember it being on screen, and we don't know how Imelda Staunton wore it because it was made of a scratchy, heavy wool material.
One of the areas where we were allowed to get our hands on some items was the Herbology class. While they did not provide us the use of earmuffs, we were allowed to pull a baby mandrake out and re-pot it. We felt a little reckless without the earmuffs, but it all worked out in the end. No one fainted, at least!
Hagrid's hut was a highlight of the experience, and probably where we spent the most time. His costume was as big as we expected, considering Hagrid is a half-giant, and we got to sit in his huge chair. They had placed a dragon egg on the table, which we kept waiting for it to hatch, but it never did. There were a lot of items to look at in Hagrid's hut, and we suspect that Hagrid might actually have a problem with hoarding, but we had to move on to see the rest of the exhibit. Just outside of Hagrid's hut they had the actual animatronic Buckbeak that was used on set. This was no model – they had actually covered it in dyed feathers, all applied by hand, and we felt that his eyes followed us wherever we went. It only seemed right that we at least give a little bow to see if he would let us approach...and we did!
The Forbidden Forest section hosted a lot of the Death Eater costumes and masks, and was very lowly lit, which gave it an extra creepy feeling. There were Dementors in this section as well, and with the lighting...we were happy not to have to linger in this area since we were only Muggles and unable to cast a protective charm.
Finally, they brought us into the Great Hall, where a lot of the costumes were housed. They had a long table with food on it, and while the food was fake, it looked very real, as if we had interrupted one of the many feasts at Hogwarts. We especially loved getting to see Ron and Harry's dress robes and Hermione's dress from the Yule Ball. Once we had completed the tour of the exhibit, they led us into the shopping area, where they had a ton of merchandise for sale as mementos from our tour. There were many cool items, but the prices were a little high, so we didn't walk away with anything but our memories of the experience.
Press Release
SEATTLE, Aug 10, 2010 (BUSINESS WIRE) -- Soon Harry Potter fans in Seattle will get the chance to step inside the famous wizard's magical world with Harry Potter: The Exhibition, which opens at Pacific Science Center on October 23, 2010. Tickets go on sale to the general public on August 14 at 10 a.m. Museum members can take advantage of a special pre-sale opportunity beginning at noon on August 10 through 10 a.m. on August 14. Harry Potter actor Matthew Lewis, who plays Neville Longbottom in the film series, was on hand today at the Pacific Science Center to kick off the announcement.
In the exhibit, guests will be able to experience dramatic displays inspired by the Harry Potter film sets and see the amazing craftsmanship behind authentic costumes and props from the films. Harry Potter: The Exhibition will run in Seattle through January 30, 2011.
Pacific Science Center in Seattle is the only West Coast venue and the last planned U.S. destination for the exhibition.
In partnership with Warner Bros. Consumer Products, Global Experience Specialists, Inc. (GES) created the 10,000-square-foot experiential exhibition, which features hundreds of artifacts and costumes from all of the Harry Potter films, including new items from the highly-anticipated [sic], two-part finale to the series, Harry Potter and the Deathly Hallows. To add to the excitement, Harry Potter and the Deathly Hallows - Part 1 will be presented in IMAX® Dat Pacific Science Center's Boeing IMAX Theater when the film opens on November 19, 2010.
"The response to the exhibition is overwhelmingly positive and we are delighted to continue providing fans with this immersive Harry Potter experience," said Karen McTier, executive vice president, domestic licensing and worldwide marketing, Warner Bros. Consumer Products. "The magical settings bring the world of Harry Potter and its characters to life, and the Pacific Science Center is the perfect location for the exhibition's West Coast debut."
Harry Potter: The Exhibition offers fans a first-hand view of more than 200 authentic artifacts displayed in settings inspired by the film sets -- including the Great Hall, Hagrid's hut, the Gryffindor common room -- and more.
"We are thrilled that the exhibition's West Coast debut will be made at Pacific Science Center in Seattle," said Eddie Newquist, chief creative officer for GES. "We hope everyone will have a chance to be drawn into the magical spell of this exhibition, allowing them to relive their favorite moments from the films. A visit to Harry Potter: The Exhibition is great for anyone who loves seeing how inspiring stories and blockbuster films become a reality."
"Harry Potter's world has captivated the imaginations of children and adults alike around the world," said Bryce Seidl, president and CEO for Pacific Science Center. "Through amazing storytelling, state-of-the-art technology and stunning costumes and sets, the Harry Potter stories have evolved into one of the most celebrated and cherished movie series in history. We are thrilled to bring this enchanting world to Seattle for the West Coast premiere and final U.S. stop of Harry Potter: The Exhibition. We are confident it will attract new audiences, including people of all ages and backgrounds, to Pacific Science Center to experience this one-of-a-kind exhibit as well as the Science Center's world-class science exhibits and programs."
Harry Potter: The Exhibition opens at 10 a.m. on Saturday, October 23, 2010, and runs through Sunday, January 30, 2011. The exhibition requires a time-entry ticket and guests are encouraged to purchase their tickets early to ensure the best date and time. Tickets for the exhibition can be purchased at the Science Center box office, through the website pacificsciencecenter.org or by phone at (206) 443-2001. General public admission to Harry Potter: The Exhibition is $26 for adults; $24 for seniors (65 and over) and youth (6-15); $17 for children (ages 3-5) and includes admission to all of Pacific Science Center's exhibits. Members receive discounted admission as well as access to the exclusive pre-sale opportunity, now through August 14.