Zoë Wanamaker Returns to the West End
The one and only Zoë Wanamaker, who played the role of Madam Hooch in Harry Potter and the Sorcerer's Stone, is returning to the West End to star in the upcoming productions of All on Her Own and Harlequinade. Wanamaker has played in several stage productions before and after Potter, but this will be her first appearance on stage since 2010 during Arthur Miller's All My Sons.
Co-directing both plays is the BAFTA award-winning Kenneth Branagh, who also appeared in the Potter films as Gilderoy Lockhart. Wanamaker, who was handpicked by Branagh to star in the West End's first season of Harlequinade, was immediately taken by his enthusiasm for the upcoming production. She comments on the unusual route Branagh is taking to make his production stick.
It seems to be the case that if you want to do a serious piece on Broadway or in London you need to have a hook. Ken has chosen a young company, a very eclectic group of people — not the usual suspects — which is very refreshing and also very bold.
Raised by a pair of actors, Wanamaker was steered away from the life of acting while growing up; however, experiencing the behind-the-scenes of her father's work just made her want it more.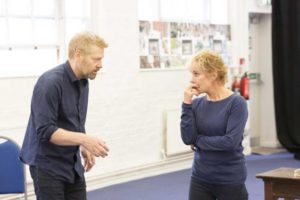 Her father, Sam Wanamaker, is most known for his acting in Stratford's Royal Shakespeare Company and bringing Shakespeare's Globe into being at Bankside. Even though her father built the stage of Shakespeare's Globe, Wanamaker herself has never acted there and doesn't currently plan to.
I think it would be too much pressure on myself and also them — I don't know why — at the moment, if I walk into the Globe, he's still around, and I would have to prove myself to him. But it's a great, magical space, with an electricity. Actors love working there.
According to the Evening Standard, Wanamaker's role in Harlequinade is expected to be a show-stealing one. Playing Dame Maud, a drunken theatrical éminence grise, the production is expected to be both comical and delightful. The gist of Harlequinade as told by the London Theatre is this:
A classical theatre company attempts to produce The Winter's Tale and Romeo and Juliet, while the intrigues and dalliances of the company members are accidently revealed with increasingly chaotic and hysterical consequences.
Wanamaker's other role in Terrence Rattigan's All On Her Own is also expected to be a moving one. In this one-woman show, Rosemary, as played by Wanamaker, will tell the story of a woman sharing a burden that is both heartbreaking and sinister.
With all this in mind, we can expect the West End to shine more brightly with two former Harry Potter stars gracing the stage together.
What do you think? Will you be flocking to the West End to see Zoë Wanamaker in action?