Lumos Launches Charity T-Shirt, Rowling to Participate in Live Chat
Today, Lumos announced that J.K. Rowling will be taking part in a very special Facebook Live chat in order to talk about the work that the charity does around the world. This coming Saturday, September 17, Rowling will be in conversation with Lauren Laverne, who previously interviewed Rowling for the Guardian last year. In the official press release, the charity reveal that
in conversation with writer and broadcaster Lauren Laverne in London on Saturday 17 September at 8.15pm BST / 3.15pm ET / 12.15 PT the Harry Potter author will illuminate the work of Lumos, which she founded a decade ago to return children from orphanages and institutions to families. The broadcast will be streamed live via the Lumos Facebook page.
As well as making sure you tune in on the day, you can also get involved now!
If you've got a question for Rowling, then you can submit it via the official Lumos Campaign website. Questions will be selected to be read out on the night. The chat will mark the start of the We Are Lumos Worldwide Campaign, which seeks to
raise awareness and urge people to get involved with the non-profit organisation's work to bring the hidden children to light and get them home to families.
Several events are taking place as part of the campaign, including a special gala performance of Harry Potter and the Cursed Child on September 18 in London, as well as a special preview screening of Fantastic Beasts and Where to Find Them on November 12.
But that's not all!
You can now get your hands on a brand new, exclusive T-shirt, featuring the following quote from J.K. Rowling's 2008 Harvard speech:
We do not need magic to transform our world; we carry all the power we need inside ourselves already.
At least 60% of the proceeds from the "Be the Light" T-shirt will go directly to Lumos programs. You can see the T-shirt design below.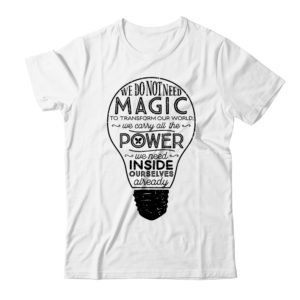 The "Be the Light" T-shirt can be purchased here and is available in a range of styles, costing from $24.99 to $28.99. Shipping is available worldwide. T-shirts are only available until September 27, so if you want to own one, make sure you order it as soon as possible!
You can find out more about the We Are Lumos Worldwide campaign here.
Don't forget to tune into Lumos's Facebook page on September 17 to hear Rowling talk about Lumos with Lauren Laverne.